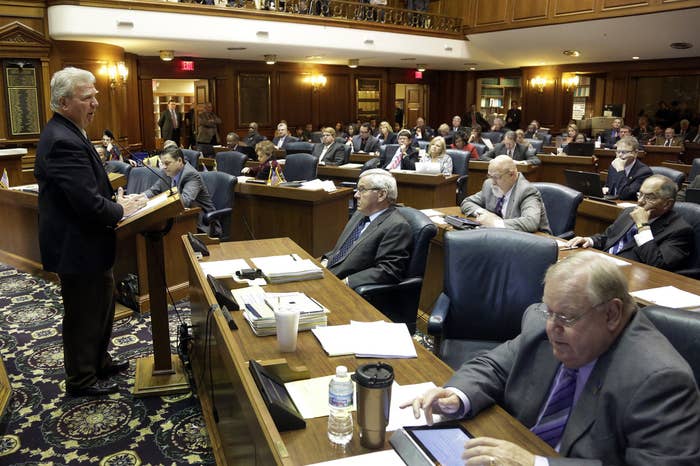 A proposed constitutional ban on marriage for same-sex couples in Indiana will not appear on the November 2014 ballot.
House Joint Resolution 3 was called for a second-reading before the GOP-controlled Indiana Senate Thursday, but amendments to put the measure back on track for being decided by voters this November were not presented on floor. Now, the soonest it can appear on the Indiana ballot is 2016, according to Freedom Indiana.
"This is a great day," Jennifer Wagner, spokeswoman for Freedom Indiana, told BuzzFeed shortly after the Senate adjourned for the day. "We're really seeing, on the Republican side, a growing difference in opinion on issues like this one."
Late last month, the bill was amended by the Indiana House to strip out language that would also ban civil unions or any other arrangements similar to marriage, which makes the bill different than the version passed in 2011 by the Indiana General Assembly.
The Indiana Constitution requires that proposed amendments to the state's constitution must pass with the same language in both houses of two consecutive elected legislatures before voters can weigh in at the ballot box.
"Six months ago, if you'd said lawmakers would refuse to put this issue on the ballot in 2014 by stripping out the deeply flawed second sentence, I'd have said there's no way," said Megan Robertson, campaign manager at Freedom Indiana. "What happened today at the Statehouse is a testament to the tens of thousands of Hoosiers who have shared their stories with lawmakers and with the public to show the harm this amendment would do to their families and our state. It's clear that lawmakers listened."
In its current form, HJR-3 would insert a new line in the Indiana Constitution defining marriage as only one man and one woman.
"The amendment still exists, so we predict they will vote on it on Monday," Wagner said. "It won't be an issue this year, but it can be voted on by the General Assembly next year and could be on the ballot in 2016."
Supporters of the ban contend adding the definition of marriage as one man and one woman to the Constitution would further protect it if challenged in court. But opponents argued that state law already prohibits marriage for same-sex couples and putting the question to voters would result in a costly and potentially harmful referendum campaign for the next several months.
"Today's action is a welcome step back from the brink, ensuring that Indiana's families will not be subjected to a harsh campaign that would add cruel and unconstitutional language to Indiana's state constitution this November," said Evan Wolfson, president and founder at Freedom to Marry, in statement to BuzzFeed. "This reflects the growing momentum for the freedom to marry the person you love, and a repudiation of the effort to strip gay Hoosiers and their families of legal protections and respect."
Freedom Indiana and its coalition partners will continue to lobby against the legislation, anticipating the debate will continue in the next session, Wagner said.
"Right now, we are going to celebrate first," she said.
Republican State Senator Mike Delph tweeted this at the beginning of Thursday's session:
This article was updated as more information became available, with the final update made at 3:29 p.m. on Feb. 13.