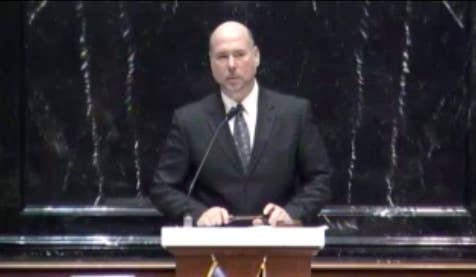 The Indiana House approved a proposed constitutional amendment that would ban marriage rights for same-sex couples in the state Tuesday, sending the measure to the state Senate.
The House voted 57-40 to approve the bill, House Joint Resolution 3, which was amended Monday night to strike language barring legal recognition of similar relationships to marriage. The Senate must now approve the amended bill, which would define marriage as one man and one woman in the Indiana Constitution.
If the Senate passes the current version of the proposed ban, the process of bringing the question before Indiana voters restarts, meaning it would not appear on the ballot this November. However, there is a chance the Senate could undo Monday night's action and reinstate the removed language, which could potentially allow it to go before voters this November -- as its proponents intended.
In Indiana, a constitutional amendment must pass in two separate General Assemblies and then receive a majority vote before it can become part of the state's constitution.
During the debate over HJR-3 in the House, several Democrats questioned whether it would be responsible to leave the question of banning marriage for same-sex couples in the constitution up for voters to decide.
"We need to think about, what was it that our founding fathers envisioned when they provided us the opportunity to amend the constitution of this great state of indiana?" said Rep. David Niezgodski (D-South Bend).
Republicans in the chamber argued a majority of Indiana citizens want to vote on the proposed ban according polls they've conducted in their districts and that this would end the years-long debate over the issue.
"What are we afraid of?" said Rep. Rhonda Rhoads, a Republican. "My question is what are you afraid of? Are you afraid of the people, afraid of them to vote? Why are we afraid for them being able to vote on this bill?"
The Senate is expected to take up the measure in the coming weeks, according to Freedom Indiana, a coalition of organizations that oppose the marriage ban.