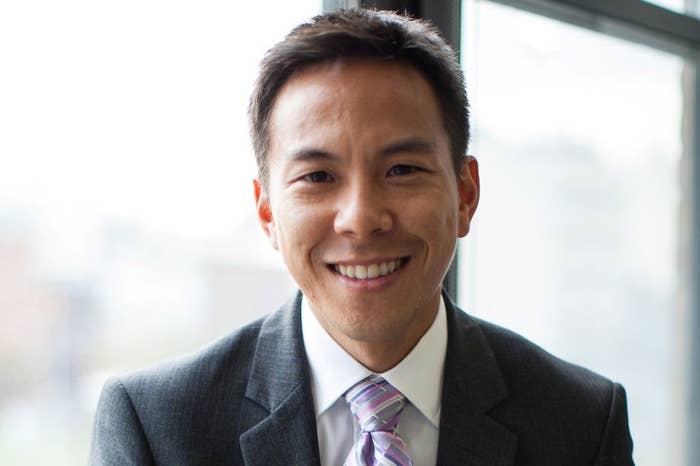 GMHC, a New York-based nonprofit HIV/AIDS health care and advocacy organization, announced Tuesday it has appointed a new chief executive officer — six months after the departure of its previous leader.
The board of directors at GMHC, formerly known as Gay Men's Health Crisis, has named as its CEO Kelsey Louie, a New York native who has done years of work in community-based HIV/AIDS prevention and care in the city and once worked as a counseling and education coordinator at the organization. Louie most recently served as chief operating officer at the Harlem United Community AIDS Center. He will start at GMHC in June.
As CEO, Louie is charged with leading GMHC, the city's oldest and largest HIV/AIDS health care and advocacy organization, and continuing its mission to end the epidemic and provide critical services to those who are affected by it. Another top priority for the incoming CEO is to address concerns over how much the nonprofit spends on rent and administrative costs, BuzzFeed has learned.
GMHC came under fire last year for how much it spends on rent for its offices on the West Side of Manhattan. According to a report by DNAinfo New York, GMHC spends $389,000 per month for office space at 446 W. 33rd St., some of which is unused.
When asked about how he will address the issue of rent costs, Louie told BuzzFeed he hopes to optimize the space and look at ways to make the organization more efficient and effective in its spending.
Louie succeeds Janet Weinberg, the organization's COO, who has served as interim CEO since Marjorie Hill left the organization's helm in early October of last year. Hill was reportedly forced out of the HIV/AIDS organization, New York's largest, by the board of directors after seven years. GMHC, at the time, said the decision was mutual.
"Kelsey Louie is the right leader to move GMHC's vital work into the future, fulfilling our critical mission and continuing to expand our focus on meeting the changing needs of our clients and on curbing new infections among vulnerable populations," said Roberta Kaplan, secretary of the GMHC board of directors and chair of the CEO search committee. "Kelsey will be an incredible champion for our clients in administering GMHC's day-to-day operations, partnering with other community-based agencies, and leading our interactions with key city and state agencies."
The organization said Louie's appointment comes at a critical time when the organization believes that it can help end AIDS as an epidemic, according to a statement. Specifically, GMHC plans to bring new HIV infections in New York state down to only 730 per year by 2020. Achieving those goals will require the organization to reach deeper partnerships with the city, the state, and other community-based organizations, which is why GMHC has chosen Louie, said Myron Sulzberger Rolfe, chair of GMHC's board.
"Ending the epidemic is going to require a really well-thought-out strategy that is multi-pronged and collaborative on many levels," Louie said. He pledged the organization will ensure its clients' "emerging needs are met with quality care."
Louie said GMHC is "one of our city's most important LGBT institutions" and that he was thrilled and humbled to return: "I look forward to getting started and hearing more from GMHC's clients, along with all of those in our community with a stake in the organization, to ensure everyone's voice is included as we move forward to strengthen and expand GMHC's capacity and vital work."