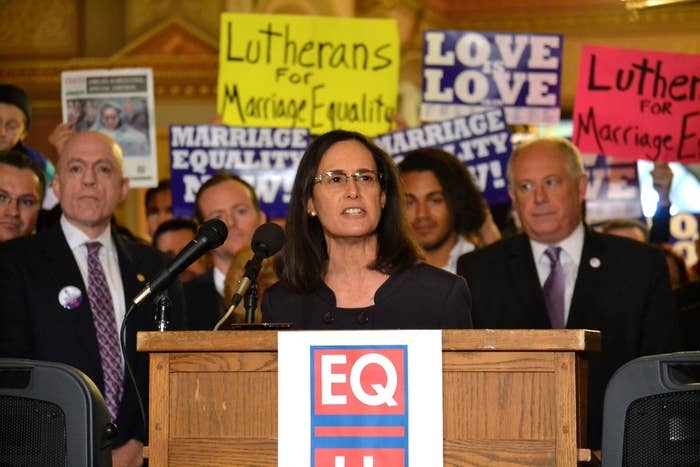 A federal judge in Illinois has said same-sex couples in the state who face terminal illness should be able to marry ahead of when the state's marriage equality law takes effect in June 2014. The only question that remains for the court is whether a method can be devised for enforcing such an order.
U.S. District Court Judge Sharon Johnson Coleman has asked the parties to a lawsuit seeking that ruling to bring potential ways of resolving the question to her courtroom on Monday morning — a hearing that could end with a decision paving the way for more same-sex couples to marry before the law takes effect June 1.
Last week, Johnson Coleman ordered the Cook County clerk in Chicago to grant marriage licenses to two couples in the case immediately, echoing an earlier ruling by another federal judge that allowed Vernita Gray and Patricia Ewert to marry.
In both cases, same-sex couples went to court arguing that they needed to be able to marry before the June 2014 effective date of the marriage equality bill because one of the partners faces a life-threatening illness that could result in the partner's death before then.
The plaintiffs in the second case, however, asked Johnson Coleman to issue a ruling that would grant all similarly situated couples in the state immediate access to marriage licenses. The lawsuit itself seeks a permanent order from the court, as a class-action lawsuit, that the state stop enforcing the ban on same-sex couples marrying in Illinois. More immediately, though, it asks the court to allow a so-called "subclass" of couples who have "an urgent need to marry" — such as those facing a "potentially life-threatening illness of one or both parties."
In a Dec. 10 written opinion, Johnson Coleman agreed, saying that allowing the couples in the subclass to marry early would do more good than harm.
"Given the Illinois General Assembly's enactment of Senate Bill 10, any erroneous decision here would only result in allowing a relatively few people to marry a short period of time sooner," the judge wrote. "The harm to the putative subclass of medically critical plaintiffs, on the other hand, would be far weightier since a denial of relief could effectively deny them the right to marry at all if one member of the couple passes away before June 1, 2014."
Establishing such an order also comes in the interest of "efficiency and economy," Johnson Coleman said, considering it is the second case to come before a court in the district.
Johnson Coleman made her order "contingent upon an agreement between the parties of a sufficiently delineated subclass or a satisfactory method of implementation of this Order" — a condition requiring the parties to present the court with a way of defining what couples would be covered by the order and, hence, allowed to marry immediately.
The case, Lee et al v. Orr, was filed on Dec. 6 and is led by attorneys from Lambda Legal and the American Civil Liberties Union of Illinois on behalf of couples Brenda Lee and Lee Edwards; Patricia Tucker and Ingrid Swenson; Elvie Jordan and Challis Gibbs; and Ronald Dorfman and Kenneth Ilio. When asked by BuzzFeed, Lambda Legal would not provide information on how it will propose the state define which same-sex couples qualify to be members of the subclass, but a spokesman said more information would be available after Monday's hearing.
Couples Elvie Jordan and Challis Gibbs and Ronald Dorfman and Ken Ilio each have been together for more than 20 years and each couple has entered into a civil union, an option that became available in 2011. Gibbs has stage 4 metastatic neuroendocrine cancer and Dorfman has systolic congestive heart failure with a complete blockage of his right coronary artery, according to court documents.
Cook County Clerk David Orr, while named as the defendant, is a supporter of marriage equality and refused to defend the state's current law, which prohibits him from issuing marriage licenses to same-sex couples. Additionally, the court allowed Illinois Attorney General Lisa Madigan to intervene in the case in support of the plaintiffs' requests.
Neither Orr nor Madigan could be reached for comment over the weekend.