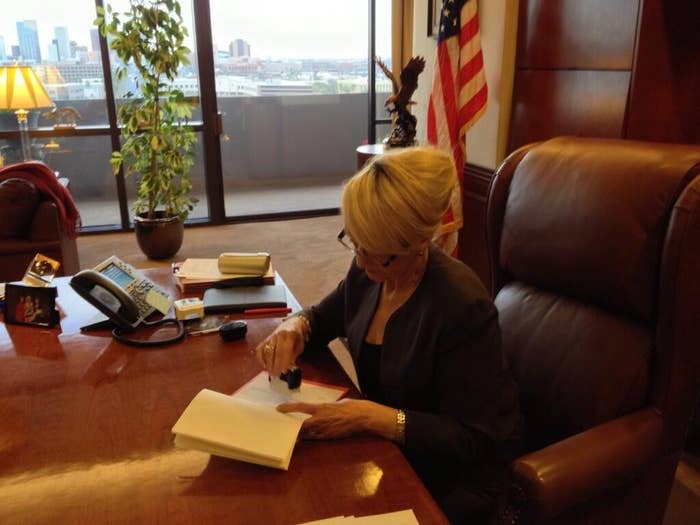 Arizona Gov. Jan Brewer announced Wednesday she has vetoed Senate Bill 1062, controversial religious freedom legislation that many critics said would have led to widespread discrimination, particularly against LGBT people.
"Senate Bill 1062 does not address a specific or present concern related to religious liberty in Arizona," Brewer said. "I have not heard of one example in Arizona where a business owner's religious liberty has been violated. After weighing all of the arguments, I have vetoed Senate Bill 1062 moments ago."
The legislation is broadly worded and could result in unintended and negative consequences, the Republican governor added.
Brewer's decision comes after days of protests and intense pressure from citizens, civil rights advocates, business leaders, and political figures, during which the governor offered little indication of how she would act on the measure before her Saturday deadline.
"To the supporters of the legislation, I want you to know that I understand that long-held norms about marriage and family are being challenged as never before," Brewer said. "Our society is undergoing many dramatic changes. However, I sincerely believe that Senate Bill 1062 has the potential to create more problems than it purports to solve. It could divide Arizona in ways we cannot even imagine and no one would ever want."
Republican proponents of the bill and other supporters pushed the bill in an effort to protect the religious freedom of individuals and businesses who wish to deny goods and services to anyone they'd like based on a sincerely held religious belief — actions that could be defended under the law in court if a "substantial burden" to the exercise of the religion is proved.
Opponents of the bill, ranging from Arizona citizens to business and government leaders, argued the vague language in the bill would ultimately lead to legal discrimination against people, especially the LGBT community, with some calling it a "license to discriminate." During the debate in the state House last week, Democratic Minority Leader Chad Campbell put it simply, "This is state-sanctioned discrimination towards the LGBT community. There is no doubt in my mind about that. None." By the same logic, critics have also said the law would allow people in businesses with one religious belief to deny services to people with a different religious belief, under the bill's broad language.
The bill's sponsors have repeatedly rejected those claims.
But the roar of fallout over the bill has been clear: Veto the bill. Major American corporations with significant business interests in Arizona like American Airlines, Delta Air Lines, Intel, Marriott International, Apple, JPMorgan Chase, and dozens of other businesses have put their economic clout behind rejecting the bill. Government leaders like Secretary of State John Kerry and both members of the state's delegation to the U.S. Senate, John McCain and Jeff Flake, said they hoped Brewer would choose to veto — along with former Massachusetts Gov. Mitt Romney. And even three Arizona state senators who voted for the bill last week — Bob Worsley, Adam Driggs, and Steve Pierce — changed their minds this week, three votes that could have failed the measure in the Senate, where it passed 17-13.
Additionally, on Wednesday the Hispanic National Bar Association announced it has pulled its 2015 convention from Arizona and denounced the bill as, "Laws that return us to a darker time in the nation's history simply cannot be tolerated." And with the 2015 Super Bowl slated for Feb. 1 in Arizona, the Super Bowl host committee there expressed concern over the legislation on Monday.
While some cities in Arizona have LGBT protections that could have been affected by the bill, there are no statewide laws in Arizona that protect citizens from anti-LGBT discrimination.
Opponents of SB 1062 quickly announced support of Brewer's action.
"Discrimination has no place in Arizona, or anywhere else," said Alessandra Soler, executive director of the ACLU of Arizona. "We're grateful that the governor has stopped this disgraceful law from taking effect, and that Arizona will remain open for business to everyone."
In line with the concerns expressed by corporations and business groups, Human Rights Campaign President Chad Griffin said vetoing the bill spared Arizona from "institutional discrimination and economic catastrophe."
"Make no mistake, there is no better way to doom jobs in a state than by signing license-to-discriminate bills," Griffin said in a statement. "The bipartisan outpouring of opposition to this bill is all the proof you need that this country isn't turning backwards. Governor Brewer did the right thing in stopping this assault on businesses and the LGBT community and we call on her and the legislature--and governors and legislators in other states--to resist any attempt to give license to discrimination."
And supporters of the bill, such as the Center for Arizona Policy, said its purpose was "distorted" by opponents.
"Today's veto of SB 1062 marks a sad day for Arizonans who cherish and understand religious liberty," the organization said. "SB 1062 passed the legislature for one reason only: to guarantee that all Arizonans would be free to live and work according to their faith."
Similar religious freedom bills have been introduced in a number of states in recent months, but Arizona's was the first state to pass and advance to the governor.