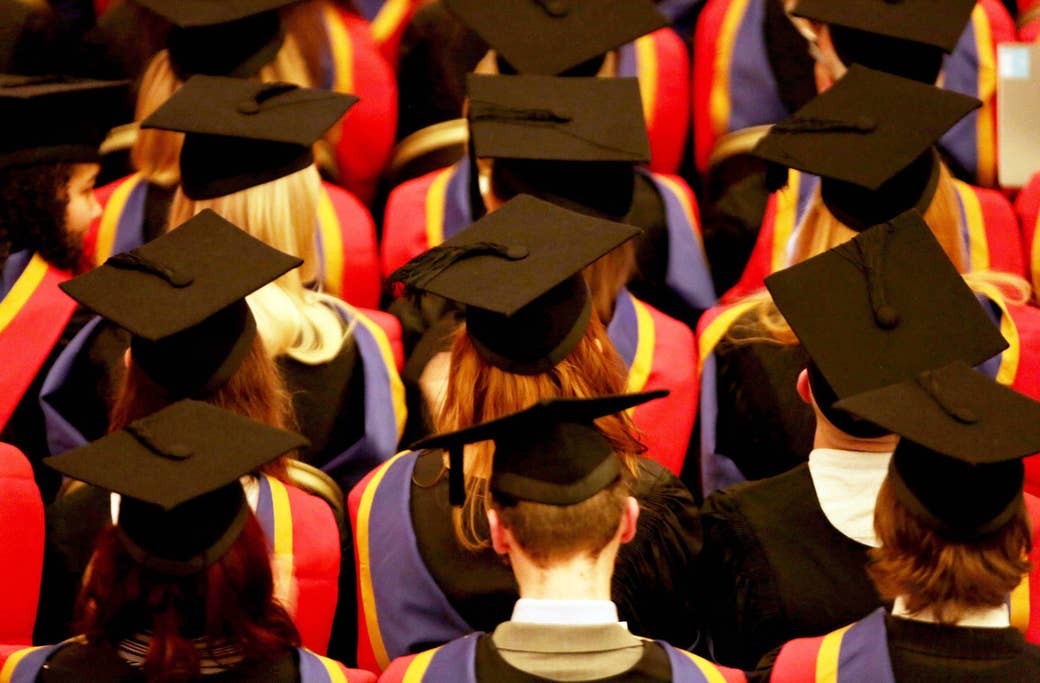 In the past few weeks, some students starting at six British universities will have all got there in a slightly unusual way: Some of the people offering them a place had no idea what their names were.

The six universities – Exeter, Huddersfield, Leeds, Liverpool, Manchester, and Winchester – were taking part in a pilot study of "name-blind admissions". It's an attempt to see if stripping away some information, including names, that offers clues about an applicant's identity and ethnicity will result in changes to the type of students who receive offers. It was backed by universities minister Jo Johnson as an effort to "stamp out inequality" and stop potential bias about students' race and identity. UCAS, the body that administers university applications, told BuzzFeed News results will be revealed this autumn.
But UCAS is also adamant there is no evidence of systemic bias in the university admissions system.
So what's going on? The issue of ethnic diversity in the UK's universities is – not unexpectedly – a complex, messy picture, and it's about much more than just the admissions process. We took a dive into the data and found numerous complicating factors, some actual good news, and a genuine debate about the extent and nature of the inequalities that exist.

The Big Picture
If you just look at the raw numbers at a national level, one thing is clear: It's white teenagers who are the least likely to go to university. That's not a one-off blip, either – it's been the case for nine consecutive years now. Although university entry rates have been steadily rising for every ethnic group over the last decade, as more and more young people go to university, the likelihood of white students enrolling has only increased a bit; meanwhile, several other groups have risen a lot faster.
White people now have the lowest rate of university attendance
Chris Applegate / BuzzFeed News / Via UCAS
According to UCAS figures, 10 years ago, black teenagers were the least likely to go to university: Just 20.9% of them did. By 2016, that number had grown to 37.5% – a dramatic rise of over 16 percentage points in a decade. By contrast, in 2016 just 28.7% of white teens went to university, up only 7 percentage points in the same period.

British teens with a Chinese background are by far the most likely to go to university – they're the only group in which a majority pursue a university education. Meanwhile, Asian teens also attend university at high rates – although it's worth noting that bundling all Asian students together (as the publicly available UCAS figures do) seems likely to obscure some significant gaps between different Asian groups.
But, naturally, the picture isn't quite as simple as that.
For one thing, the reason why white teens are less likely to go to university is that they're just less likely to apply in the first place. Which means that even if proportionally fewer of them are going to university, those who do apply might still enjoy an advantage over applicants from other ethnic groups. (And of course, given the population of the country, white students are still in the majority at all but a few British universities.)
Secondly, the type of university that students are applying to makes a big difference. While BAME students are more likely than their white counterparts to attend university in general, that changes if you look at the top institutions. When it comes to entry to "higher-tariff" universities – those that have the most stringent entry requirements, which includes all of the prestigious Russell Group – black students still lag behind their white and Asian counterparts. (Again, British-Chinese students are way out ahead.)
Black students are the least likely to attend "higher-tariff" universities
Chris Applegate / BuzzFeed News / Via UCAS
In fact, when you look across the whole university experience, it's clear that there are still some major ethnic disparities, and that some groups (black students especially) seem to be disadvantaged at many stages. But exactly why this is the case is a tricky question, and one that – spoiler alert – doesn't have conclusive answers. To unpick it as best we can, first we need to rewind to before anybody's even applied for university.

Before University
Obviously, people don't all go into the application process from the same starting point. They've already got over a decade of educational experience behind them, and gaps between different groups are already apparent. As research from the Department of Business, Innovation & Skills shows, black, Pakistani, and Bangladeshi children are on average less likely to do as well as their white counterparts at both Key Stage 4 (GCSE or equivalent exams) and Key Stage 5 (A-level or similar), while Indian and Chinese teenagers in particular outperform white British students.
Average scores at Key Stages 4 and 5 for different ethnic groups
Chris Applegate / BuzzFeed News / Via BIS
This has two effects. Most obviously, it puts those with lower attainment – which may be due to a wide range of factors out of their control – at a disadvantage in the university application process, especially for the most prestigious institutions. And as a side effect, it also makes it quite a bit harder to work out whether the subsequent university application processes are fair.
Applications and Offers
White teens may be less likely to apply to university in the first place, but among those who do apply, could they still be at an advantage compared with their BAME peers? This is the core of many political complaints about university access, but it's an area where teasing the truth out of the statistics gets gnarly very quickly.
If you look at how likely applicants are to get offers once they've applied, it would seem that there is an ethnic disparity. At the majority of universities in the UK, black applicants are generally less likely than average to be given an offer – while white applicants are generally slightly more likely than average to get an offer. (We've removed other ethnic groups from the chart below just to show the pattern more clearly.)
Difference from average offer rate for black and white applicants to UK universities
Chris Applegate / BuzzFeed News / Via UCAS
But does that prove that there's bias in the system? Not necessarily.

There are several major factors that can account for differences in offer rates. One, as we've already noted, is the disparity in previous educational attainment between groups. Another is the fact that BAME students are far more likely than their white counterparts to apply for the most popular (and thus oversubscribed) courses, such as medicine and law. As a result, they face more competition – meaning they're less likely to receive offers.
These UCAS figures already try to account for that, comparing students applying to the same courses. But if you're only dealing with a small number of applicants from a specific group, it's difficult to be sure what's random noise and what's a meaningful pattern. At many universities the difference in offer rates is pretty small – just a percentage point or two – and so isn't statistically meaningful.
That's why UCAS says that there is no evidence of systemic bias in the admissions system. As it wrote in an analysis note in 2015, "offer rates to different ethnic groups are close to expected values" once you correct for educational attainment and differences in the type of course applied for.
Not so fast, say some academics who have studied this issue – there's still the question of differences between universities in general, and the most selective institutions. Vikki Boliver of Durham University points out that, while this "net gap" between offer rates to different ethnic groups across UK universities as a whole is fairly low, it has historically been considerably larger at many members of the Russell Group. In particular, black Caribbean, Bangladeshi, and Pakistani students have been notably underrepresented at these institutions.
Members of the Russell Group have argued that these gaps are still accounted for by previous qualifications and course choice; however, Boliver's research suggests that this factor isn't enough to explain the discrepancies.
There is some good news, however: According to Boliver, these gaps seem to have notably decreased in recent years. More BAME students are going Russell Group universities, and their average offer rates have improved. That could be partially explained by the simple fact that more BAME students are applying to those universities than before, and also that the top universities are simply making more offers overall – rising from giving offers to 53% of applicants in 2010, to giving them to 64% of applicants in 2015. But nonetheless, Boliver says that "overall I'd say the aggregated statistics which UCAS now publish annually suggest things might be improving".
Either way, the picture is likely to become clearer soon: UCAS will be making more detailed data on this year's applicants available to researchers (having stopped doing so for several years, citing privacy concerns), which should allow them to better control for all the different variables. And the results of the name-blind applications trial should be published by UCAS later this year.
Les Ebdon, who heads up the Office for Fair Access – the independent regulator for access issues in higher education – agrees that things have been getting better, but also believes that there's still work to do. "More young people from all ethnic groups are entering higher education than ever before," he said. "But there are still wide gaps between different groups that need to be addressed. It is not acceptable that the colour of your skin should determine your chances of getting into a good university."

At University, and After
Regardless of possible inequalities in the application process, one thing is clear – once the students are at university, and even after they graduate, differences based on ethnicity persist.
While white teenagers are the least likely to go to university, they're the most likely to come out of university with a top grade (a first or an upper second). Meanwhile, black students stand the lowest chance of gaining a top grade.
And that's unlikely to be due to differences in actual ability, at least when you consider how well the students did before getting to university. As data from the Higher Education Funding Council for England shows, if you look at students' previous educational achievements (such as A-level grades) and then compare them on a like-for-like basis, the differences still exist. White students of every ability do better out of university than their peers, across almost every attainment category – from straight-A students to those with the lowest levels of qualification.
White students are more likely to get a first or upper second, when you compare like-for-like previous educational levels
Chris Applegate / BuzzFeed News / Via HEFCE
Additionally, black students are more likely than their counterparts to drop out of their course.

Black students have the highest non-continuation rates for their courses
Chris Applegate / BuzzFeed News / Via HEFCE
Black students' non-continuation rates after the first year are significantly above those of other groups. (Those of Chinese origin are least likely to drop out.)

These differences continue even after the students leave university. More figures from HEFCE research in 2015 looked at the likelihood of students from different groups achieving four positive outcomes both when they finish their course, and afterwards. As the previous figures suggest, white, Chinese, and Indian students are more likely to graduate, and to get a good degree, than black or other Asian students. Six months after graduating, they're also more likely to be in employment, to have a graduate-level job, or to be continuing their studies.

Different groups have different outcomes from university – both in their results and in their chances of a job after
Chris Applegate / BuzzFeed News / Via HEFCE
Again, the reasons for this could be down to a wide range of factors, both in and out of universities' control – but it does suggest that universities can do more for BAME students at many stages of their university careers.

Professor Ebdon from the Office for Fair Access said: "It is particularly concerning that students from BME groups are less likely to complete their degree, achieve the top results, or progress to good graduate employment, even when they enter university with very high A-level grades.

"Clearly these students are facing specific barriers to success, and their universities and colleges need to work hard to change this picture. I have been challenging institutions to prioritise this issue for a number of years, but we now need to see a step change in progress if we are to achieve true fair access."
CORRECTION
This story was updated to clarify that the data on difference in average offer rates accounts for differences in course choices.