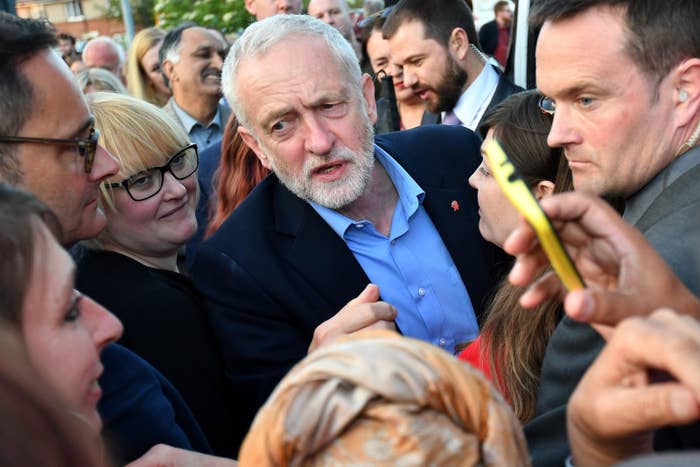 Jeremy Corbyn has visited only two seats so far where Labour is defending a small majority in the election campaign, an analysis by BuzzFeed News reveals.
With a little over three weeks to go until polling day and Labour still trailing in the opinion polls, the leader has visited none of the party's 40 most vulnerable seats, and just two – Southampton Test and York Central – of the 100 most at risk.
Instead, Corbyn has spent the vast majority of his campaign in either safe Labour constituencies or Conservative-held marginals, the analysis shows.

These are the seats that Corbyn has visited so far, with key marginals highlighted.
BuzzFeed News
By contrast, the Labour leader has visited eight seats that Labour should consider safe unless they experience a historic collapse, including Angela Rayner's seat of Ashton-under-Lyne (Labour majority: 27%) and Rebecca Long-Bailey's constituency of Salford and Eccles (majority: 29%).
This analysis comes in the wake of two separate sets of polling data – one from YouGov and one from ICM/The Guardian – that suggest Labour is not only trailing by a wide margin in the national polls, but is performing worse than the national picture in the marginal seats they are trying to defend.

Theresa May, meanwhile, has largely focused her visits to Conservative-held seats with relatively low majorities, which have the potential to be losses. She's been to seven seats that fall within the Conservatives' 100 most vulnerable, versus just three that lie outside it. Of those three, one was her own safe seat of Maidenhead.

These are the seats May has visited so far.
BuzzFeed News
This analysis looks only at specific constituency visits, excluding set-piece speeches such as campaign launches and other events such as the two victory rallies Labour held for its wins in metro mayor elections. For Labour, these events have also predominantly taken place in safe Labour areas like Manchester and Liverpool, or Tuesday's manifesto launch in Bradford West.
Despite being behind in the polls, Corbyn's visits have followed a predominantly offensive strategy – similar to May's – focusing on seats Labour would be hoping to gain on their way to a majority, rather than defending constituencies they are at serious risk of losing.
Corbyn has visited 21 non-Labour-held seats, while May has visited 22 seats the Conservatives are targeting.
With just a few exceptions, May's visits to target seats have focused on Labour-held constituencies (trips to Scotland and Northern Ireland being the only exceptions).

Corbyn, likewise, has focused on Conservative-held seats; he visited his first seat held by any other party on Tuesday, the Liberal Democrat-held Leeds North West.

Leaders' visits can have an positive effect on the party's vote share, according to a study that examined the 2010 general election. It found that visits from both David Cameron and Nick Clegg helped increase their parties' vote share in those seats by 1.2% and 1.5% respectively, compared to non-visited seats. Gordon Brown's visits increased the Labour vote slightly, but not enough to be considered significant.
The YouGov polling data released on Monday does offer a possible rationale for Corbyn's lack of defensive visits to key marginals. It suggested that voters' impression of Labour in marginal seats improved when questions prompted them to think about their local area and their sitting MP rather than about the national campaign – implying that a visit from the national party leader might not necessarily be beneficial to Labour's vote.
A spokesperson for Jeremy Corbyn told BuzzFeed News: "We are campaigning to win in every seat in the country to form a Labour government that will transform Britain for the many not the few."