Turkey Meatball Veggie Nests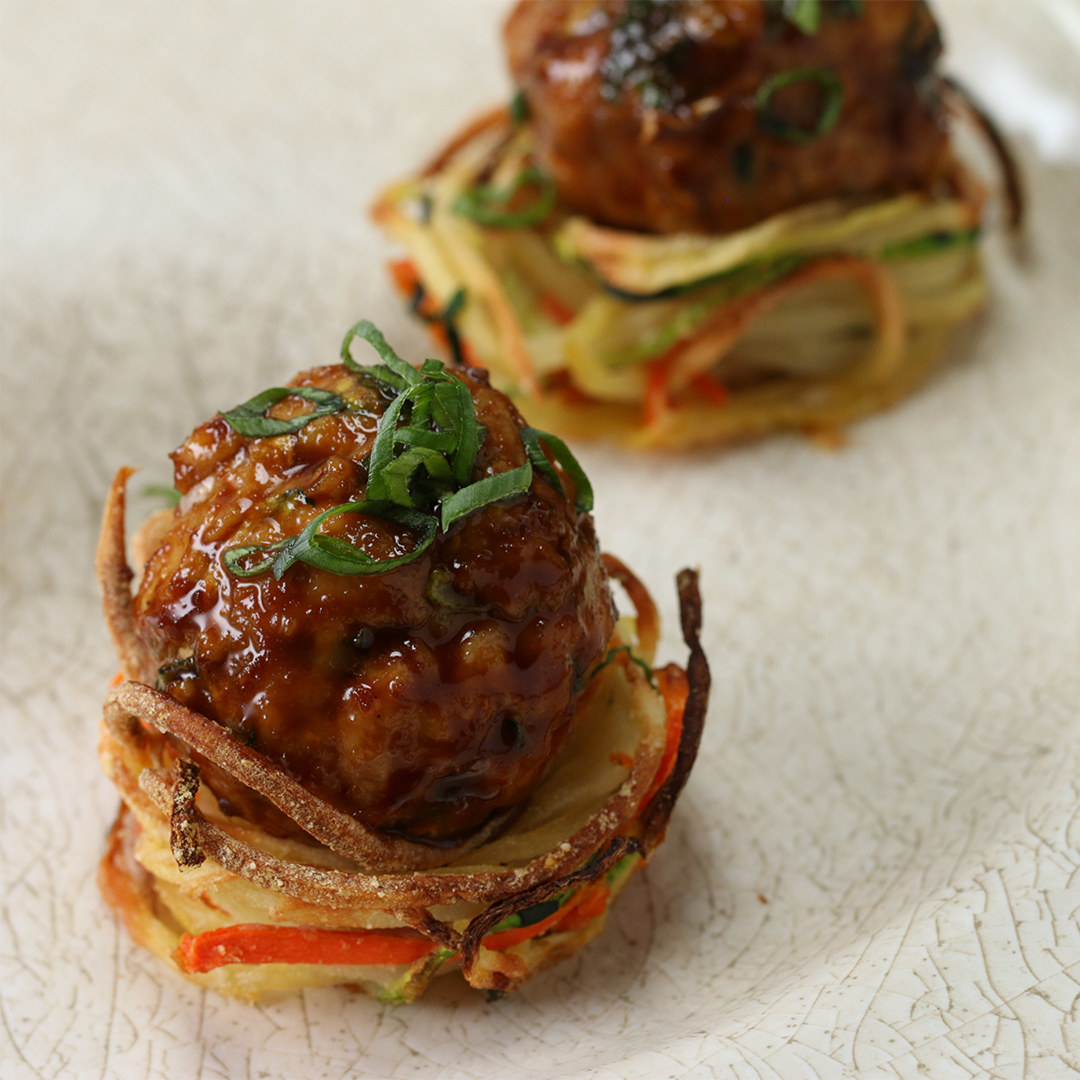 INGREDIENTS
Servings: 12
Meatball
½ medium zucchini
3 cloves peeled garlic
1 tablespoon fresh ginger, peeled
½ cup sliced scallions
1 pound ground turkey
1½ tablespoons soy sauce
2 teaspoons sesame oil
Salt & pepper
Nests
1 medium russet potato
1 medium zucchini
2 large carrots, peeled
1 egg
2 tablespoons flour
Pinch of salt
Sauce
2 cloves garlic
1 tablespoon fresh ginger, peeled
1/3 cup hoisin sauce
½ cup soy sauce
PREPARATION
1. Preheat the oven to 375℉.

2, Set up the Veggie Bullet with the shredding attachment. Shred the zucchini, garlic, and ginger, and add to a mixing bowl. 

3. Add the scallions, turkey, soy sauce, and sesame oil. Add some salt and pepper, and stir to combine. Shape into 12 meatballs and place on a nonstick pan. Bake 10–12 minutes until cooked through. Set aside. 

4. Set up the Veggie Bullet with the spiralizing attachment. Spiralize the potato, zucchini, and carrots. Transfer to a mixing bowl. Add the flour, egg, and salt, and stir to combine. Spray a muffin tin with nonstick spray. 

5. Make a nest in each muffin cup with the spiralized veggie mix. Bake 10–15 minutes until crisp on the edges and set. Allow to cool slightly before removing.

6. Set up the Veggie Bullet with the blender attachment. Blend together the garlic, ginger, hoisin, and soy sauce. Blend until smooth. Pour the sauce into a sauté pan and heat over medium heat. Add the meatballs and stir into the sauce. Cook 2–3 minutes until meatballs are glazed and warmed through. 

7. Place meatball in the nest and top with a few sliced scallions for garnish. 

8. Enjoy!
Looks like there are no comments yet.
Be the first to comment!