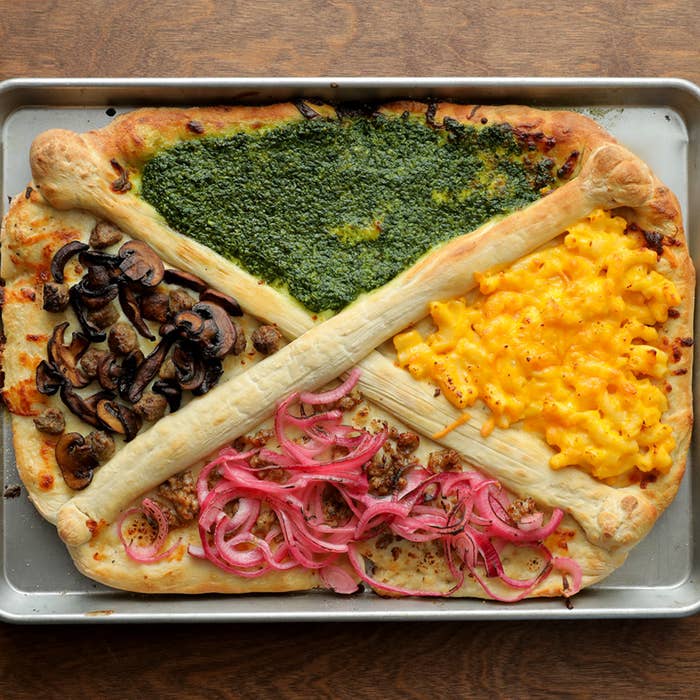 INGREDIENTS
* 3 small (about 36-ounce) fresh pizza-dough balls, divided
* 1½ cups alfredo sauce
* ¼ cup fresh pesto
* ⅓ cup fresh macaroni and cheese
* ¼ cup sautéed mushrooms
* ¼ cup cooked Italian sausage (crumbled)
* ⅓ cup red onions, sliced
* 1 cup apple cider vinegar
* 2 tablespoons sugar
* 1 tablespoon kosher salt
* ¼ cup cooked meatballs
* 1 cup shredded mozzarella cheese, divided
* ¼ cup cheddar cheese
* 3 tablespoons olive oil
* 3 tablespoons cornmeal
* Additional marinara sauce (dipping)
PREPARATION
1. Preheat oven to 450°F. Oil a sheet pan and dust with cornmeal. Carefully press dough across half of sheet pan, using 2 balls and making sure to completely cover the bottom and sides. Use remaining ball of dough to roll out 2 tubes of dough that will cross the pan (lengthwise) to create an X shape. Secure the X to the corners (press into the bottom and sides). Brush sides and X with olive oil.
2. Add apple cider vinegar, sugar, and kosher salt to pot and boil. Pour over onions and let sit at least 1 hour to pickle.
3. Carefully spoon ¼ cup of alfredo sauce into each section. Place ¼ cup of cheese on top of each section. Bake for 6–8 minutes until dough is set and cheese is melted. Remove from oven and carefully place ingredients in each section.
* Macaroni and cheese with cheddar
* Crumbled sausage with pickled onions
* Cooked mushrooms and meatballs
* Pesto
4. Bake an additional 8–10 minutes or until pizza is well browned.
5. Cut each section into slices, being careful to leave the X intact. Serve the X with marinara sauce.