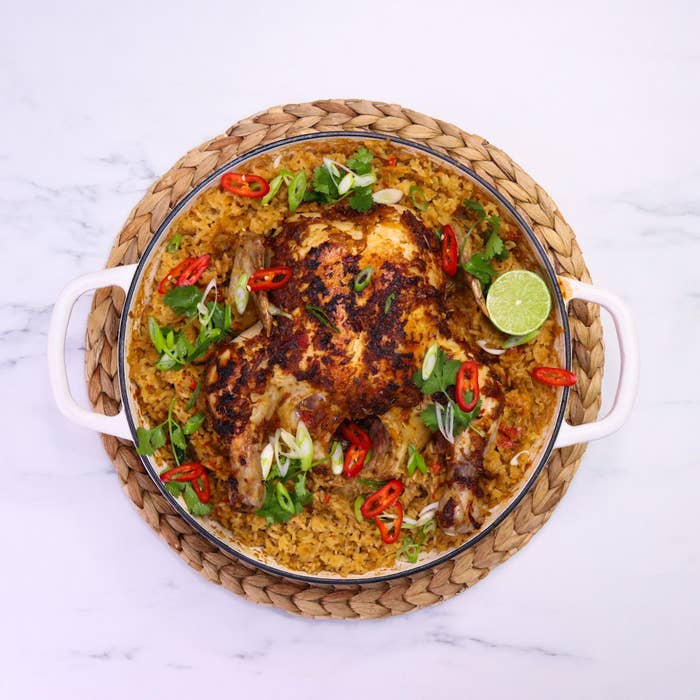 Red curry paste
3 brown shallots, peeled
3 long red chillies, trimmed
4 spring onions, chopped
2 lemongrass sticks, bruised
6 garlic cloves, peeled
6cm piece fresh ginger, cut in half
2 tsp ground paprika
1 lime zested
1 lime, juiced
1 bunch coriander roots and stalks
1 tbsp fish sauce
1 tbsp brown sugar
1 tbsp olive oil
To garnish
Coriander leaves
Lime cheeks
Green chilli, thinly sliced
Spring onion, thinly sliced
Method:
1: Preheat a fan-forced oven to 190°C.
2: In a food processor, add all the red curry paste ingredients and blitz for 5 minutes until a smooth paste forms.
3: Heat olive oil in a deep, large, cast iron pan over medium heat. Add the Free Ranger, Free Range Whole Chicken and cook on one side for 5 minutes until the skin turns crispy, then rotate and cook the other side for another 5 minutes. Remove the chicken from the pan.
4: Add curry paste to the base of the pan and cook for 10 minutes until caramelised and fragrant. Remove 1 tbsp of curry paste then rub over the top of the cooked chicken skin.
5: Place the rice, chicken stock, coconut cream and coconut milk in the pan with the curry paste, stirring to combine. (Optional: add salt to taste.)
6: Place the chicken back in the pan and put in the oven for 1 hour, until the chicken and rice are cooked through. (Optional: Cover chicken with foil and bake for 30 minutes, then remove the foil and continue to bake for another 30 minutes until the top turns brown. This is best for fan forced oven)
7: Serve with coriander leaves, lime wedges, green chilli and spring onion.
8: Enjoy!