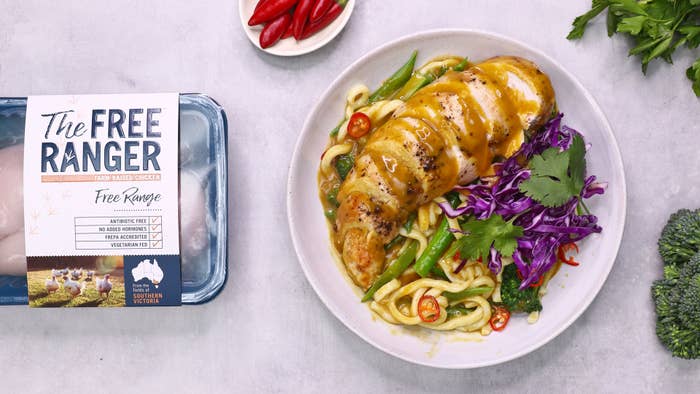 Ingredients:
2 Free Ranger, Free Range Chicken Breast Fillets
Salt, to taste
Pepper, to taste
1 tbsp cooking oil
250g Udon noodles, cooked
1 cup broccolini, sliced
1 cup sugar snap peas, sliced
For the curry sauce:
1 tbsp cooking oil
2 tbsp curry powder
1 onion
1 tbsp garlic
1 tbsp ginger
1 tbsp soy sauce
1 tbsp honey
1 1/2 cups chicken stock
1 cup water
50g butter
1 tbsp flour
To garnish
1 red chilli, sliced
¼ cup purple cabbage, shredded
2 sprigs coriander leaves
Method:
STEP 1: Season 2 Free Ranger, Free Range Chicken Breast Fillets with salt and pepper to taste.
STEP 2: Add oil to an oven safe frying pan on medium heat, then once it heats up add the chicken fillets.
STEP 3: Cook the chicken fillets for 5 minutes each side until browned, then place in an oven at 180C for 15 minutes to finish off.
STEP 4: To make the curry sauce, heat cooking oil in a large saucepan then add onions and cook until translucent.
STEP 5: Add curry powder, garlic and ginger then stir until fragrant, approximately 2 minutes. Add soy sauce, honey, chicken stock and water, then place a lid on and bring the mix to a simmer for 20 minutes. Taste as you go, to ensure the spice levels are to your liking and adjust ingredients accordingly.
STEP 6: Once the sauce has had time to develop, add to a blender and pulse until smooth. Run the mixture through a sieve to catch any lumps. This will ensure a smooth curry sauce.
STEP 7: Add butter to the saucepan on medium heat and allow to melt. Add flour and whisk until the mixture starts to pull away from the sides. In slow increments add the curry sauce and constantly stir. It will thicken quickly.
STEP 8: In a mixing bowl, add boiling hot water and submerge udon noodles with broccolini and sugar snap peas, then allow to sit for 5 minutes. Drain, then pour curry sauce over the udon noodles and vegetables, then mix.
STEP 9: In a serving bowl add udon noodles with vegetables, top with sliced chicken breast, and garnish with red chilli, purple cabbage and coriander leaf. Finish off with a drizzle of curry sauce.
STEP 10: Enjoy!