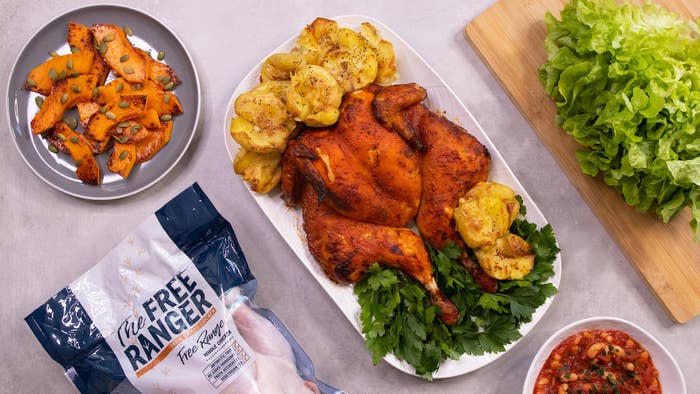 Method:
STEP 1: To butterfly the chicken, set it on a chopping board so that the spine is facing up. Using a pair of kitchen shears, cut the spine down the middle then lay the chicken flat in a baking dish then season with salt and pepper.
STEP 2: In a small saucepan over low heat, add cayenne pepper hot sauce, butter, worcestershire, garlic, and sweet chilli sauce. Stir until combined.
STEP 3: Using a spoon, drizzle half of the sauce on the skin of the chicken and coat generously, ensuring to spread evenly.
STEP 4: Cook the chicken in the oven at 180C for 30 minutes, then remove to add a second coat of buffalo sauce on. Place the chicken back in the oven for another 30-45 minutes until the skin starts to crisp up.
STEP 5: Remove the chicken from the oven and glaze using any leftover buffalo sauce. Serve the chicken with roast vegetables.
STEP 6: Enjoy!