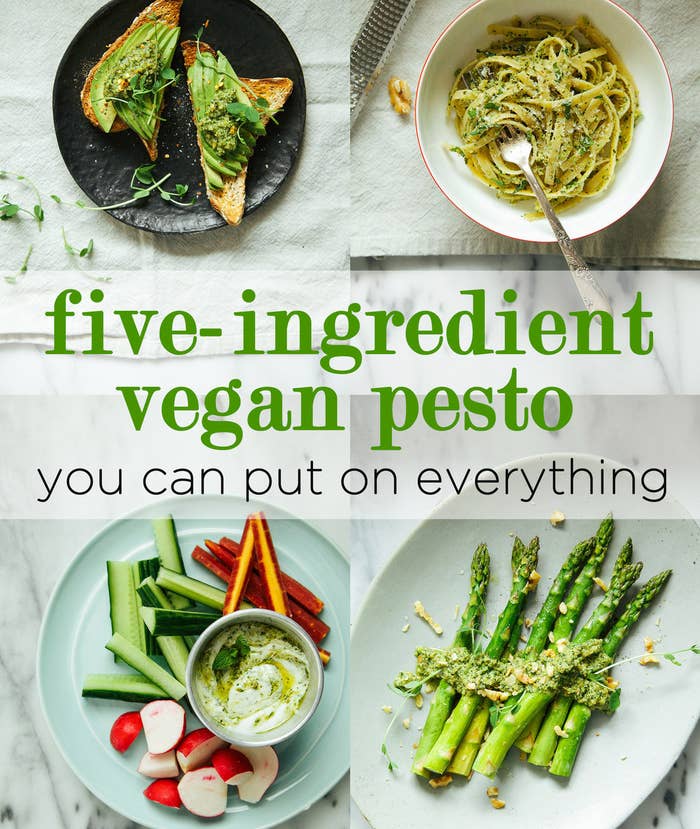 Pea shoots always seem to be the first bright green that show up at the market in the spring.
There are still boxes upon boxes of beets, carrots, and potatoes, but pots of those green and tender shoots are like a beacon of light on that farmer's stand. Their little curls hold the promise of real-deal spring (and the actual peas that are soon to come).
Pea shoots are lightly sweet and, you guessed it, kinda taste like fresh peas, but in a more concentrated and grassy sort of way. I generally eat them all tangled up in a salad or lightly sautéed with some other vegetables and brown rice. I knew their natural sweetness would be delicious in a punchy pesto though. Most people are familiar with the traditional basil, Parmesan and pine nut variety, but any leaf or stem can be pesto if you Just Believe.
When I'm making vegan pesto, I generally reach for toasted walnuts as the base because they seem to have a richer and fattier character that mimics the Parmesan in traditional pesto. I go a bit heavier with the salt and add a bit of extra olive oil. I mixed the pea shoots with some fresh mint, just for that really fresh vibe.
Here's what you need to make the pesto: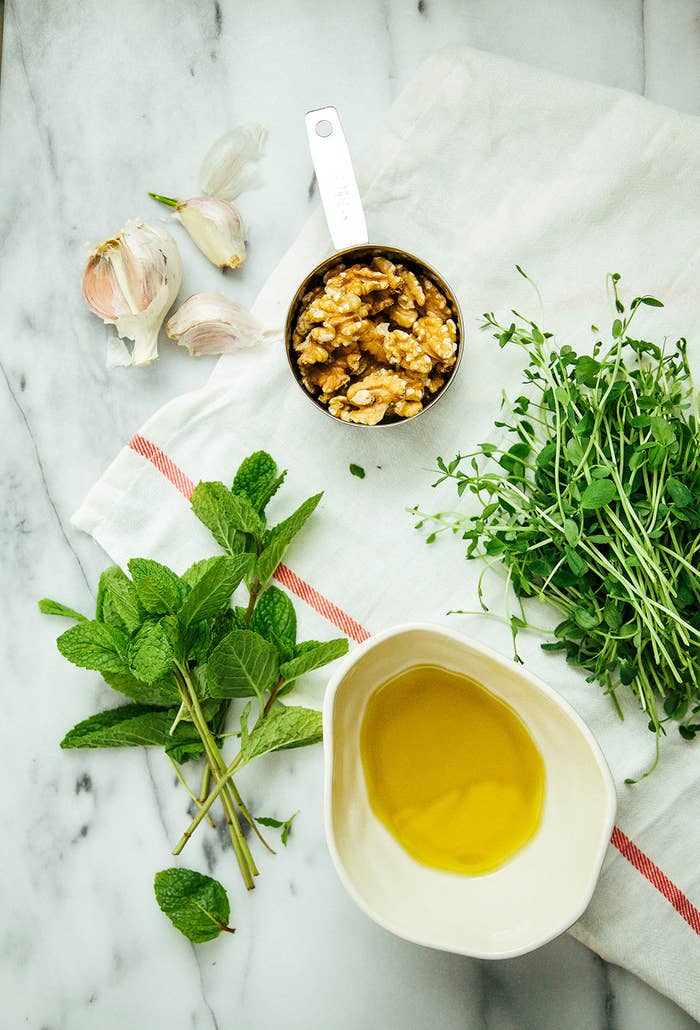 First, put walnuts and garlic cloves into a food processor and pulse until everything is finely chopped.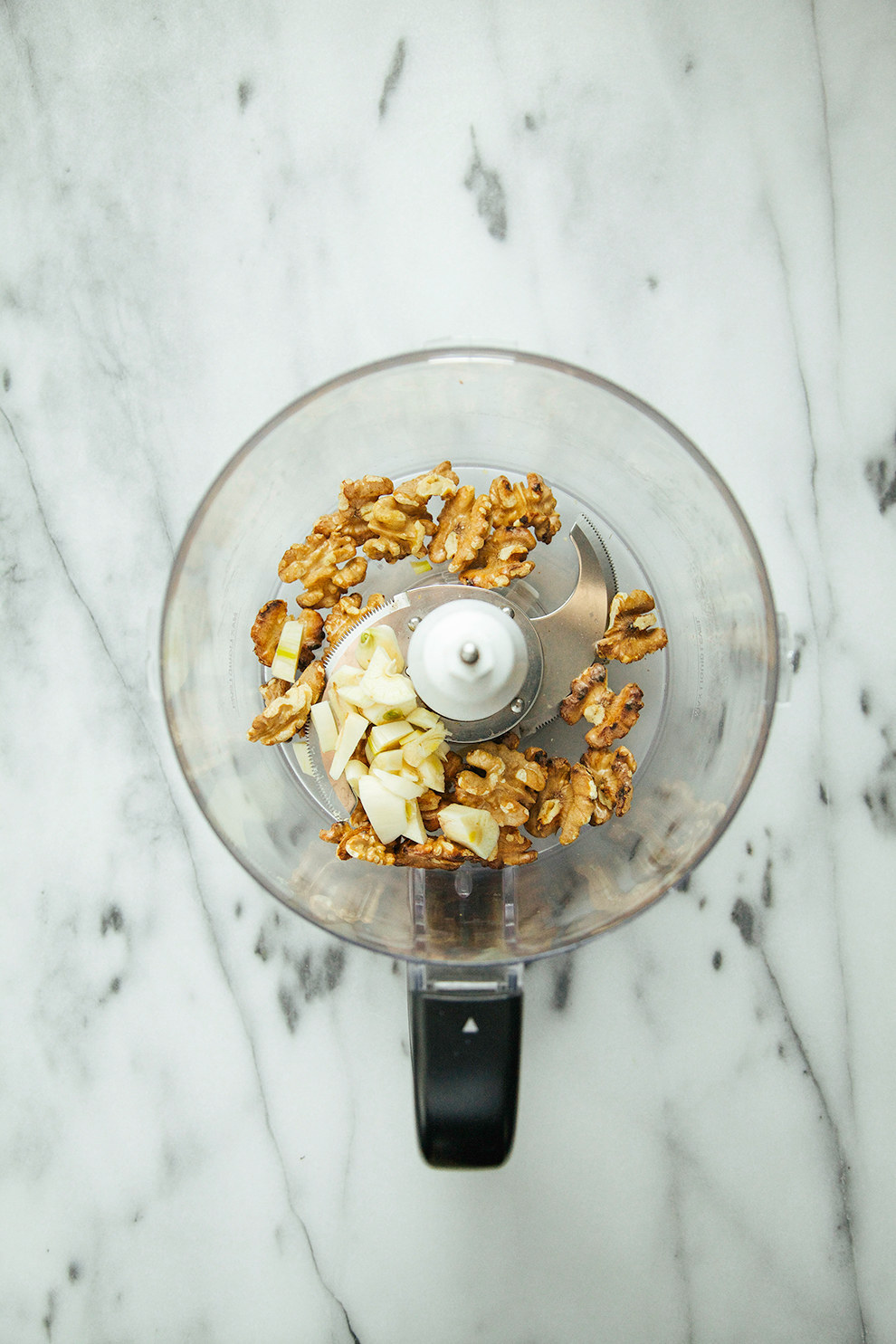 Then add pea shoots, mint leaves, and salt and pepper. Pulse again...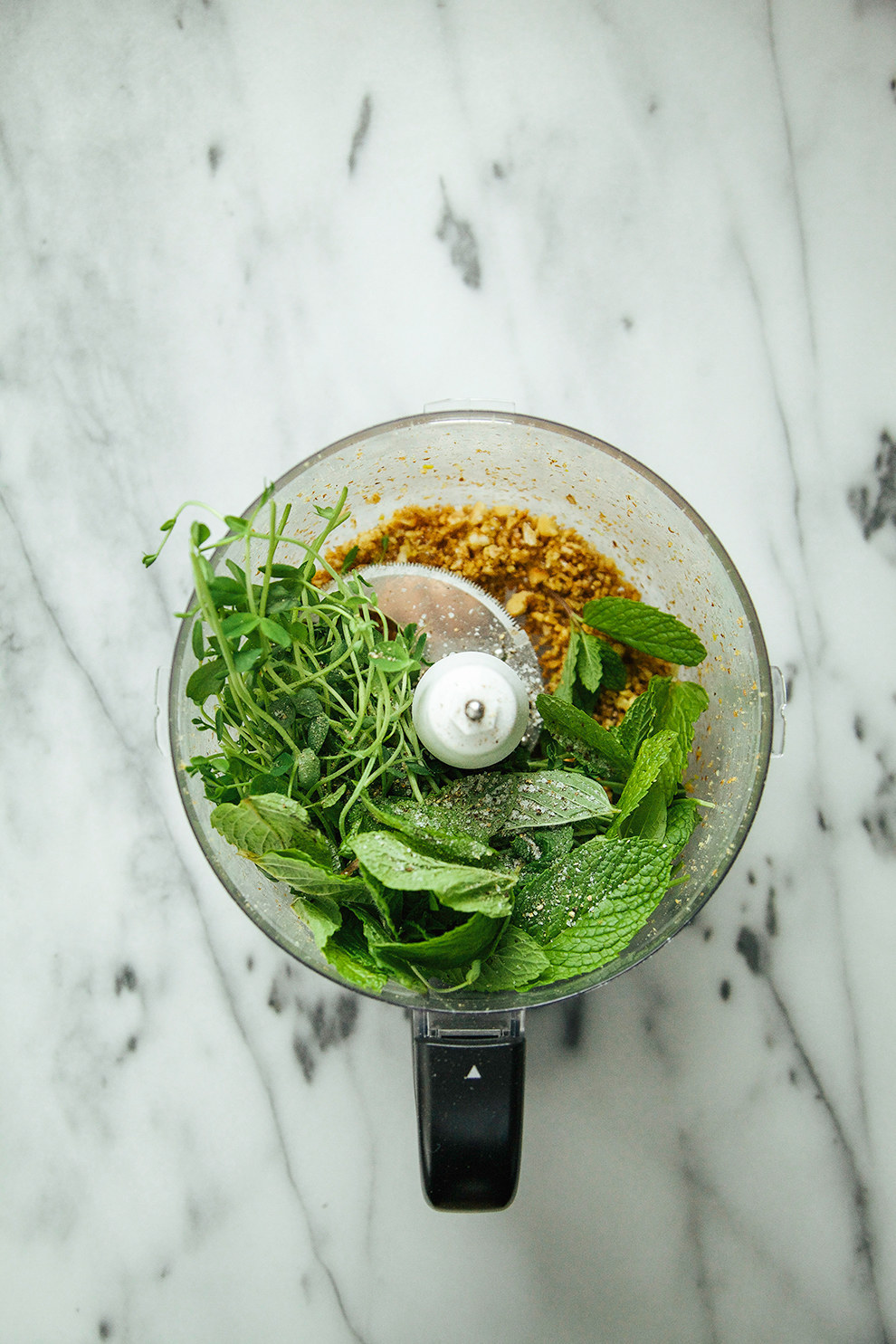 ...until a dry paste forms.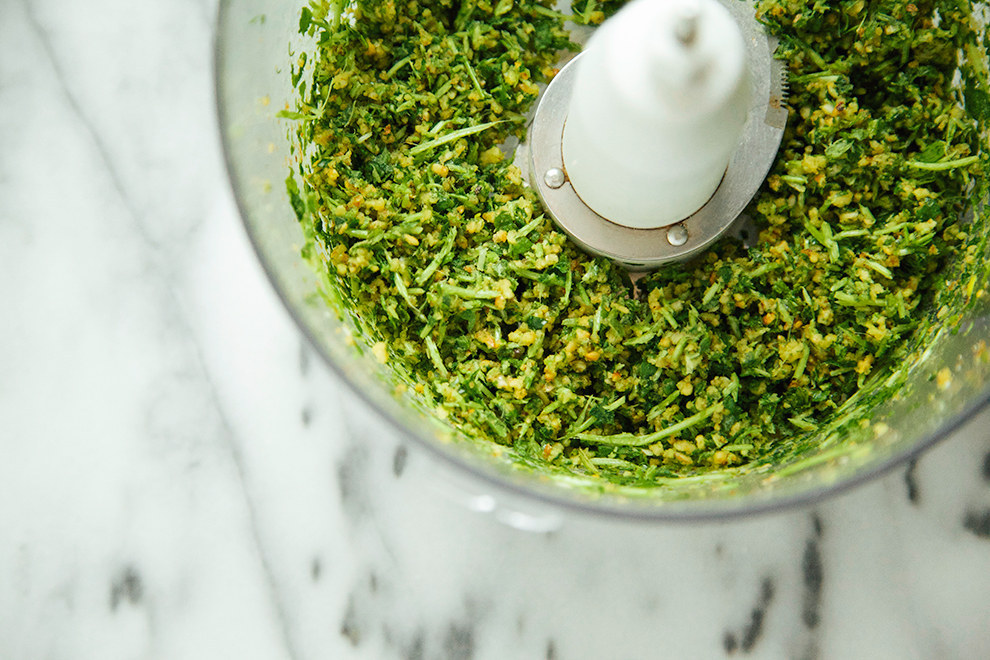 With the motor on low, drizzle in some extra virgin olive oil.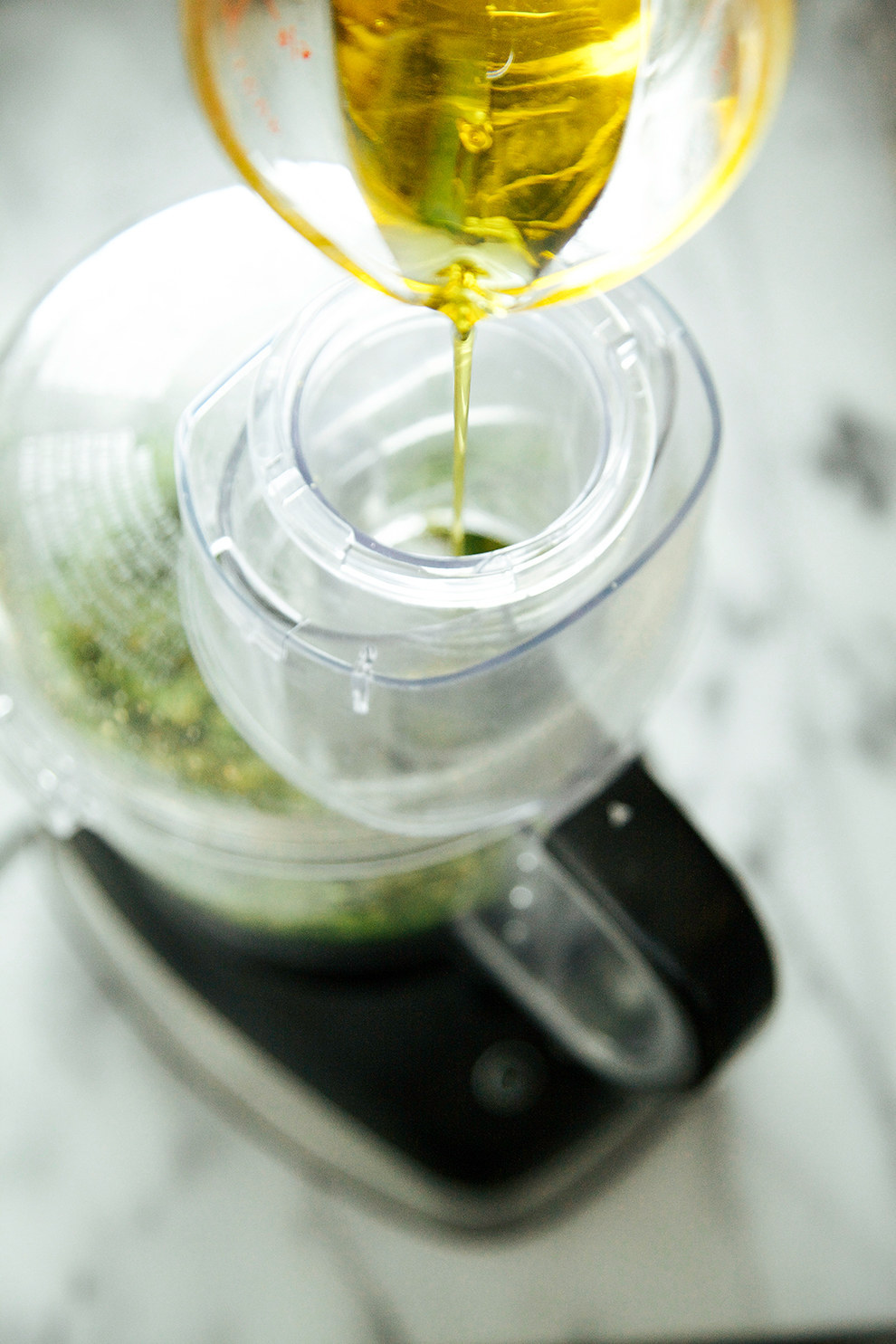 Pour the pesto into a serving bowl or container. Then serve it in one of several ways...
Toss it with pasta and shaved walnuts or Parmesan...
Dilute the pesto with a bit of extra oil and spoon it over roasted asparagus...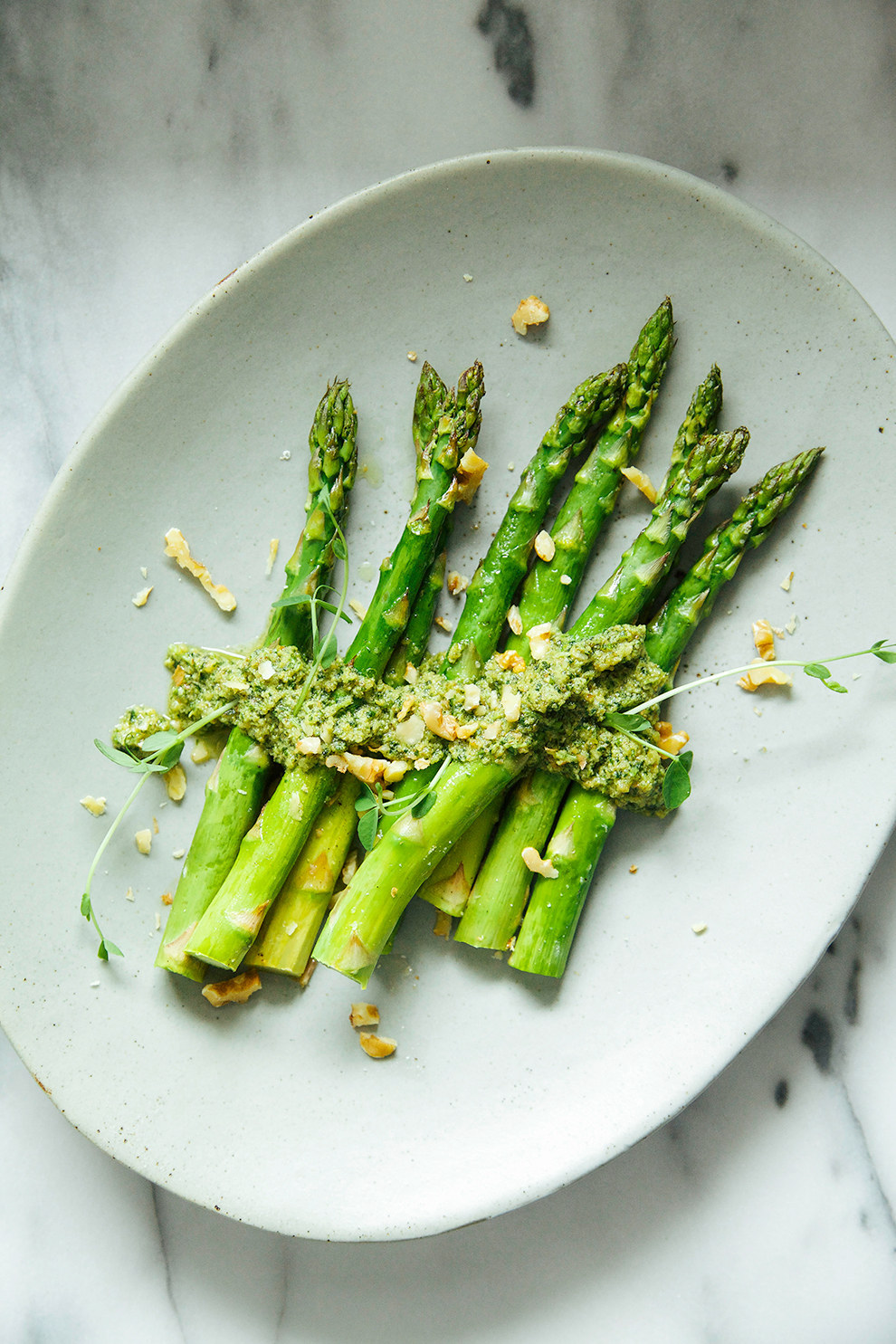 Stir a couple heaped spoonfuls into a cup of yogurt (dairy or non-dairy based) for a veggie dip...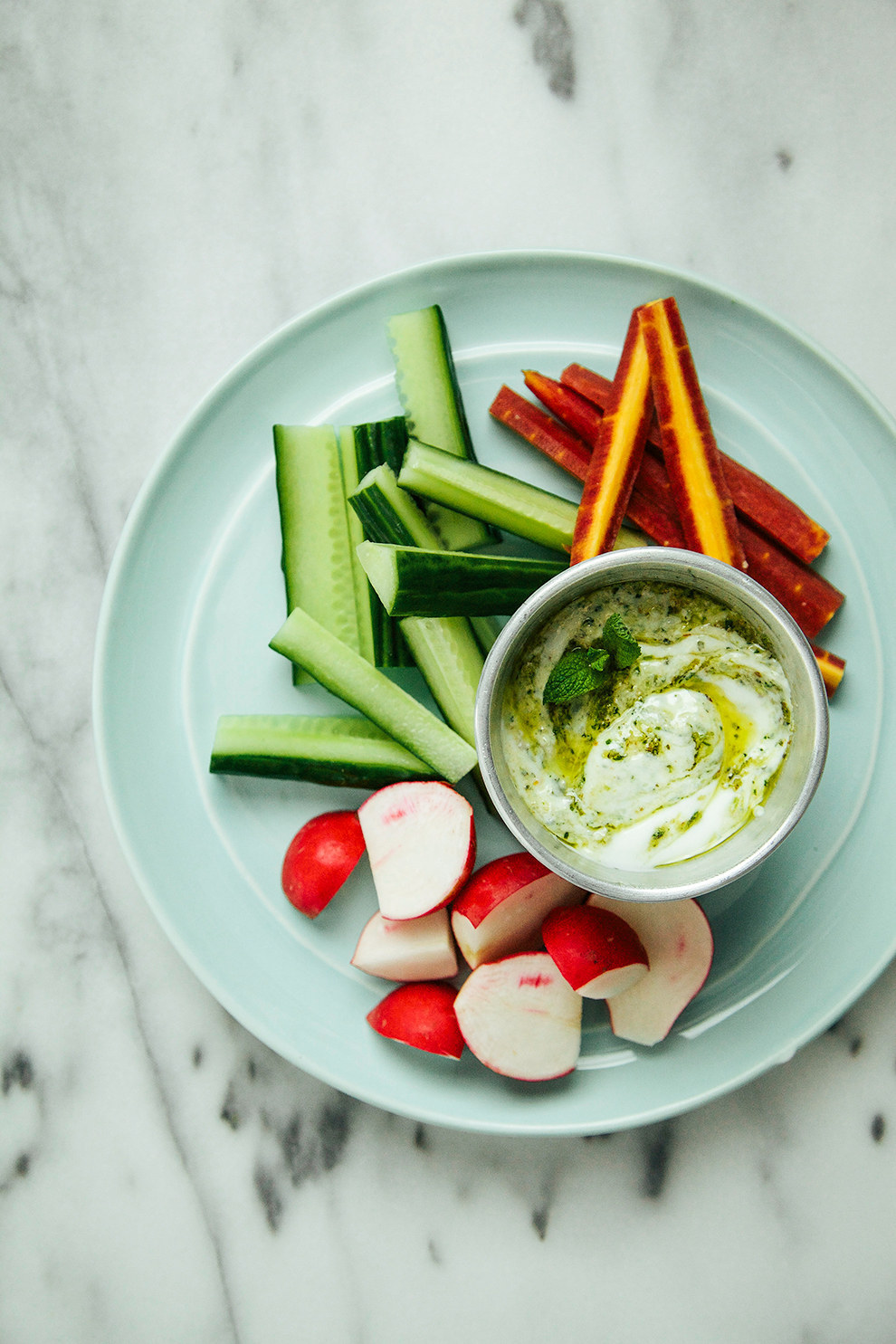 Or dollop it on top of avocado toasts with chili flakes, salt, pepper, and a squeeze of lemon.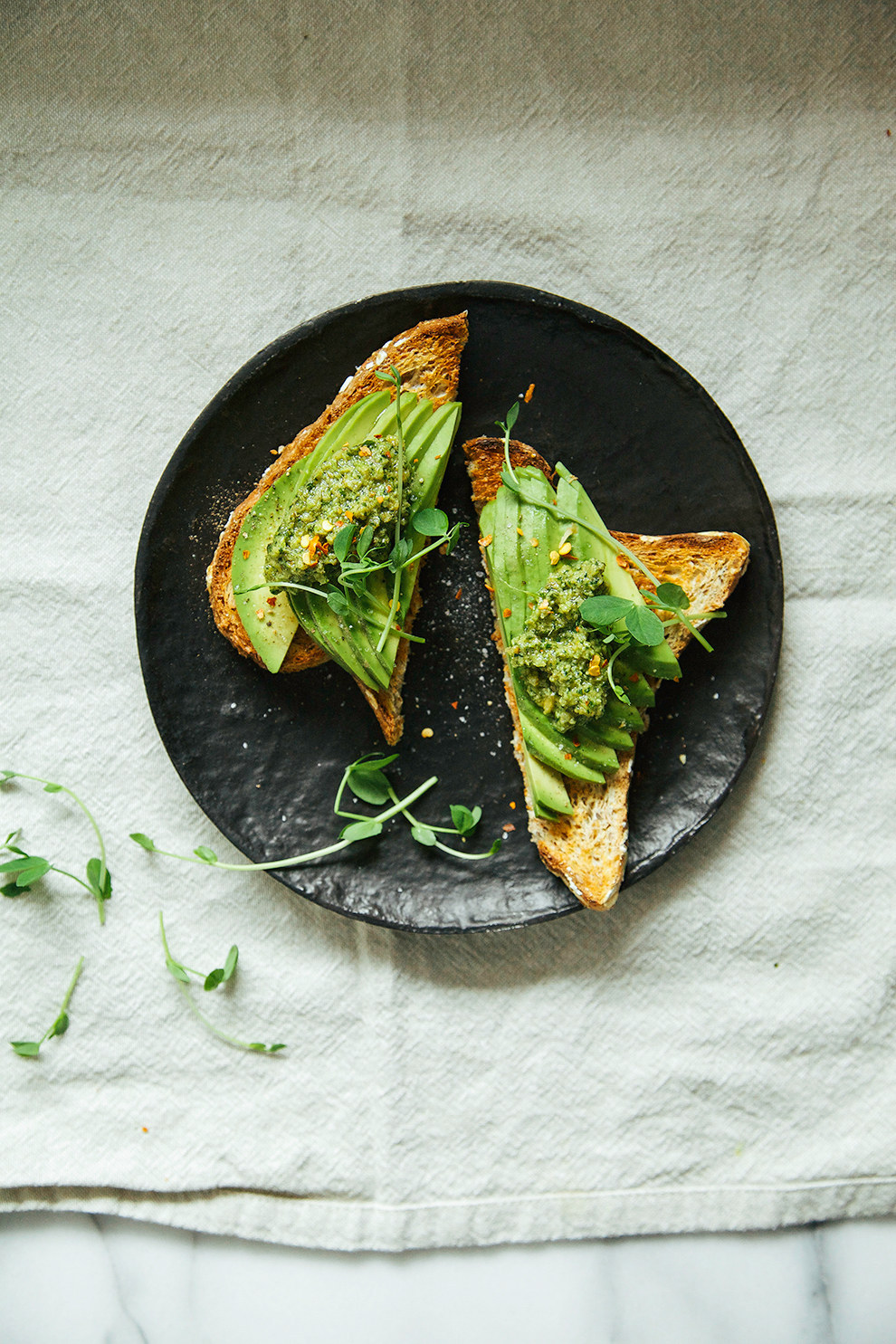 Vegan Pesto with Pea Shoots, Walnuts + Mint
Recipe by Laura Wright
Makes a little over a cup
INGREDIENTS
3/4 cup toasted walnut halves
1-2 cloves of garlic, peeled
2 cups pea shoots, packed
1 cup fresh mint leaves
1/2 cup extra virgin olive oil
salt + pepper
PREPARATION
Place the walnut halves and garlic cloves in the bowl of a food processor with the "S" blade in place. Pulse nuts and garlic about 10 times, or until all pieces are chopped small. Add the pea shoots and mint leaves. Pulse the mixture 10-15 times, or until you notice that a dry paste is forming.
Season the mix with salt and pepper and place the lid back on. With the motor on low, drizzle the extra virgin olive oil into the food processor through the feed tube. Once you've added it all, turn the machine off and scrape down the sides of the bowl with a spatula. Return the lid and pulse the pesto another couple times, just to ensure that everything is fully incorporated.
Scrape the pesto into a container if you're not using it right away. Cover the surface of it with a tiny film of olive oil, just to preserve the color. Put a lid on it and store in the refrigerator until ready to use.