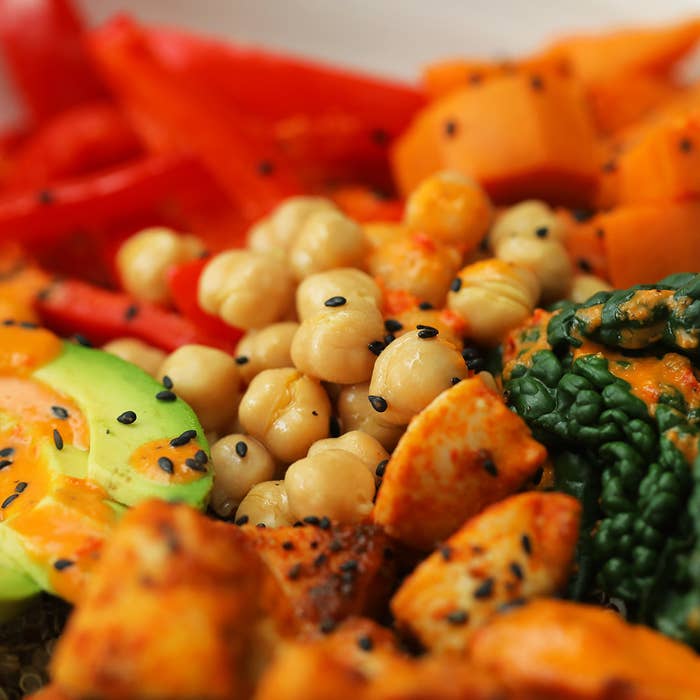 RECIPE
Servings: 2
INGREDIENTS:
1 cup multicolor quinoa
1 sweet potato, peeled and cubed
4 leaves kale, pulled off the stem
2 red bell peppers, sliced
1 chicken breast, cut into 1-inch cubes 11⁄2 teaspoons salt
1⁄2 teaspoon pepper
1 teaspoon paprika
1 teaspoon garlic powder
1 can chickpeas
1 avocado, thinly sliced
Black sesame seeds, for garnish
Dressing
Half of the saut é ed bell peppers 1⁄3 cup olive oil
1⁄4 cup apple cider vinegar
1 clove garlic
1 teaspoon sugar 1⁄2 teaspoon salt
1⁄4 teaspoon pepper
PREPARATION:
1. In the T-fal Multicook & Grains, cook quinoa according to Nutri+ setting. Once quinoa is finished cooking, remove from bowl and clean bowl.
2. Fill inner bowl with 3 cups of water. Place steaming basket on top, fill with sweet potato, and steam for 20 min. Remove sweet potato, then fill steaming basket with kale and steam for 5 minutes. Remove kale and set aside.
3. In the inner bowl, drizzle a little olive oil, then add sliced red bell peppers. Set T-fal Multicook & Grains to Browning function for 10 minutes. Keep lid open and saut é peppers until lightly browned. Remove peppers, set half aside for the dressing and half aside for topping the bowl. Add another drizzle of olive oil and the chicken. Sprinkle chicken with salt, pepper, paprika, and garlic powder. Sauté for 10 minutes or until chicken is cooked. Remove chicken and set aside.
4. Dressing: Place all ingredients in blender. Blend on high until smooth.
5. Assembly: Scoop quinoa into the bottom of the bowl. Arrange chicken, chickpeas, sweet potatoes, kale, red bell peppers, and avocado on top. Drizzle with dressing and serve.