Hey, what's up. Hello. I'm here to debunk some very important news for you today.
If you were on the internet this week, you likely saw Jason Derulo's, um, eggplant, which was trending after he posted this thirst trap on Instagram:
Naturally, his fans lost their shit over the risqué photo, and the "Talk Dirty" singer had some fun with it: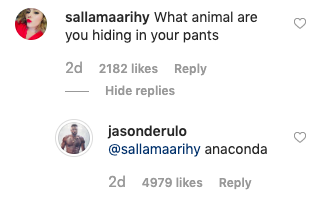 He asked his followers to admit if they zoomed in on the now-viral underwear snap, and the comment received over 10,000 "likes" and nearly 2,000 responses.

However, there were some who questioned whether the pic was actually photoshopped 🧐.
When TMZ caught up with Jason, they asked him about it and he denied altering the pic. "Photoshop? Photoshop? Don't make me [pull it out]. It's not enough women in this area. Just know that us Haitians, we look different," he said.
"It was in Bali. I honestly [didn't] feel like that was going to be my most liked picture when I woke up this morning. I posted the motherfucker very early. It was [a photo] from months ago. It was not even something that I just did," he added.
Well, now that we have that mystery solved, we can all go back to our regularly scheduled programming. Or zooming in on Jason's pic. Take your pick. Ta ta for now!