We hope you love the products we recommend! Just so you know, BuzzFeed may collect a share of sales from the links on this page.
Pasta is often billed as the no-brainer meal that anyone can cook — but that's not always true! Until: the Fasta Pasta Microwave Pasta Cooker, aka the $13.93 mealtime miracle that carb lovers have been waiting for.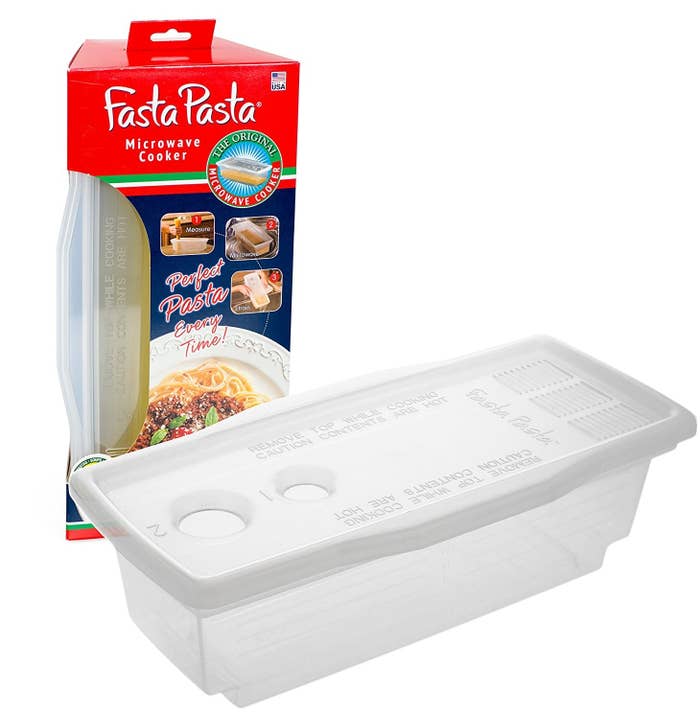 If you're still thinking, Okay, but who really *needs* a special plastic pasta maker? the answer is...lots of people!
Now at first glance, you might think you could DIY your own by taking a basic plastic storage container and carving out some holes on the top. But there's so much more to it than that.
And if you don't trust me, trust the nearly 2,000 people who bought it and loved it so much they gave it a five-star review.
One gluten-free reviewer in particular had a *lot* to say about the life-changing magic of their microwave pasta cooker:
Promising review: "I live alone and find I use the microwave for a lot of my cooking. The Fasta Pasta makes microwave cooking pasta for one much easier. When I want pasta, it's quick and easy and the draining lid means a little less cleanup.
In my case, I cook gluten-free pasta. There are lots of brands, and tastes differ, so another may be your first choice. I cooked a mainly rice gluten-free fettuccine and using the guidelines in the brochure it came out great.
The lid is used to measure portions and as a sieve to drain the cooked pasta. It is NOT used during cooking! This was not obvious to me before reading the instructions, which are short, sweet, and worth reading. Cleanup was very easy and I recommend that if you don't wash it right away, fill it with water and a couple drops of dish detergent. I use my hands, not a dishwasher, though it is top-shelf-safe.
In conclusion, I didn't expect too much from the Fasta Pasta and my expectations were thoroughly exceeded. It is clear they designed it with clear thought about how it would be used. Most of all, my results have been excellent and very tasty. That's a five-star performance in my cook-for-one kitchen."
Whether you're tight on time, space, money, or energy, there is nothing that some fast, perfectly cooked pasta can't cure — and the Fasta Pasta would love to be part of that remedy.
Reviews in this post have been edited for length and/or clarity.