Kristy Stratton and her husband Jim Larsen were pretty much destined to get married on an airplane.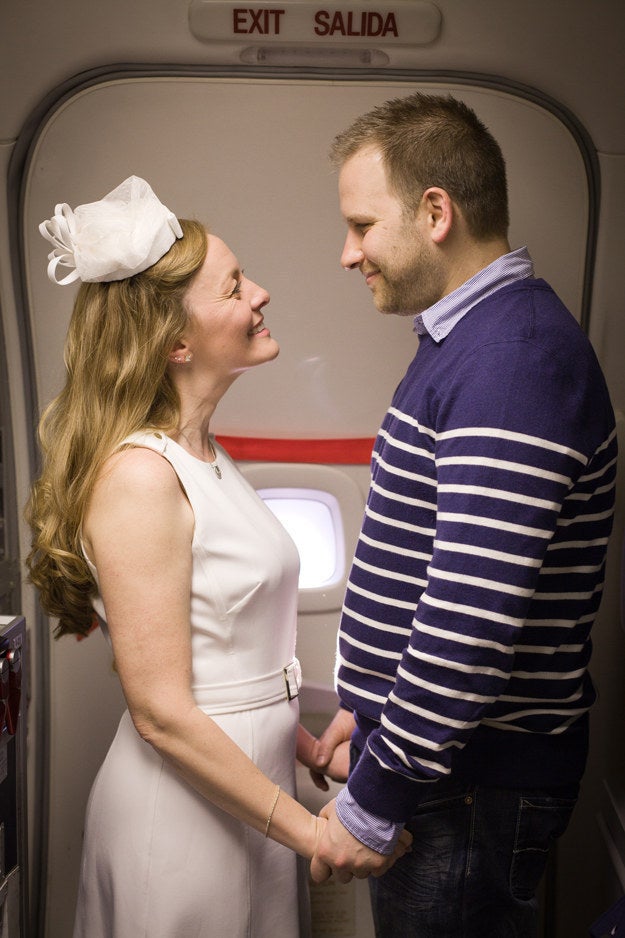 Stratton, who's been a flight attendant for Alaska Airlines for 11 years, met Larsen while she was on a layover in between flights.
Stratton estimates that they've flown back and forth on the Los Angeles-to-Seattle route "at least 70 times."
The couple got engaged on Feb. 29, 2012, but didn't rush into any wedding plans. That all changed after Stratton's mother, Billie Jo, was diagnosed with stage 4 lung cancer.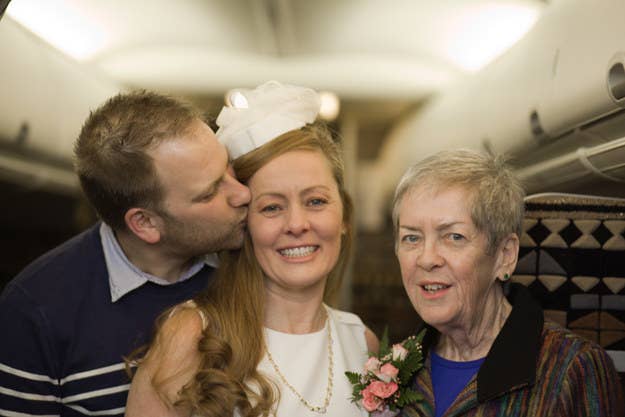 "She told me she had a bucket list," Stratton told BuzzFeed of her mother, who was diagnosed in Sept. 2014. "She wanted to go on a mother-daughter trip, she wanted to fly on an Alaska Airlines flight with me, and she wanted to see Jim and I married."
Contrary to other media reports on the story, Stratton said her mother is fighting the disease and her condition is improving.
"People are all reporting that she's dying, but it's quite the contrary," she said. "My mother is fighting the cancer, and doing it really well."
In fact, Billie Jo's condition improved so much that on Feb. 8, she was given an 11-day clearance to fly. That gave Stratton and Larsen 11 days to plan the in-flight wedding of their dreams.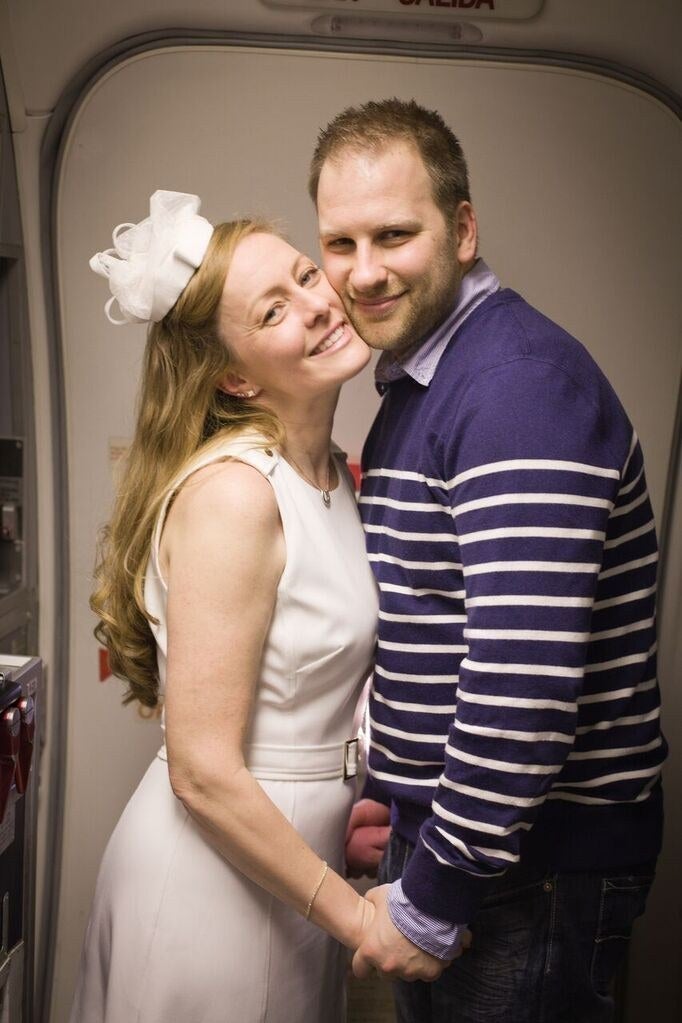 "She'd said she wanted to come visit us in Seattle on Feb. 19, and we were really hoping she'd be cleared to fly by then," Stratton said.
As soon as Billie Jo's doctor gave the all-clear, the wheels started turning.Three days after the news, Stratton was struggling to think of a place where they could get married.
"Then while I was driving home from a redeye, it hit me — maybe Alaska will let us get married on the plane. That LA-Seattle route has a lot of meaning for us, so it seemed like the perfect way to do it," Stratton said.
Two days later, the COO of Alaska Airlines gave Stratton permission to co-opt a Feb. 19 flight for her wedding. She got to work planning, which included designing her own shoes.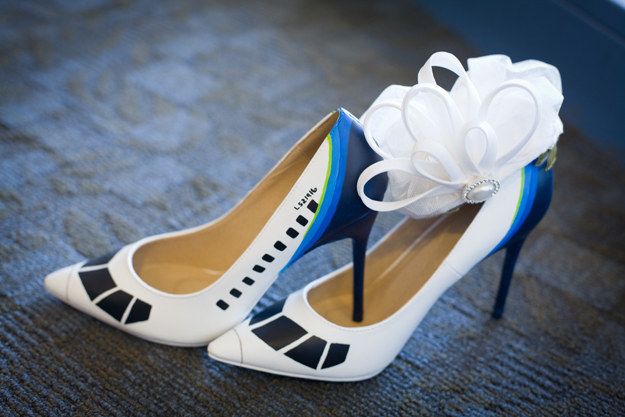 To go along with their wedding rings, Stratton customized a set of Alaska Airlines wings to exchange during her ceremony.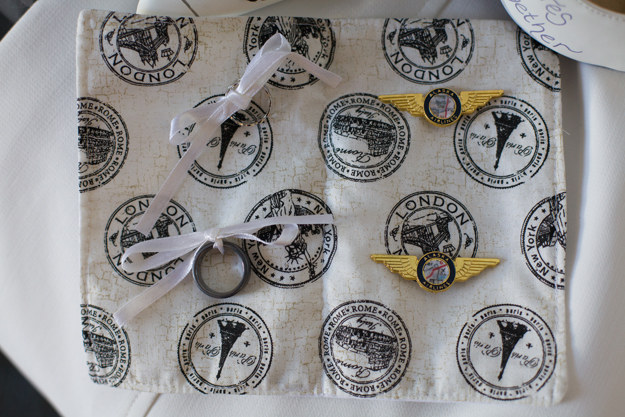 Stratton's best friend, an artist, fashioned a bouquet for her to carry down the aisle, too.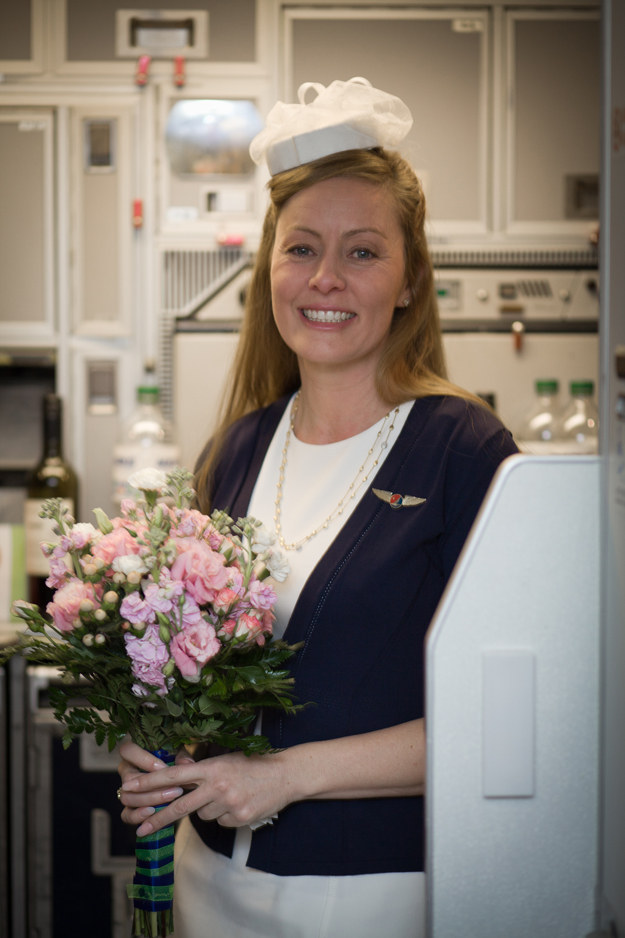 The wedding was a surprise to passengers on the fully-booked Los Angeles-to-Seattle flight. An hour into the journey, a flight attendant announced the exciting news.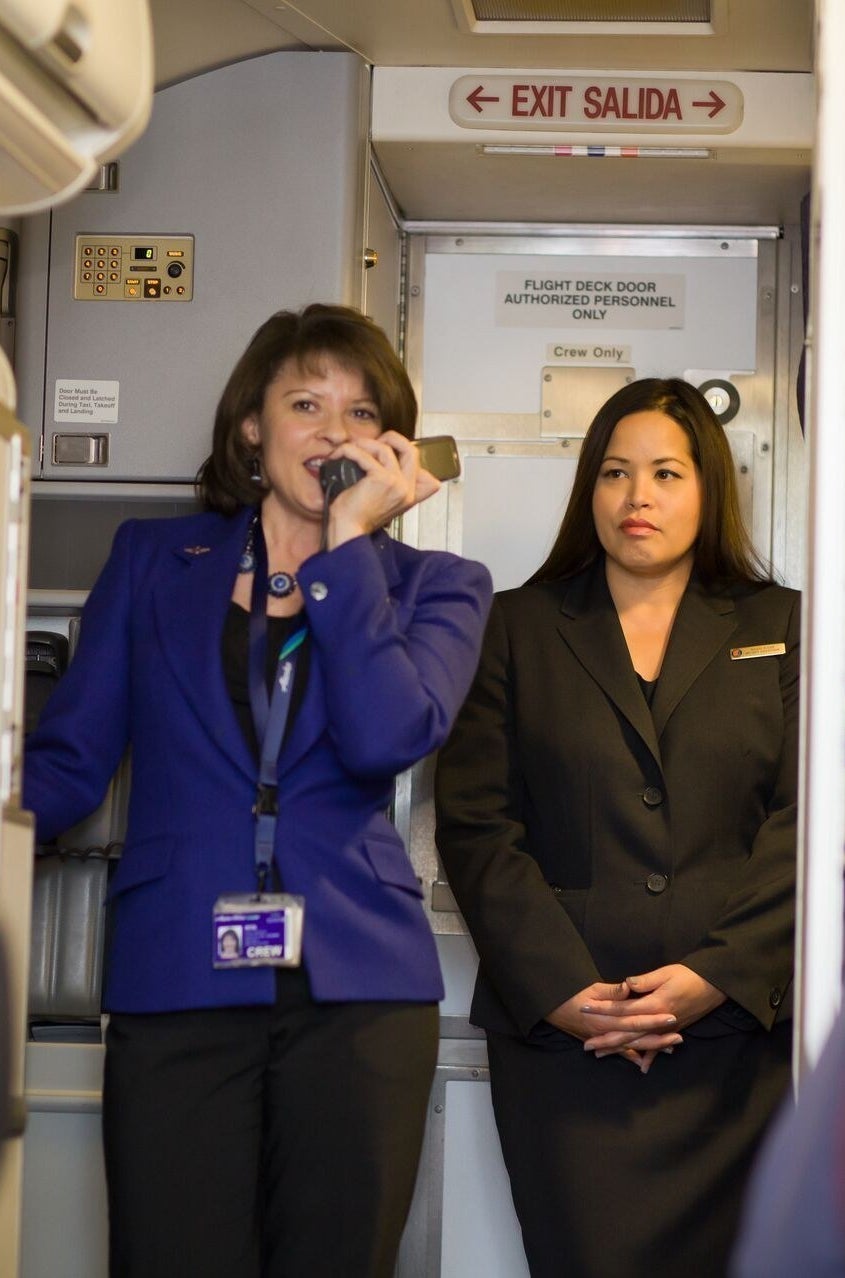 Just before the ceremony began, passengers were given conversation hearts, the first candy Larsen gave Stratton.
"The passengers were so excited," Stratton said. "It put the biggest smile on my face, everyone on the airplane joined in on the love."
When the big moment came, Stratton's best friend also acted as flower girl, spreading petals down the aisle.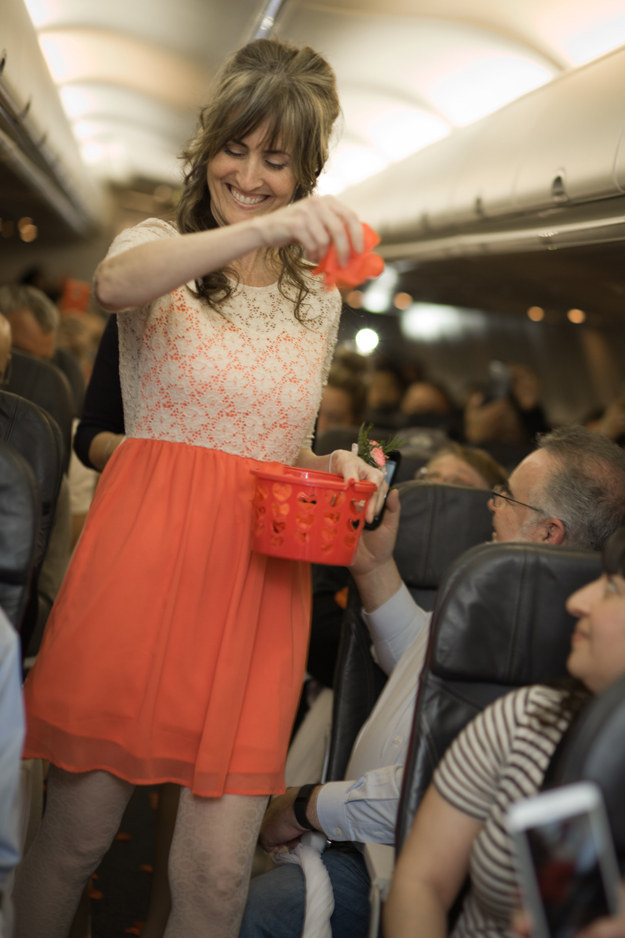 And passengers got to witness a wedding 35,000 feet in the air.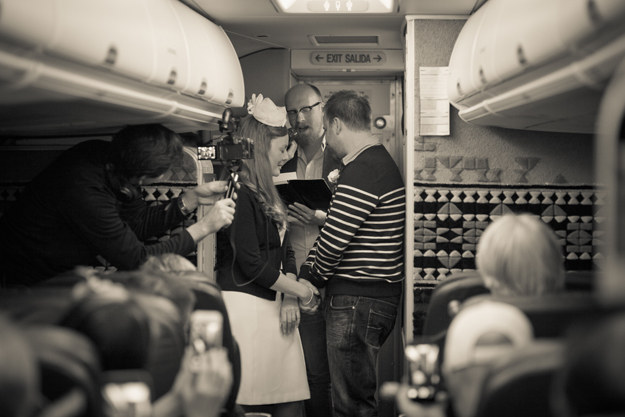 Clearly, they loved the happy distraction from the 2 1/2 hour flight.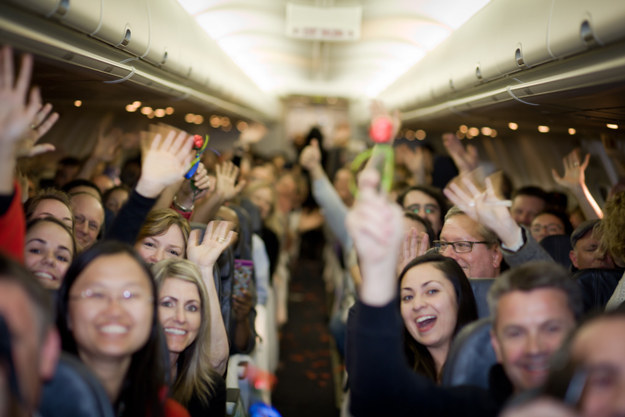 As they exchanged their wings, Stratton asked Larsen to promise to be her travel partner for life and be loyal and faithful to her Alaska family.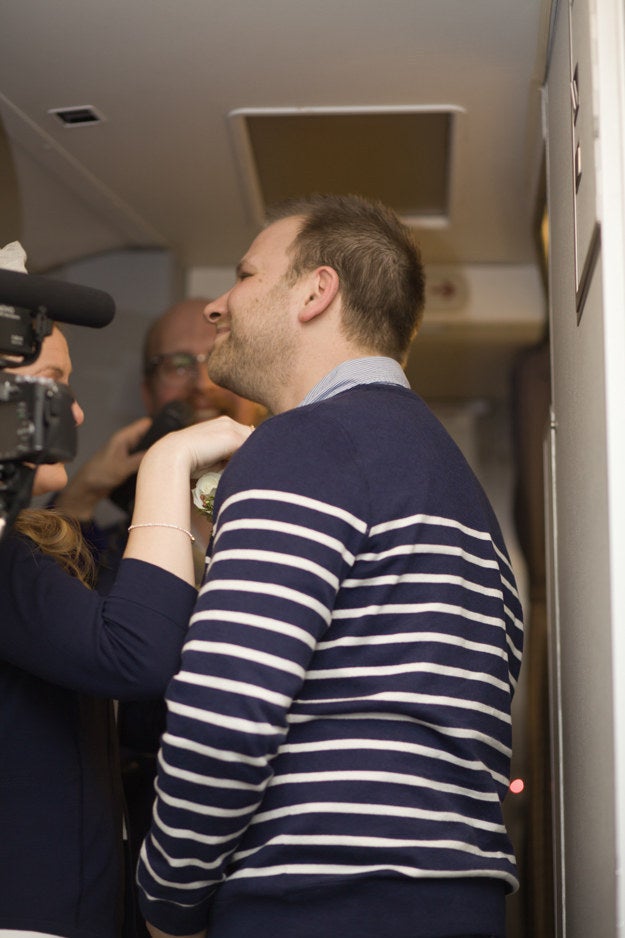 "He flies with me pretty much everywhere I go, every weekend, so my airline family is like his now, too," she said.
Naturally, many passengers captured the whole thing on their phone cameras and even managed to upload their photos and videos to social media before the plane landed, Stratton said.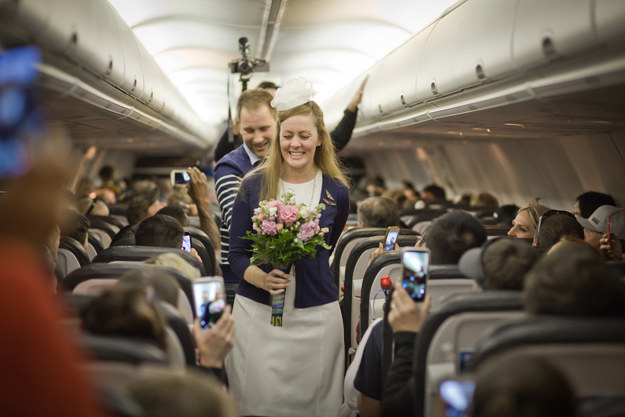 When the plane landed in Seattle, where the newlyweds live, there was a surprise waiting — a flight attendant had bought a piece of cake for them to share as a wedding present.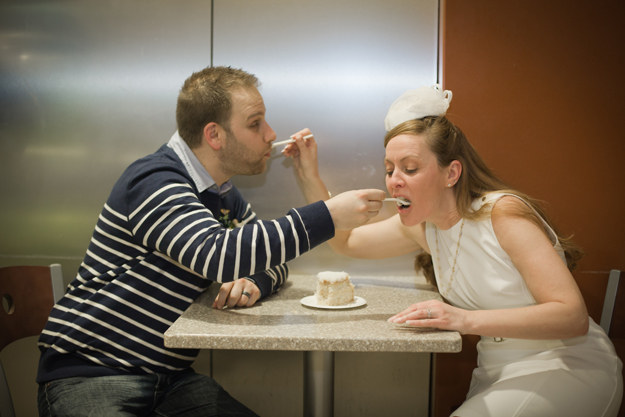 Even better? Stratton said the normally-turbulent flight was unusually smooth for their matrimonial trip.