But on the Oct. 17 episode, one guy went small...and stayed?!
Reigning champ Manny Abell was lagging behind opponents Carlos Nobleza Posas and Fran Fried going into Final Jeopardy — he had $1,000, while they were tied with $12,300 each. The category was "Asian Geography," and I guess they all felt pretty confident because JFC they all wagered a lot.
But no one got the answer right (it's Iran), and thanks to Manny's only slightly less aggressive betting, he won a whole dang dollar.
The, er, unusual finish is so rare that it's only happened one other time in Jeopardy! history, way back in 1993.
Anyway, viewers had a lot of thoughts on Manny and his near-loss. Some drew some comparisons between the show and Price is Right.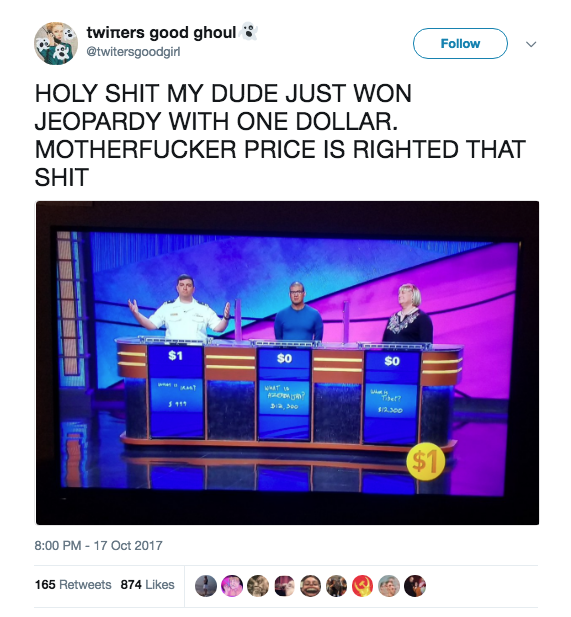 Others saw it as a brief distraction from mourning recent 12-day champ Austin Rogers' defeat.
And some were just liiiiiving for the high stakes finish.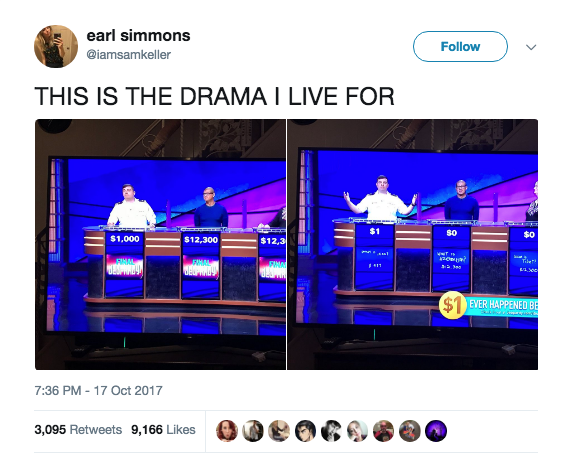 Manny right now, probably.