We hope you love the products we recommend! All of them were independently selected by our editors. Some may have been sent as samples, but all opinions and reviews are our own. Just so you know, BuzzFeed may collect a share of sales or other compensation from the links on this page if you decide to shop from them. Oh, and FYI — prices are accurate and items in stock as of time of publication.
1.
A magnetic kitchen organizer you can stick to your fridge to help keep your essentials in one easy-to-reach place.

Promising reviews: "Obsessed! I have such a tiny kitchen and this helped clear up so much space in my drawers." —Bridget Noonan
"The magnet is super, super, super strong. I have paper towels, kitchen utensils, a full spray bottle, and a ton of other things on this and it's sturdy." —travelinglens
Get it from Amazon for $42.
2.
A cabinet door organizer perfect for storing boxes of plastic wrap and aluminum foil OR cutting boards OR baking pans. It's just that versatile.
Promising review: "This organizer is so useful! I recently moved and ended up with a much smaller kitchen, so I've been doing everything I can to make sure there's a place for everything and no wasted space. Luckily, I have pretty wide cabinets, so this works out perfectly. I have one holding my cutting boards (four standard plastic boards) and another holding my foil, cling wrap, and parchment paper boxes. The organizer is super easy to assemble and it's completely versatile. Hang it over the cabinet door or attach it to the wall/cabinet door, which means it's great for renters and owners." —Kerry
Get it from Amazon for $17.97.
3.
A revolving spice rack that'll take up barely any countertop space at all! This rack comes with 20 jars as well as 40 customizable labels.

Promising review: "We have been looking for a spice rack that could hold a decent amount of spices. We are spice snobs so we wanted one that didn't come already pre-filled. It was hard to find but this one was perfect. Holds a lot of spices and you can write on the lids so we were able to put whatever we want in them!" —jpoll 
Get it from Amazon for $29.99 (available in two shapes).
4.
A 15-piece set of airtight food containers because you've got six open boxes of rotini taking up way too much space in your pantry. Trust me, there's an easier (and more streamlined) way.
Promising review: "I ordered this set to continue on the road to an organized pantry. There are enough containers and enough variety of sizes to make me happy. I have stored pastas and noodles, dried beans, rice, sugar, instant mashed potatoes, crackers, etc. When I open a box of something, I put whatever is unused into one of the containers and feel very secure that the contents will be fresh and protected from any possible insect problems." —R M
Get it from Amazon for $30.99+ (available in three colors).
5.
A stainless-steel kitchen sink organizer so you never lose your sponge at the bottom of the sink under a stack of dirty dishes...that you can't clean...because your sponge is...well, you get it.
Promising review: "This is a sturdy, modern-looking sink organizer with a plastic bowl underneath that collects water and slides out. It easily holds tall brushes, a sponge, washcloth, hand lotion, and your soap bottle. I am thrilled to declutter my sink." —ClaireWithLove
Get it from Amazon for $17.99+ (available in two sizes and two colors).
6.
A sliding two-tier countertop organizer if your kitchen's lack of cabinet space has meant spices, spoons, and spatulas have overwhelmed all the countertop space you have left.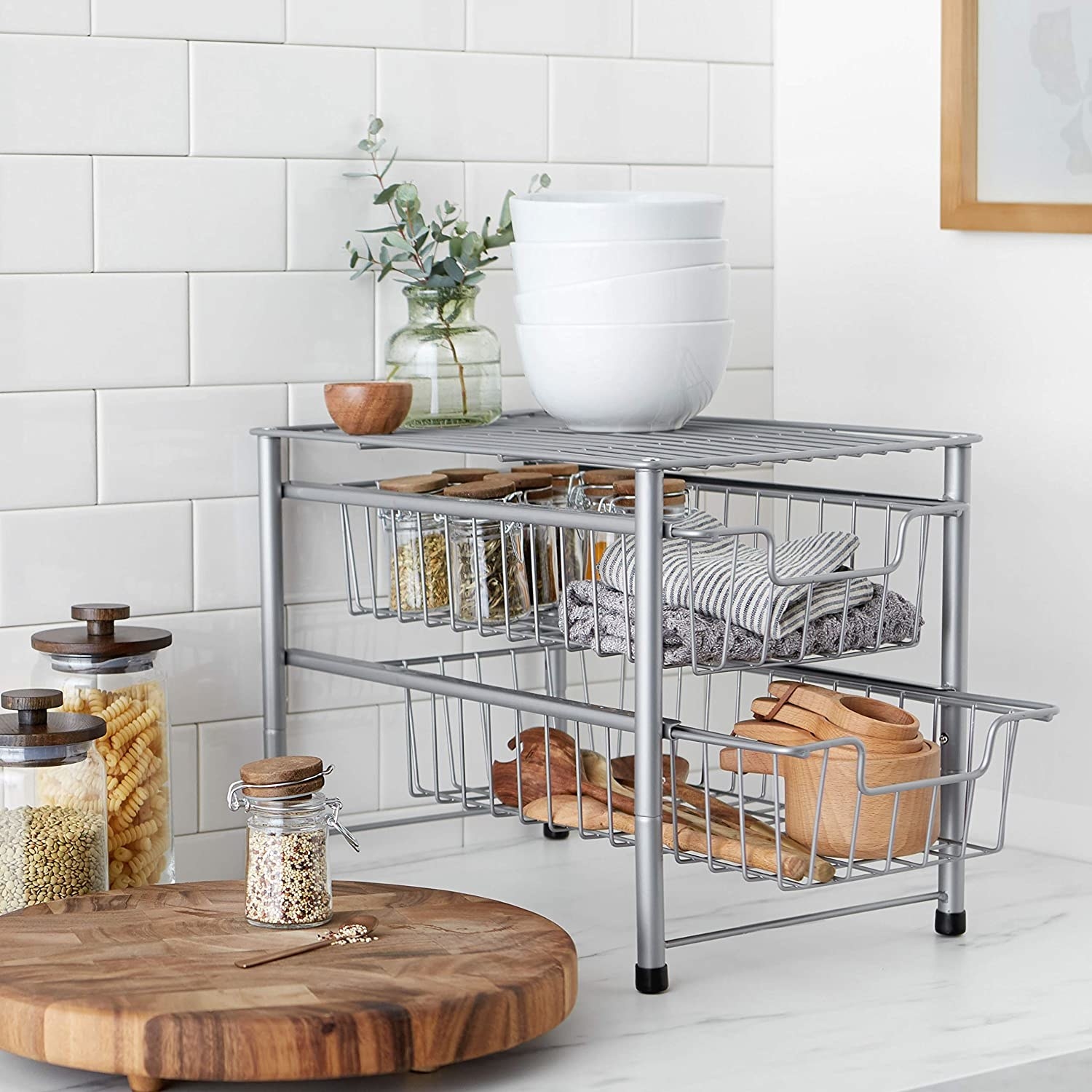 Reviewers have also used it to organizer their pantries, and, like the reviewer below, as under-the-sink storage.
Promising review: "I love this product! I wanted to have my cleaning products more organized under the kitchen sink and this did the trick. I also love that I can just pull the drawer out when I need something. I bought one for my lotions and soaps for the bathroom as well as for under the sink!" —Elizabeth 
Get it from Amazon for $33.51.
7.
A cutlery organizer with stacked compartments for each set of utensils. Now you can easily reach for and grab a butter knife instead of having to search through a cluttered drawer.
Promising review: "I have a tiny kitchen with only three drawers, so space is at a premium. My silverware organizer took up almost all of one drawer, so this organizer is a godsend. You can fit quite a few spoons, etc. in each slot. My beater attachments fit perfectly into the top two hollows. I will say I have to flip my forks over face down in order to be able to shut and open my drawer, but then the drawer itself is kind of shallow. You NEED this if you have a small kitchen with few drawers!" —mialro
Get it from Amazon for $11.99.
8.
An expandable organizing rack that you can use to store pans and their lids OR bakeware OR dishes. You know what? Store 'em all! This sturdy and long-lasting rack comes with anti-slip silicone feet so you don't have to worry about it living on the counter or in a cabinet.
Promising review: "My pots and pans drawer was a mess, but now it's organized and everything is where it needs to be. I actually could fit more, but I don't have much left, now! You're able to store all types and sizes due to the rack being adjustable. No more clanking or the hassle of trying to fit the puzzle of pans together. Give it a try! You'll be amazed." —Mr. Minnesota
Get it from Amazon for $23.99+ (available in four colors).
9.
A four-tier slim wheeled organizer because even teeny tiny spaces can be converted to storage space. This four-tiered rolling cart can fit between kitchen counters and be used as a makeshift pantry.
Psst — lots of reviewers use this for their bathrooms and laundry spaces, too!
Promising review: "This is pretty fantastic. I had the exact amount of space needed to put this little pantry between my refrigerator and cabinets. It was easy to install and holds quite a lot of stuff. I put about 24 bottles of water and juice and some cereal and I still had space. Highly recommend it for small spaces." —SIMARA
Get it from Amazon for $26.72. 
10.
A plastic storage bag organizer so you don't have to fight dozens of cardboard boxes to open a kitchen drawer just to get a snack bag for your pretzels. Keep all those bags in one easily accessible (and cute) place.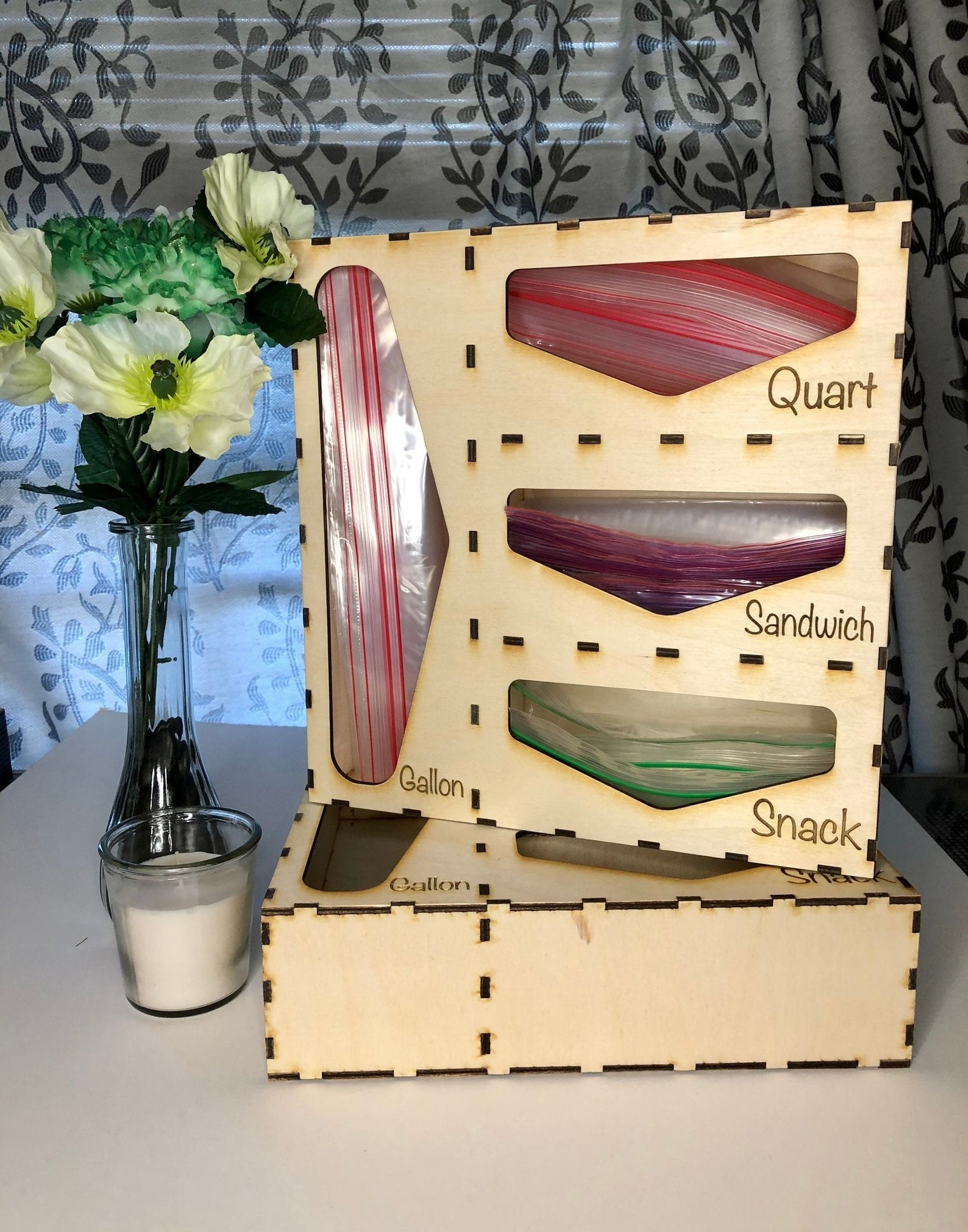 Southern Miss Design / Etsy
Southern Miss Design is a mom-owned small business based in South Carolina specializing in handmade wooden signs and custom vinyl monograms.
Promising review: "Love how this makes my drawer so clean and organized! No more fiddling with boxes! Fast shipping and wonderful package presentation!" —Jamie Lynn
Get it from Southern Miss Design on Etsy for $32.50+ (available assembled or unassembled and in two finishes).
11.
A lil' Keurig coffee pod organizer if half-empty boxes of pods are holding your pantry hostage.
Promising review: "I bought two of these to store my various K-Cups. Each drawer is long enough to hold 18 pods. I used each organizer to hold a particular flavor then cut the label of the box and placed it at the end, so I can easily identify what I want." —Charlie Johnson 
Get it from Amazon for $28.97.
12.
A pair of lazy Susans perfect for storing the condiments and jams you usually stuff in the back of your fridge and totally forget about.

Promising review: "I love these trays. They fit in my fridge and make things so much easier to find. They stay in place and don't slip around." —Debra M. Goldman-Williams
Get it from Amazon for $19.99+ (available in two sizes and in bigger pack sizes).
13.
A stackable egg holder because the cardboard boxes eggs usually come in aren't actually stable enough to stack or put other fridge-dwelling products on top of. And since these holders are clear, you can actually peek into your fridge and know immediately whether you need to add eggs to your grocery list.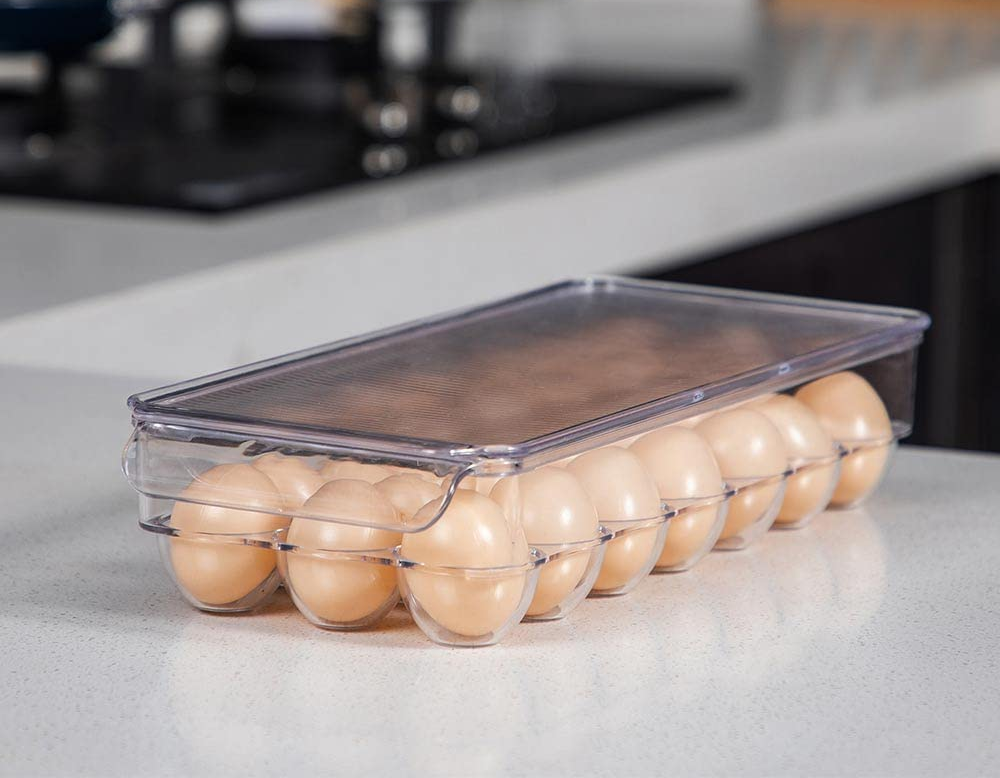 Promising reviews: "Makes organizing so easy. Love it!" —Katie
"This is perfect for storage and it's also aesthetically pleasing. Really can't beat that!" —Lexie Hawkins
Get it from Amazon for $11.50+ (available in three sizes and sets of two).
14.
A stackable can organizer so you can free up some space in your pantry for something other than 100 cans of beans. I get it, though. I love chili, too.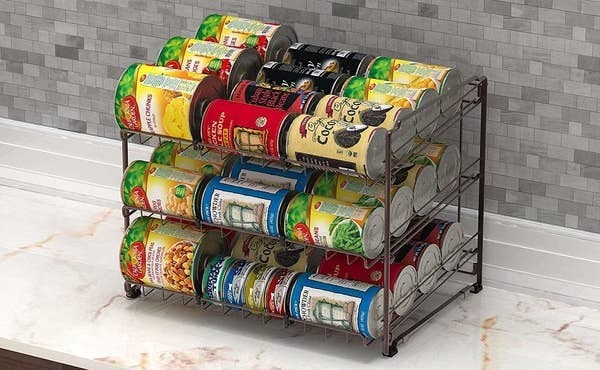 You can store up to 46 cans and jars of various sizes on this rack! It has six adjustable plastic dividers, and boasts sturdy-construction!
Promising review: "We just moved into an apartment that has no pantry and limited cabinet space. I assembled this in two minutes, no tools required! I use it for my ziplock bags/foil/slow cooker liners as well! It works great as a multi-shelving unit. Two of my friends have seen this and have already bought one. Every house needs one of these!" —Annie
Get it from Amazon for $26.87 (available in four finishes).
15.
A heavy duty pan organizer — your cast-iron skillet needs a little more attention than the light layer of oil you've rubbed in it. Capable of holding up to five pans, this organizer guarantees more cooking space for you!
Promising review: "I bought this rack to hold my iron skillets in my cabinet so I could avoid stacking them inside each other. This allows for easy access to each skillet without having to pull them all out in order to get to a skillet at or near the bottom. It's very sturdy, and currently holds five skillets for me. The rack can sit horizontally to insert skillets vertically (which takes up a larger footprint/space in the cabinet), or it can sit vertically and strong enough so skillets will sit directly on each rack shelf while taking up a footprint equivalent to a 10" skillet." —TStapleton
Get it from Amazon for $22.94.
The reviews for this post have been edited for length and clarity.