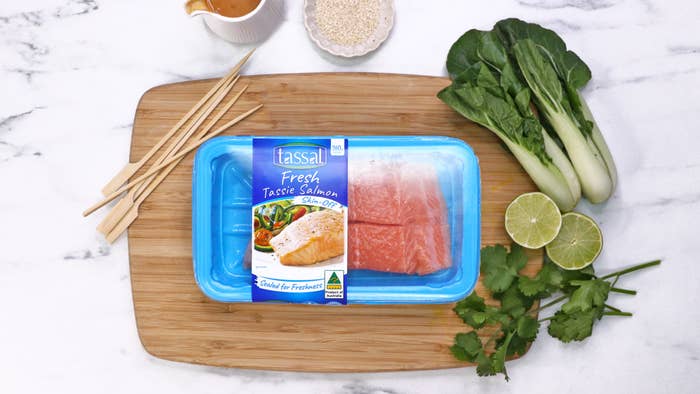 Ingredients:
2 x 260g Tassal Tasmanian Fresh Salmon Fillets - Skin Off
2 baby bok choy
400ml coconut milk
½ lime juiced
1 shallot
1 tsp garlic, minced
¼ cup peanut butter
2 tbsp hot chili sauce
1 tbsp kecap manis
Salt, to taste
Pepper, to taste
6 skewers, soaked
To garnish:
1 tsp sesame seeds
½ lime, cut into wedges
Method:
STEP 1: Lay the Tassal Tasmanian Fresh Salmon Fillets on a chopping board and divide each fillet into 6 pieces. Place in a bowl to the side.
STEP 2: Lay the baby bok choy on a chopping board and cut in half. Place the leafy part to the side and divide the white base into mini chunks that are same size as the salmon.
STEP 3: Take a skewer and then spear one piece of salmon, followed by a few chunks of baby bok choy and another piece of salmon to top it off, then place to the side. Repeat until all skewers are filled, then season with salt and pepper.
STEP 4: Heat a griddle pan on high heat and then add the salmon skewers. Turn every 2 minutes or until the salmon is charred on all sides.
STEP 5: To make the satay sauce, add a pan to medium heat, then add shallot and garlic, cooking until browned. Add peanut butter, hot chili sauce, kecap manis, coconut milk, lime, salt and pepper, then stir until combined. Reduce the sauce for 5 minutes until it thickens and remove from the heat.
STEP 6: To plate up the dish, lay the baby bok choy leaves on a plate, then add the cooked salmon skewers on top and drizzle with satay sauce. Sprinkle sesame seeds on top and serve.
STEP 7: Enjoy!