We hope you love the products we recommend! All of them were independently selected by our editors. Some may have been sent as samples, but all opinions and reviews are our own. Just so you know, BuzzFeed may collect a share of sales or other compensation from the links on this page if you decide to shop from them. Oh, and FYI — prices are accurate and items in stock as of time of publication.
1.
An Aveeno Baby eczema therapy balm, a heaven-sent skin soother for itchy and dry skin. No more fussy, uncomfortable babies. While it is for babies, you can definitely use it on yourself to get that baby soft skin.
"This nighttime balm honestly works WONDERS!!! My daughter had eczema since she was about 6 months old. This incredibly thick ointment would simply melt into her skin and clear up the dry, rough, itchy patches on her arms and legs significantly. We still slather it on her before bedtime and it keeps her skin smooooth. My husband, who also has eczema, has started using it too after seeing the results." —Chandi Reddy
Get it from Amazon for $17.99+ (also available in a three-pack).
2.
A Baby Brezza formula dispensing machine designed with the ability to control the temperature of the water while measuring out the perfect amount of formula for your baby. Within a couple of minutes you'll have perfectly warm formula and the amount of time it saves will make it feel priceless.
"Listen, listen, listen. Without hyperbole, the Baby Brezza has been one of my best investments for year one in babyland. Late-night feeds no longer become about fumbling, spilling, mixing, warming, and minutes later delivering a so-so bottle to a crying child. No, in seconds a measured and warm concoction is in hand and then in baby's mouth. Just add water to the tank and formula to the dispenser and serve bottles ranging between 2–10 ounces warmed to three different temperatures. The time, effort, and stress this wonderful machine has saved me from is emotionally immeasurable and worth the price tag. It even forces you to clean it after every four uses because that formula gets gunky and you get lazy." —John Mihaly

Get it from Baby Brezza for $229.99 and check out the newest version (it connects to Wi-Fi and let's you use an app to start making the bottle before you even get out of bed!) for $299.99.
3.
A Snugapuppy bouncer equipped with soft vibrations and calming music to lull your baby to sleep in minutes. It's easy to assemble and the only tears that will be shed might be yours when your cranky baby finally takes a nap. 
"There are so many rockers and bouncers out there, but this cute and cozy Sweet Snugapuppy Dreams Deluxe Bouncer from Fisher-Price did the trick for my family at a reasonable price. If you want to put something a little fancier for a group gift on your registry, I am also a big fan of the BabyBjörn bouncer, because there is nothing cuter than seeing your baby's little legs kicking away." —Kathleen Shea-Porter 

Get it from Amazon for $59.99+ (available in two designs).

4.
A stylish Boon drying rack can help organize the massive amount of baby bottles and accessories you've accumulated, so you pretend that your house is not overrun with baby stuff.  And the cute lawn design is totally grassy.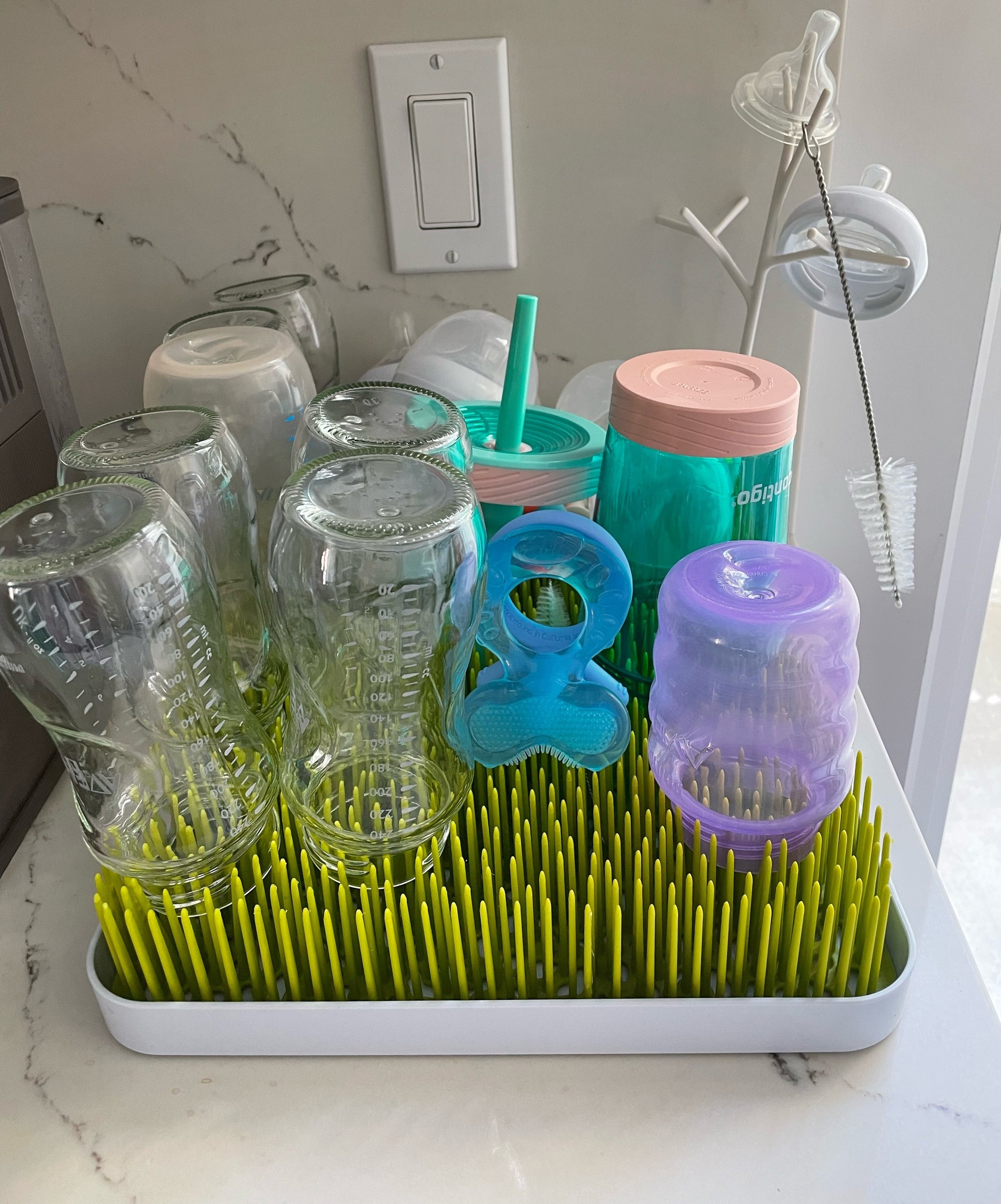 "Is it possible for a drying rack to be life changing? Why yes, it is. I caved and bought this grassy patch after my kitchen started to look an episode of Hoarders. This thing instantly organized my kitchen by creating a dedicated spot for baby stuff. Bottles, pump parts, sippy cups...this bad boy can hold a LOT (at least six bottles and four cups at once) and dries everything quickly. Did I mention it's a heck of a lot more cheerful and stylish than your regular drying rack?" —Chandi Reddy
Get it from Amazon for $24.99.
5.
A pack of splurge-worthy Comotomo baby bottles crafted to mimic a breast with a wide brim, making it easy to mix formula in it. Plus it is suuuper easy to clean and has dual air vents to keep the baby from getting more air than formula.
"Like many new parents, we tried approx. a million different baby bottles before settling on Dr. Brown's, which really seemed to help our colicky baby. But cleaning the bottle's million parts got so dang tedious! So we reluctantly splurged on Comotomo bottles. These bottles are a parent's dream and worth every penny. They have tiny vents to reduce gas and spit-up and there are literally only TWO parts to clean (the nipple and the bottle). Also, if you're formula feeding like I was, you'll thank the universe (or the makers of this bottle) every single day for the extremely wide neck that lets you add powdered formula without making a mess all over your kitchen counter." —Chandi Reddy
Get a pack of two from Amazon for $19.98+ (available in two colors and in two sizes).
6.
A Hand2mind Numberblocks MathLink Cubes activity set that will help improve kids math skills and is perfect for anyone who is OBSESSED with the BBC series. Also the theme song is so catchy, that you'll definitely find yourself humming along. 
"'1-2-3-4-5-Numberblocks!' is a theme song that I hear multiple times a day and have still somehow not tired of. Why? Because my kid loves it and so do I. Maybe it's the catchy tunes, maybe it's the British accents, but this show gives every number a personality (some of my favorites include 8, 13, and 15 but you'll have to watch to find out why). So it's no surprise that the toys based on this show are just as fun and educational. I wish I learned about numbers and math this way instead of through flash cards and times tables. Lucky kids!" —John Mihaly
Get it from Amazon for $24.99.
7.
A no-slip Ezpz Happy Bowl made with a built-in placemat, allowing for easy cleanup after even the messiest of eaters. Both dishwasher- and microwave-safe, you will breathe a sigh of relief at how much simpler meal time is now. 
"What do you do when you're big on letting your toddler self-feed, but are also a clean freak? Not gonna lie, watching my toddler 'explore food' aka throw his meal, bit by bit, on the floor like it's his full-time job has been an emotional rollercoaster: from 'Omg, he ate his meal like a boss' to 'Sob, it's going to take an hour to clean up that mess.' This mat/bowl combo was the perfect solution. It suctions nicely to our dining table and does a great job of staying put, saving me from hours of cleaning up my toddler's food-related messes. Wish I had this with my first baby!" —Chandi Reddy
Ezpz is is a woman-owned biz that creates developmentally focused, minimalist tableware for little ones.
Get it from Amazon for $22.99.
8.
A sturdy Miniware GrowBento Box a must have for lunches on the go. It is  dishwasher safe, making it easy to clean and comes with silicone pockets to help separate food! No judgment if you buy yourself one too!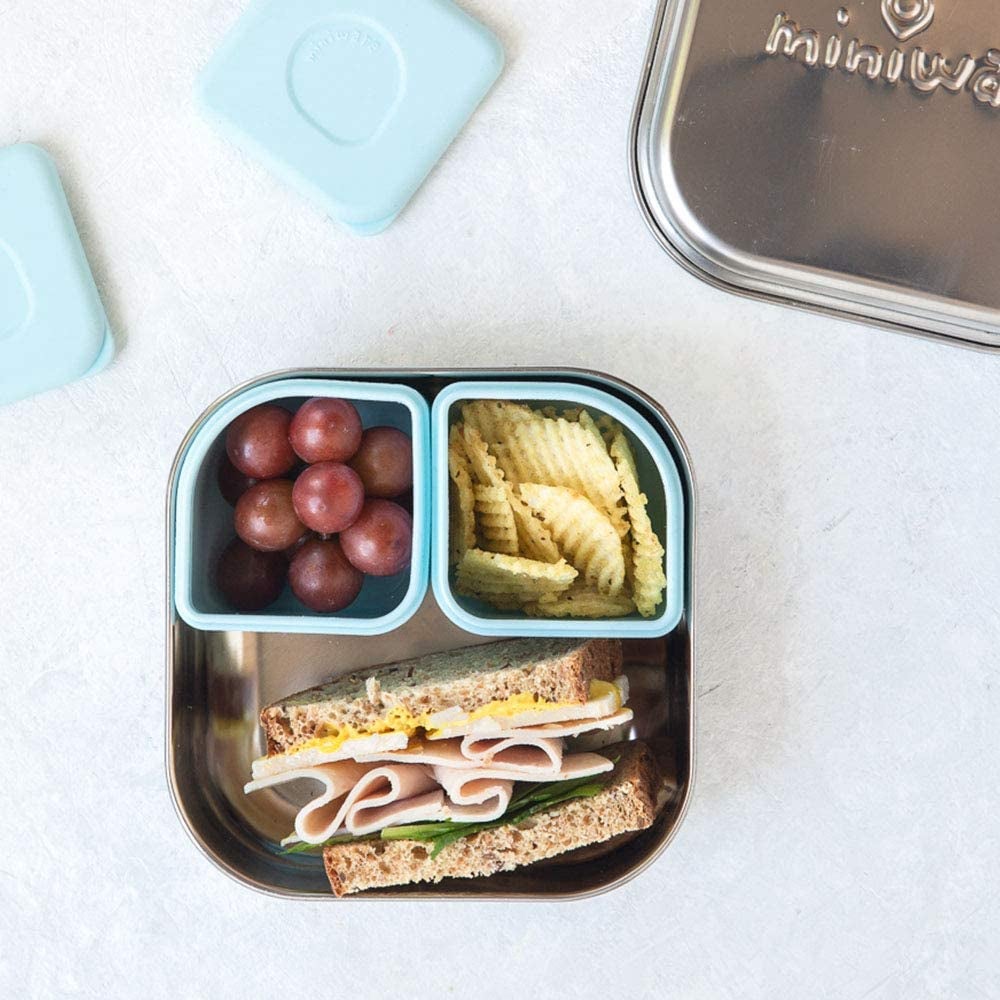 "The Miniware GrowBento box has been a great way for us to not only pack lunches for day trips for our son but also to get him prepared to eat his lunch when he starts going to daycare (sniffle). While I still maintain that my first plastic Transformers lunchbox (with the stinky smelling Thermos) is the thing childhood memories should be made off, this super-easy-to-clean (and never stinky) bento box is even nicer to look at than a bunch of Autobots!" —John Mihaly
Get it from Amazon for $38 (available in five colors).
9.
A Little Martin's baby nail trimmer, an ingenious trimmer that will slowly and safely file down their nails to the desired length, even if your little one is thrashing around as you do it.

"One of the tasks I found *terrifying* as a new mom (and still do!) was clipping my baby's nails. Enter: this ingenious nail clipper set that comes with three cushioned sandpaper discs — basically a foolproof way to cut baby's nails without any fear of accidental cuts. Added bonus: I could even trim her nails in the dark while she was sleeping, thanks to the built-in LED light." —Chandi Reddy
Get it from Amazon for $24.99+ (available in two colors).
10.
A life-changing Oogiebear nose and ear cleaner, a product that can eliminate any fights when it comes to trying to clean those crusty boogers out of your baby's nose. The rubber scoop cleans out any gunk in their nose and ears with a couple a quick swipes, so you no longer have to listen to your baby SCREECHING to the top of their lungs.
"I'm probably the only one who is unreasonably excited about this bear tool. But it's one of those things I didn't know I needed, until I bought it and realized how handy it is. I haven't used it to clean ears, but use it daily to to fish out crusty/gooey boogers from both my kids' nosies. The scoop end removes dried boogers and the loop end lassos sticky snot. (TMI, sorry)"  —Chandi Reddy
Get it from Amazon for $12.95.
11.
A Susisal diaper bag which is not only roomy but also can turn into a CHANGING STATION. This game changer backpack is the solution to changing a diaper when talking a walk when there's not a bathroom nearby. All the other parents are going to be so jealous at how much you've got this parenting thing down pat. 
"This bag does so muchhh! 😭 I bought two to use with my nephew — one in black to start and then I liked all of its features after a week, so I ordered another in pink. It has 16 pockets including three insulated ones for bottles and a hidden one for a phone. It also has straps so moms can hang it from a stroller and enjoy some arm relief. And the large pocket that pulls out into the changing station? It's also multi-functional and can hold laptops up to 15.6". Also, the changing station part is WAY BIGGER in person than it looks in pictures. Lowkey, I could use this with my nephew until he turns at least three." —Marquaysa Battle 
Get it from Amazon for $55.99.
12.
A classic Playtex Diaper Genie, the iconic pail that stops the smell of stinky diapers from penetrating your house, so you won't have to worry about taking out your garbage three times a day because of how bad used diapers smell. Because seriously what is in their food?
"This pail saved me a dozen trips daily to our garage to dispose of poopy diapers in the trash. It does a great job of locking in the stench and keeping our nursery smelling fresh, despite my kiddo's valiant efforts. Doesn't mean the smell doesn't hit hard when the lid is open, tbh, but I'll still take that as a win."  —Chandi Reddy
Get it from Amazon for $38.99+ (available in four colors).

13.
A comfy Skip Hop baby bath kneeler pad, a hero non cushion to make bath time a lot easier on your knees, so that those scary cracking sound your knees make when you bend for too long become a thing of the past.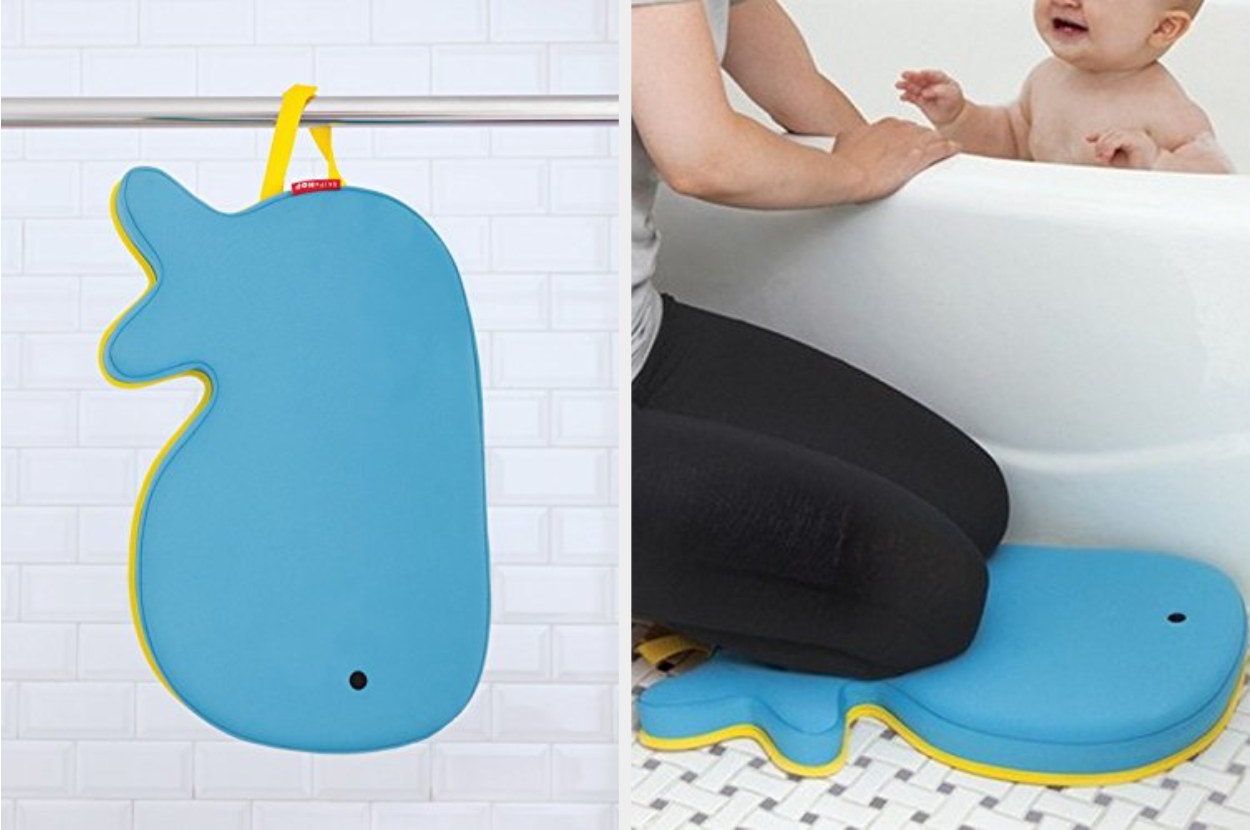 "Soooo, this is Mr. Whale, at least that's what he's called in our house. My knees and I love him so much that I've even started to sing a song about him every night at bath time (come to think of it, it's more of a sea shanty). And it goes a little something like this: 'He's Mr. Whale, he's Mr. Whale. He's got a tail(tale)...to telllllllll / When you set sail, please do not fail, to say hellllllllooooo!' It's just my little way of thanking him for his consistent quiet service in offering just the right amount of cushiness so I don't have to make that 'old-man-getting-up' noise every time I've finished bathing my child." —John Mihaly
Get it from Amazon for $15.99.
14.
A fragrant-free diaper rash spray, an amazing substitute for those rash pastes that leaves your hands covered in dirty, grease, gunk. Just spray on your baby's bottom for some quick relief.
"Whoever invented this stuff is genius! Don't judge me but I'm one of those parents who hates — repeat, HATES — getting yucky, sticky Destin on my fingers because it's such a pain to wash off. This spray is soooo convenient to apply and made diaper changes much less of a ~bummer,~ especially while changing my squirmy little one in public bathrooms. Plus, it's surprisingly effective at healing and preventing diaper rash."  —Chandi Reddy
Get a pack of three from Amazon for $14.89.