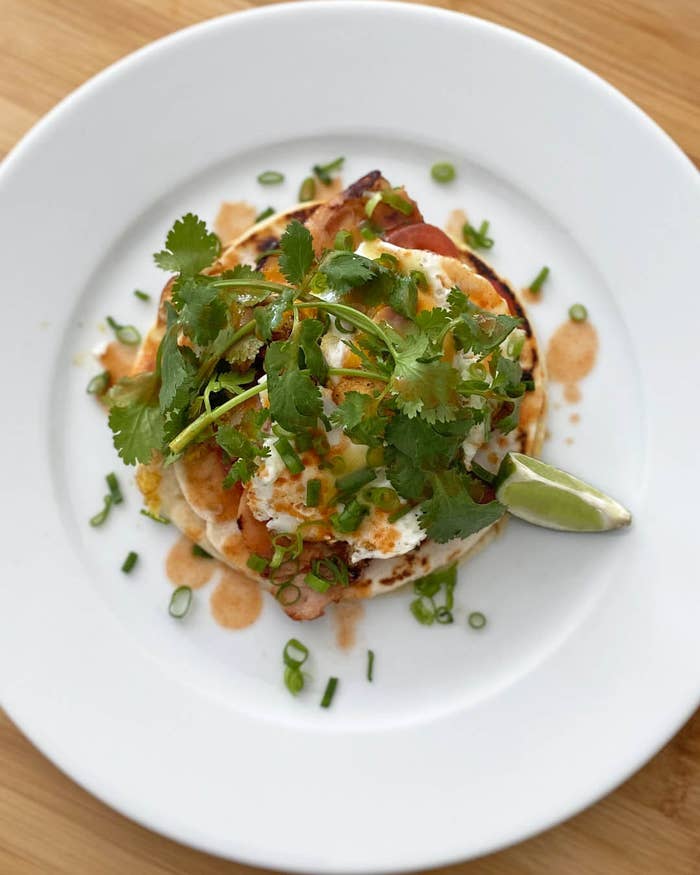 Ingredients
6 small tortillas

500g leftover Christmas ham
6 eggs
1 cup shaved parmesan
1 bottle TABASCO® Brand Pepper Sauce
2 tbsp olive oil
1 cup water
Toppings
1 avocado, peeled and sliced

1/2 red onion, sliced
1 bunch coriander, washed
1 lime, cut into 6 wedges
Method
STEP 1. Using your leftover Christmas ham, use a sharp knife to slice about 12 pieces of ham off the bone.

STEP 2. Heat an oiled skillet over medium heat until it starts to lightly smoke, then turn down to low. Add a tortilla in the pan and toast for a minute until it turns crispy, then flip it over. Acting quickly, add two slices of glazed Christmas ham to the tortilla, leaving a gap in the middle. Then, sprinkle a handful of shaved parmesan on top. Crack an egg in the centre of the ham so that it holds in place and splash some water into the skillet to create steam. At this point place a lid down to trap the steam and help the egg cook quickly.
STEP 3. When the egg has cooked, splash it generously with TABASCO® Sauce to coat evenly, then remove from the skillet.
STEP 4. Lay the tortilla down on a serving plate and top with a few slices of avocado, a handful of red onion slices, and a sprig of coriander.
STEP 5. Repeat until all six tacos have been toasted and serve with additional toppings like coriander, lime wedges, and a bottle of TABASCO® Sauce.
STEP 6. Enjoy!