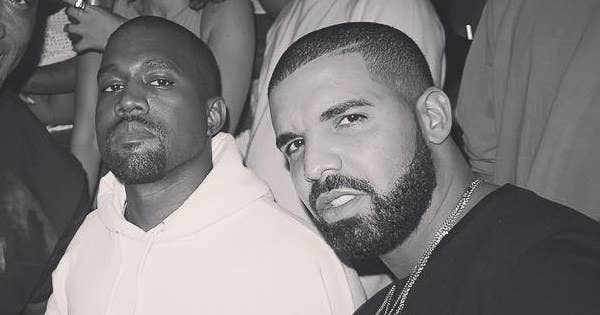 Feb. 13, 2009: Drake sampled Kanye's "Say You Will" on his So Far Gone mixtape.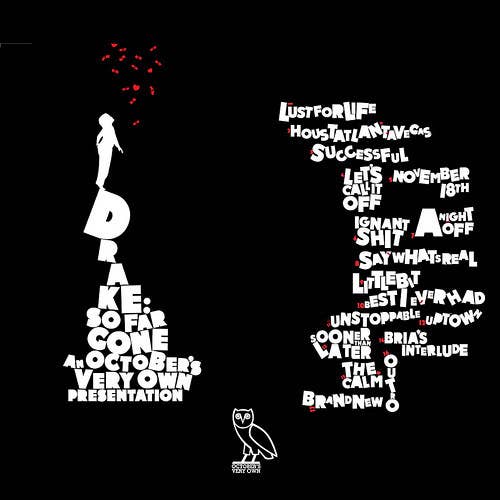 May 2009: Drake said Kanye is the artist who has influenced his music the most.
"Before I ever got the chance to meet him, Kanye West shaped a lot of what I do, as far as music goes," Drake told MTV News. "We always, always, always took the time to listen to Kanye's music and appreciate it beyond. We searched the samples and we find out where his inspiration came from, because he has one of the best ears in music, period. He knows how to recognize great music that's not his. He knows how to utilize great sounds and great music. So before I met him, I had the utmost respect for Kanye West. I'd even go as far as to say he's the most influential person as far as a musician that I'd ever had in my life."
June 2009: Kanye directed the music video for Drake's "Best I Ever Had."
May 2010: Drake's second single off his debut album was co-produced by Ernest Dion Wilson (a.k.a No I.D.), Jeff Bhasker, and Kanye.
2013: Drake started having dinner with Kanye and the Kardashians.
Presumably, Drake and Kanye also spent 2014 building their friendship, because at the top of 2015, Ye made a shocking revelation...
February 2015: In an interview with The Breakfast Club, Kanye revealed that he and Drake talked about doing a joint album.
December 2015: Kanye mentioned Drake on his song "Facts."
"If Nike ain't have Drizzy, man they wouldn't have nothin', woo!"
Christmas 2015: Drake attended the annual Kardashian-Jenner holiday party.
February 2016: Kanye's "30 Hours" featured Drake as a co-writer.
If you think about it, it does sound like the kind of song Drake always ends his albums with. He's good for a song about riding around while contemplating life.
April 5, 2016: Drake shared a version of "Pop Style" with Kanye on it.
Everyone could hardly wait to listen to a song with Drake, Kanye, and Jay Z on it. However, Jay barely said four words and then...
April 29, 2016: Views came out and (gasp) "Pop Style" no longer had Kanye or Jay Z's parts.
Drake addressed the mystery in February 2017 during an interview with DJ Semtex for OVO Radio: "Yeah, I was dealing directly with Ye and that's the version that he sent me and that was what we talked about and he was like, 'Man, you know this is like "Pop Style" featuring The Throne. This is huge,' and I was excited, obviously, anybody would be excited to see them link back up. And then I didn't know what I was gonna hear. So when I heard Jay had two bars, I was like, 'Alright, it is what it is. It's cool, I like that. It's a little intro and Kanye goes off.' And then, you know, I'm not really sure the details between how that conversation was miscommunicated or what they were going through at that time, or what anybody felt towards me or whatever it was ... but next thing I knew it just became a bit of an issue. And, you know, from there I don't waste too much time, so I just was like, 'Alright, cool, I'll finish it. I can rap as good as anybody else, so I'll just go finish this song and put forth my own version.'"
May 2016: Drake shared that he and Kanye visit each other often.
August 2016: Kanye joined Drake on stage at OVO Fest.
Aug. 22, 2016: Kanye tweeted this adorable photo of his daughter, North, with the word "GLOW."
Aug. 28, 2016: This billboard surfaced in LA.
Aug. 30, 2016: Kanye played the original version of "Pop Style" on his Saint Pablo tour stop in Toronto.
September 2016: Kanye mentioned the joint album again in Vogue.
It's clear Ye was excited about it, because he couldn't stop talking about it. "We're just working on music, working on a bunch of music together, just having fun going into the studio," Kanye said. "We're working on an album, so there's some exciting things coming up soon." He declined to give a release date.
October 2016: Drake posted this photo with Kanye and Chance the Rapper.
Early November 2016: Drake posted this photo with the caption "There goes the neighborhood."
Nov. 20, 2016: Kanye called out Drake and DJ Khaled in a rant.
Kanye began to unravel during his Saint Pablo tour. Spouting out accusations against celebrity friends became a regular occurrence, and it didn't take long for Drake to fall victim to his erratic behavior. In one rant, Kanye suggested that Drake and DJ Khaled's song "For Free" was getting too much radio play. Sigh, it was literally all good just a week before.
February 2017: Drake said he was confused by Kanye in an interview.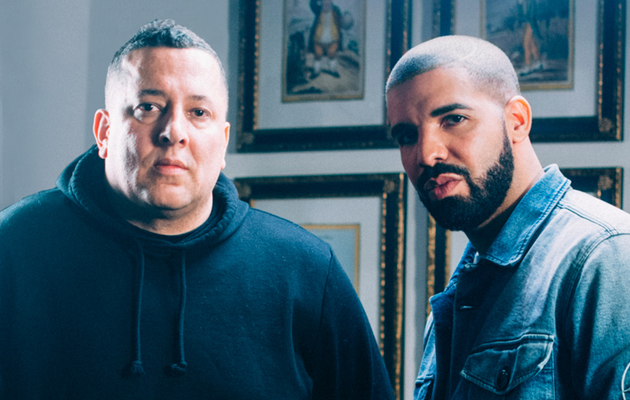 March 18, 2017: Drake released More Life, which included a track with (gasp) Kanye West.
Drake's attention shifted to this More Life playlist project after things with Kanye took a turn. So as the playlist premiered on OVO Radio (with no track list initially, so nobody knew what features to expect until we heard them), everyone was jamming along listening, and then "Glow" started to play and the first thing we heard was Kanye's voice singing, "Watch out for me, I'm 'bout to glowwww."
Real. Life. Mr. Krabs. Meme.
No one can say for sure what Drake including a Kanye track on More Life means (Have they made up? Is the joint album back on?), but if nothing else, it gives us a cruel, delicious taste of what that album could sound like.