With Comic-Con right around the corner, it's time to make sure everyone in your family – right down to your cats – knows what role they're going to be playing this weekend.
Getty

Via Getty

Via Getty

Via Getty

Via Getty

Via Getty

Via Getty

Via Getty

Via Getty

Getty

Via Getty

Via Getty

Via Getty

Via Getty

Via Getty

Via Getty

Via Getty

Via Getty

Getty

"I WILL COME TO YOU, BUT NOT WHEN CALLED."

"WHY DID I POOP IN YOUR SHOES? BECAUSE THEY WERE THERE."

"MISS MY DINNERTIME AT YOUR PERIL."

Getty

Getty

Knock the water off the table, but allow the phone to live.

Push the water slowly towards the edge of the table as a means of getting your attention.

Knock both objects off the table to see how the phone and the spilled water interact!

Knock neither object off the table, because it would be wrong.

Getty
What Kind Of Person Is Your Cat Actually?
Your cat is loyal to you, but they also have a moral code that is above and beyond your personal needs and desires. Don't worry too much about the fact that your cat doesn't come when called, or occasionally pees on the rug – this is not because they are bad but because they are following a deep and unshakeable Feline Law that is more important than your desires and beyond your understanding.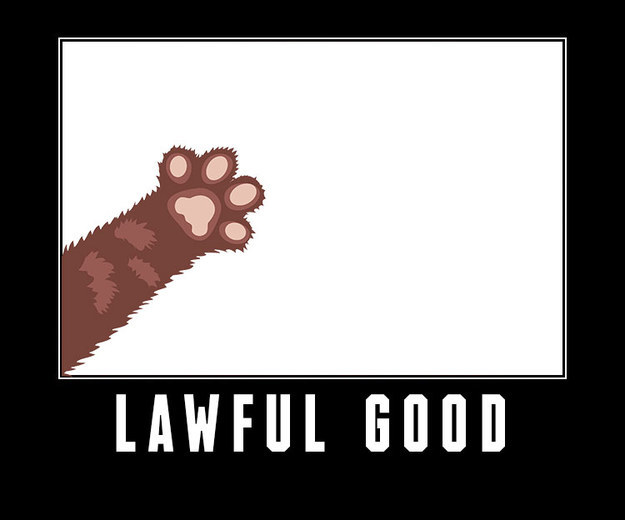 Your cat can be erratic, full of surprises, and not particularly mindful of the rules, but at heart they are motivated by goodness and love. Your cat's profound affection for you is their guiding light and when they scratch up the furniture or complain in the middle of the night it is merely a gentle, loving reminder that they are not beholden to your rules.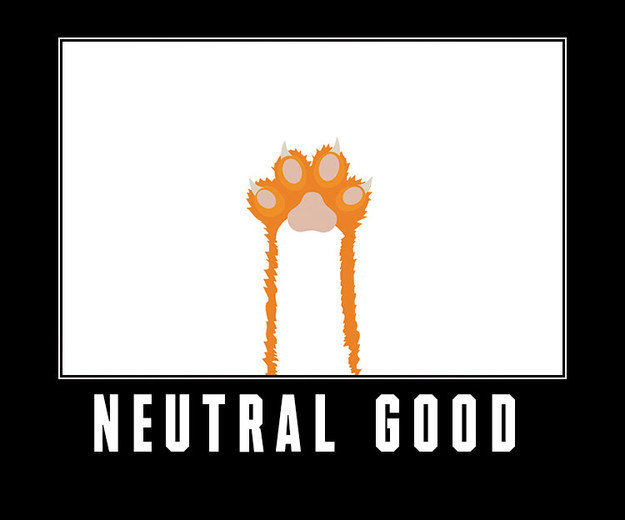 Your cat is a free spirit, and their love for you is matched only by their hatred of your rules and regulations. They will test you in every way they know how: By knocking your things off the counter, waking you up at the crack of dawn, and pooping in the most surprising of places, but your cat is also a good cat, motivated ultimately by love and by a desire to make the world a better place.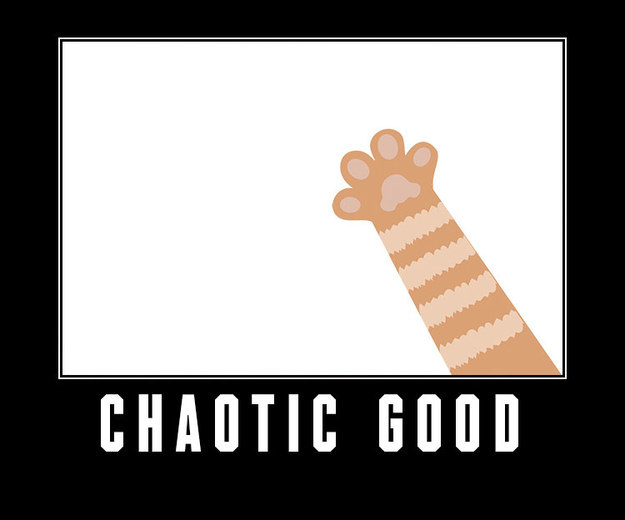 Your cat is motivated primarily by habit and order. They are likely to sleep in the same places at the same times every day, wash themselves carefully and methodically, and vocally express their great displeasure when you change their routine in any way. But your cat is also a creature of honor and duty and can be counted upon to sit on your lap and submit to your pets, should you require such a service.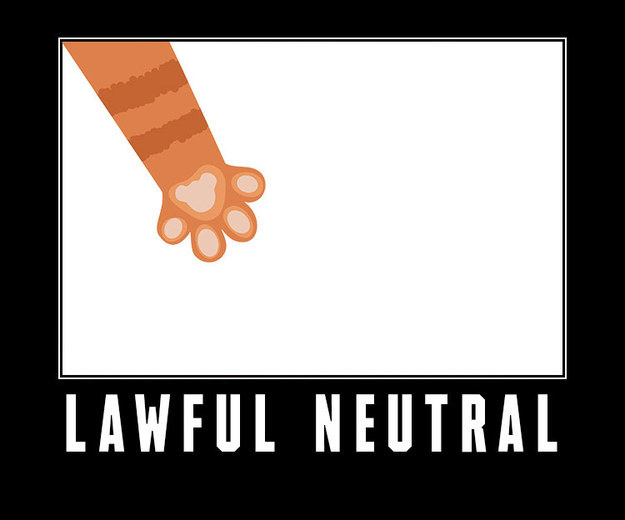 Your cat is best described as … erratic. One minute they might be incredibly affectionate and the next, out come the claws. When they bring you gifts of decapitated bugs (or worse), you can never be truly sure whether it is a sign of respect or a warning. Chances are that it's both – morality is not something that enters much into your cat's furry little mind one way or the other – just what feels right in a given moment.
Your cat is an individual with a strong sense of self. Their freedom to do as they please – whether that's going out whenever they want, eating whatever they want, or getting your attention whenever it's most convenient for them – is the most important driving principle in their life. You cat loves you, yes – but your authority is utterly meaningless to them.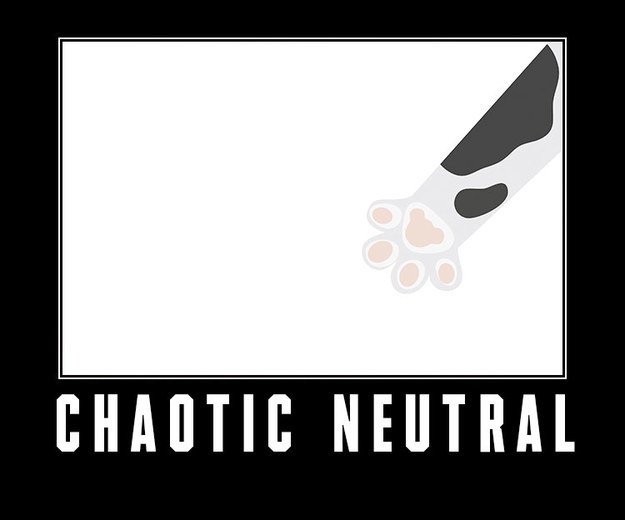 Let's just say that your cat is not exactly motivated by what's best for you. They may come across as very prim, proper, and buttoned up (snobbish, even), because they believe in the importance of keeping up appearance, and their affectionate gestures sometimes feel more like they're coming from a place of duty than from a place of love. They are not plotting to kill you, but if someone else was, they wouldn't lift a paw to stop it.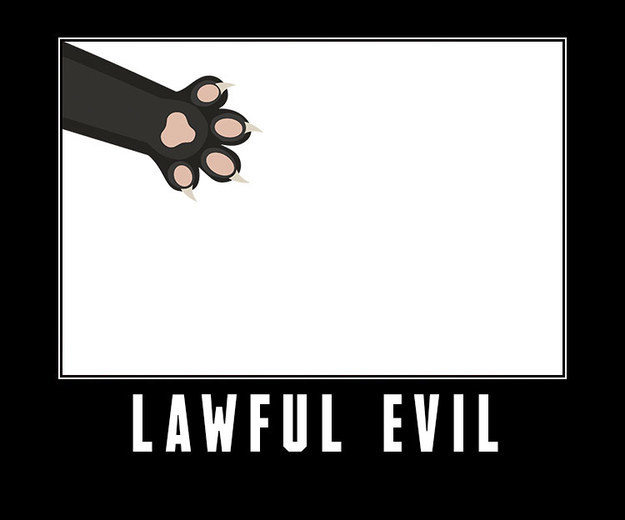 Put simply, your cat sees you as a servant. You exist solely to do your cat's bidding, whether that is in the form of food, affection, or simply cleaning after them. Your cat takes great joy in performing evil acts for their own sake – knocking your things off the counter for the sheer joy of watching them hit the ground; scratching your furniture because your displeasure amuses them. As long as you continue to be useful to your cat, your life is probably not in any danger.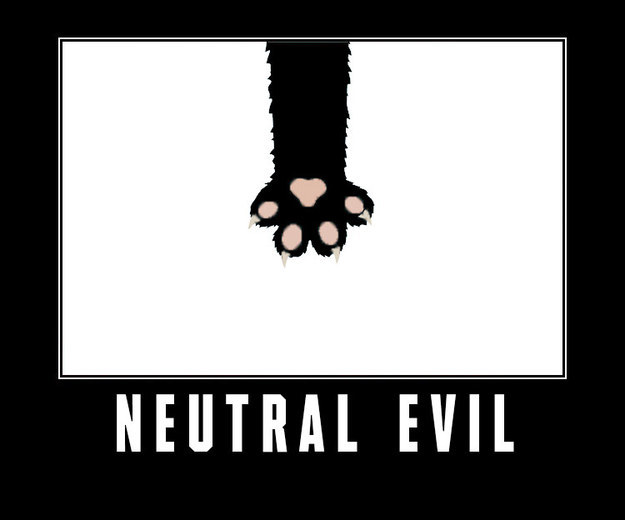 Your cat has no respect for anyone or anything and will go out of their way to commit acts of pure malice simply because it brings them joy. You can never leave the house without fear that your cat will destroy something you love, and you can never go to sleep without fear that your cat will wake you at the most inopportune time, perhaps by meowing, perhaps by walking over your face, perhaps by knocking your water glass off the nightstand. When your cat is quiet and peaceful, it is because they are idly plotting your demise.
Check in and geek out all weekend with SYFY WIRE's real time coverage of San Diego Comic-Con at SYFY.com.