Cheesy Bacon Monkey Bread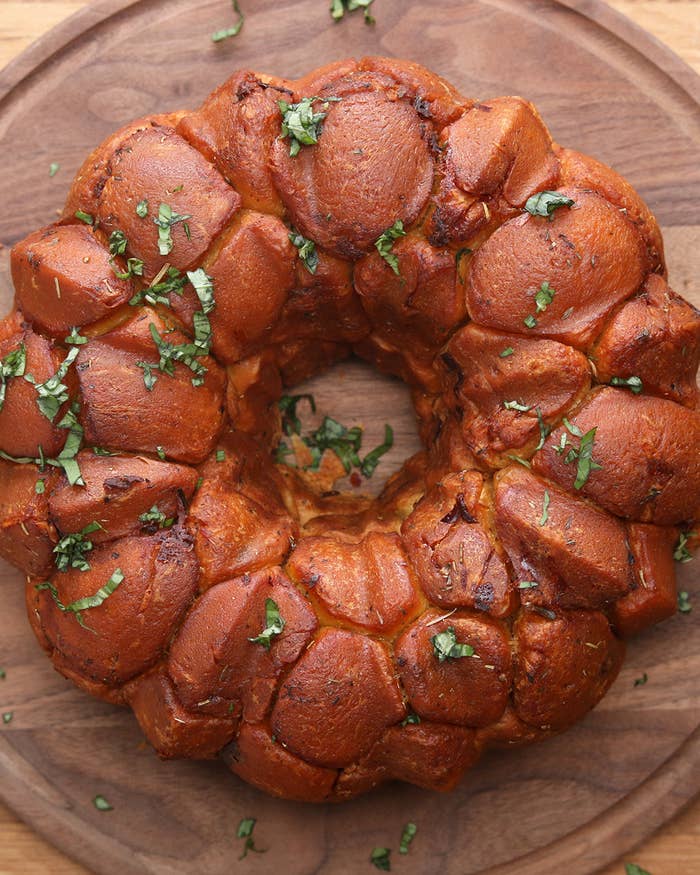 INGREDIENTS
7 strips bacon
2 cups cheddar cheese, shredded
2 cups mozzarella, shredded
3 10.2-ounce cans flaky biscuits
1¼ cup butter, melted
2 cloves of garlic, crushed
2 teaspoons dried Italian herbs
Minced parsley (optional)
PREPARATION
1. Preheat oven to 350°F/180°C.
2. Crisp bacon over medium heat. Allow it to cool, then crumble.
3. Generously grease a large bundt pan with cooking spray.
4. In a bowl, mix both kinds of cheese.
5. Cut each biscuit into four pieces. Flatten each piece in the palm of your hand and add a pinch of the mixed cheeses and crumbled bacon.
6. Gather the edges and pinch the biscuit into a ball.
7. In a small bowl, mix melted butter, Italian herbs, and garlic.
8. Drop the biscuit pieces in the butter mixture and place in the bundt pan.
9. Bake 30-35 minutes or until golden-brown. (Be careful - the butter may begin to smoke toward the end of the bake time. If it begins to smoke, remove from the oven.)
10. Let stand for five minutes, then place a heatproof plate on top of the pan. Using a pot holder, flip the pan and plate over and invert onto your serving plate. Be careful as the pan will still be hot.
11. Sprinkle with parsley.
12. Pull apart to serve and enjoy!
Want BuzzFeed Tasty right in your inbox? Sign up for our newsletter!