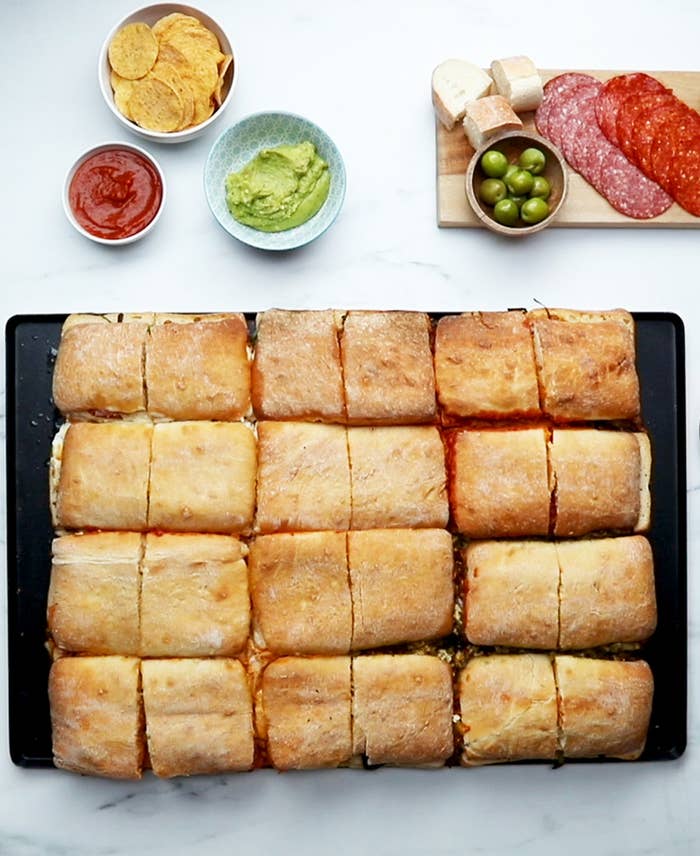 For All Panini's
12 ciabatta loaves
280g baby spinach
10 tomatoes, sliced
3 green capsicums, sliced
1 red onion, sliced
100g butter, melted
Chicken & Bacon Ranch Melt
200g Chicken, pieces
10 streaky bacon rashers
125g mozzarella, shredded
3tbs ranch dressing
Buffalo Chicken with Blue Cheese Dressing
200g Chicken, pieces (marinated in buffalo sauce)
125g mozzarella, shredded
3tbs blue cheese dressing
Pizza Cheese Melt
16 salami, slices
16 pepperoni, slices
125g mozzarella, shredded
3tbs marinara sauce
Mediterranean Veg
220g sundried tomato, sliced
50g fetta, crumbled
125g mozzarella, shredded
3tbs pesto mayo
Utensils
2 large baking trays
Method:
STEP 1: Brush a large baking tray with melted butter, reserve the rest for later.
STEP 2: Slice 12 ciabatta loaves in half. Line a large baking tray with the bottom half of each loaf, spanning three across, and four down, creating an even rectangle. Use the rest of the butter to brush each loaf.
STEP 3: Layer spinach, tomato, capsicum, and red onion over the entire base of each loaf of ciabatta until it's fully covered.
STEP 4: To build Chicken & Bacon Ranch Melt; layer chicken slices, streaky bacon, mozzarella and ranch dressing evenly on the top left quarter of the tray.
STEP 5: To build the Buffalo Chicken with Blue Cheese Dressing; layer buffalo chicken slices, mozzarella, and blue cheese sauce evenly on the bottom left quarter of the tray.
STEP 6: To build the Pizza Cheese Melt; layer salami, pepperoni, mozzarella, and marinara sauce evenly on the top right quarter of the tray.
STEP 7: To build the Mediterranean Veg Panini; layer sun-dried tomato strips, crumbled fetta, mozzarella, and pesto mayo evenly on the bottom right quarter of the tray.
STEP 8: To pre-cook fillings, grill on medium heat (180C) for 10 minutes, or until cheese has melted.
STEP 9: Remove tray from the oven and add the top side of each ciabatta loaf to match up with the ciabatta on the bottom of the tray. Press a large baking tray on top of loaves and weight it down with a heavy skillet to compress.
STEP 10: Bake the tray in the oven at 200C for 30 minutes.
STEP 11: Remove the tray from the oven and slice each ciabatta loaf in half until you have 24 slices. You may need to cut down the side of each loaf in both directions with a sharp knife to separate panini fillings.
STEP 12: Serve immediately and enjoy.