Recent controversies around how Muslim Canadians define Islamophobia have created intense strains on the community's relationship with several prominent Jewish organizations.
It all started when Liberal MP Iqra Khalid (Mississauga-Erindale) presented her private member's motion — Motion 103 (M-103) — in December 2016, which called for the House to "condemn Islamophobia and all forms of systemic racism and religious discrimination." Less than two months later, six Muslims were killed in a mass shooting at a Quebec City mosque.
The Conservatives criticized M-103 for privileging one religion over others and for using the term "Islamophobia" which, according to Tory MP Garnett Genuis, is defined not just as bigotry against Muslims, but also as criticisms of Islam. The Centre for Israel and Jewish Affairs (CIJA) and B'nai Brith Canada, two well-known Jewish advocacy groups, presented the same concerns and warned against possibilities of criminalizing disapproval or condemnations of Islam in Canada. The motion eventually passed on March 23 with support from only two Conservatives (another Conservative MP, Alex Nuttall, abstained).
But the controversy around the concept of Islamophobia continues. B'nai Brith Canada recently called for the Toronto District School Board (TDSB) to pull its Islamic Heritage Month guidebook because it refers to a definition of Islamophobia that also includes "dislike" of Islam. In response, the TDSB has revised the definition. But its chairperson Robin Pilkey said any suggestion that the board was trying to silence teachers or students who criticize Islam is "outrageous" and "categorically untrue."
These controversies have heightened tensions between Muslim and Jewish communities in Canada. In at least one instance, a major Jewish group has thrown its weight behind the conspiracy of "creeping Sharia"— the idea that significant forces in the Muslim community are seeking to replace the Canadian legal system with Islamic law.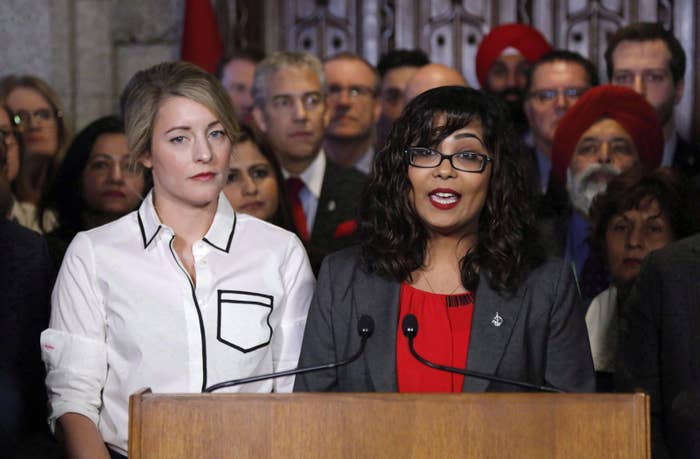 Several pro-Israel advocacy groups cosponsored a conference this past September that warned against what they claim is the possibility that M-103 is the first step in a process to force Sharia on Canada. One of these groups is Hasbara Fellowships, an advocacy group that works primarily with campuses to foster support for Israel. It's a project of the larger Jewish organization Aish HaTorah, an international group that runs several synagogues and Jewish centres in Canada.

The conference was held at the Montecassino Hotel in Toronto's North York region and drew about 200 people who heard over a dozen speakers invited by the advocacy group Canadian Citizens for Charter Rights and Freedoms (C3RF).
C3RF's mission statement posits that the term "Islamophobia" is "part of a well-funded Muslim Brotherhood public relations campaign" used to deflect attention away from Islamist encroachment on the West. The conference, titled on posters as "M-103 Learning Circle on Free Speech," attacks the motion as a possible Islamist ploy to make Canada "Sharia compliant."

The event emphasized the threat of a "Sharia takeover" — a common warning made by today's resurgent far-right movement, sometimes known as the "alt-right." Although some sects of this far-right movement have engaged in anti-Semitic rhetoric, that didn't stop Hasbara Fellowships (and by extension Aish HaTora) from supporting C3RF's conference in September.
Other Jewish cosponsors included the Israel Activist Alliance and Muslim-Jewish Dialogue. The Jewish Defence League (JDL) acted as security for the gathering.
The mother organization of Hasbara Fellowships, Aish HaTorah was implicated in the creation and distribution of the documentary film Obsession — which warned of an Islamist plan to take over the West — to the homes of 28 million people in 14 different states right before the 2008 US election. Among other things, the film was officially distributed by the Clarion Fund, a nonprofit group that, according to NPR, had two directors at the time of its incorporation in 2006 who were also listed as employees of Aish HaTorah.

Both Aish HaTorah central and its Toronto chapter did not respond to multiple requests for comment on its support for C3RF's anti-M-103 conference.
Hasbara Fellowships' Canadian Director Robert Walker issued a brief statement to BuzzFeed News noting that "Freedom of expression is a foundational right in Canada, and one which needs to be safeguarded."
All speakers at the conference last September endorsed this sentiment and framed M-103 as a possible first step in transforming Canada into an Islamic state.
"The assumed narrative of Palestinian Muslims as a threat to Israel and to Jewish survival is so potent that it sometimes tends to overshadow reason in some cases."
Mira Sucharov, a professor and expert on Jewish and Israeli politics at Carleton University, traces these alarmist sentiments in certain corners of Canadian Jewry back to the bitter political conflict between Israeli Jews and Palestinians (most of whom are Muslim) in the Middle East. She notes that the political conflict between the two peoples often plays out in the Western world via reductive terms of Jew vs. Muslim.
"The situation there has unfortunately manifested itself into Islamophobia in some quarters and in anti-Semitism in some parts of the world," she said.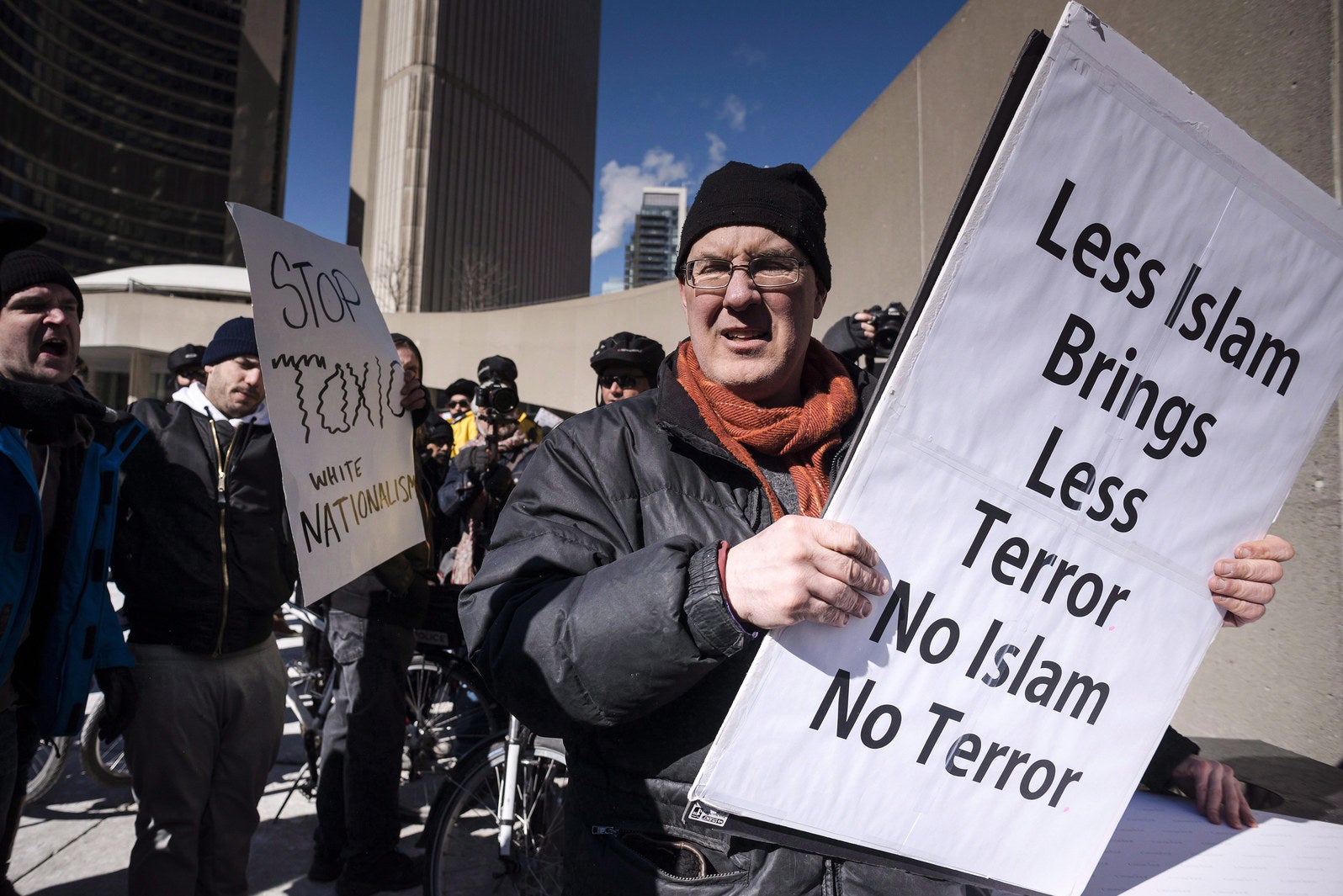 Several speakers at the C3RF conference held up Israel as an ideal society for Muslim-majority nations to emulate, particularly in the Middle East. On the other hand, those involved with C3RF frequently depict the Muslim Brotherhood, a prominent Islamist organization that has been forced mainly into hiding after 2013, as the primary driver of Islamist extremism in the world.

"When you look at Iqra Khalid's list of associates, they don't look too good," said Irving Weisdorf, one of the early coordinators of C3RF and founder of Mozuud, another advocacy organization that cosponsored last month's conference. "She definitely has Muslim Brotherhood connections, without a doubt."
When asked for evidence of this, Weisdorf replied, "Just google it."
Weisdorf and C3RF point to the term "Islamophobia" as a tool with which "forces" influenced by the Brotherhood use to turn Canada into a "Sharia-compliant society." That M-103 includes the term is, for Weisorff and C3RF, a clear sign of Islamist meddling in Canadian affairs.
"There is absolutely no evidence of a Sharia takeover happening."
"A lot of work happens during committee hearings and they look at certain issues for months," said conservative columnist Anthony Furey, referring to the committee hearings on Islamophobia and systemic racism called for by M-103. "And at the end of these hearings what do they do? They produce a report with 20, 50, 100 recommendations."
Such recommendations, Furey alleged, might result in a call for laws to shield Islam from criticism. He claimed that this is all happening while Canada's liberal political class is asleep at the wheel — another theme that was repeated by speakers at the conference.
"Trudeau is a neo-progressive extremist," said Benjamin Dichter, founder of LGBTory, perhaps Canada's leading gay conservative organization. "He wants to sacrifice our freedoms in order to defend all versions of Islam and to fill arbitrary quotas, to sacrifice the same freedoms of speech that LGBT activists used to gain their freedom today."
Dichter also alleged that Trudeau and his supporters are helping to "internalize the fatwa [an Islamic legal ruling]" by preventing anyone from asking whether a "more Islamic society" becomes "more tolerant or more intolerant and aggressive toward anything but itself?"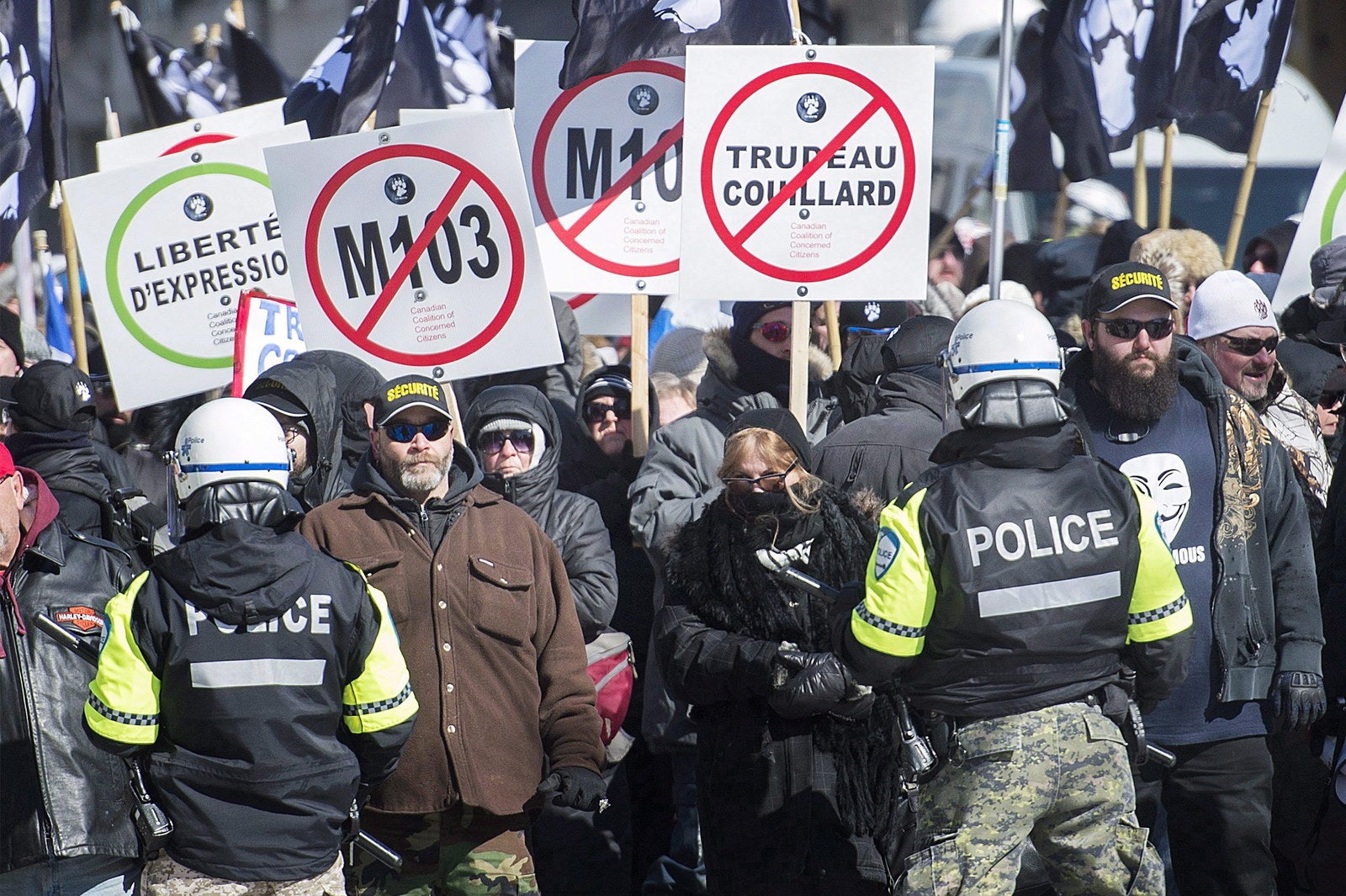 C3RF's alarmist warnings of a coordinated Islamist effort to replace Western legal systems with "Sharia compliant" ones sharply reflects the alt-right's rhetoric.

"There is absolutely no evidence of a Sharia takeover happening," says Sucharov. "There isn't any indication that Motion 103 is linked to an attempt to replace our legal code with something based on a certain theology."
Such a linkage is exactly what many far-right voices in Canada, alongside C3RF, have been alleging. For instance, another anti-M-103 conference held this past February in Toronto by the far-right online news outlet Rebel Media repeated much of the same warnings against "creeping Sharia."
The host of that conference, Faith Goldy, was fired by Rebel for participating in a neo-Nazi affiliated podcast after attending August's violent white supremacist rally in Charlottesville, Virginia. Participants at the rally were openly anti-Semitic, chanting slogans like "Jews will not replace us!"
Yet Hasbara Fellowships, along with other Jewish organizations, have adopted criticisms against M-103 and the term "Islamophobia" that directly mirrors the alt-right's anti-Muslim arguments. This has helped strain Muslim-Jewish relations in an age of resurgent far-right activism.
Another explosive example of such tension came this past spring when an imam named Ayman Elkasrawy was fired by downtown Toronto's Masjid Toronto mosque for making anti-Semitic remarks during a prayer last summer.
Proof of the incident was provided by Jonathan Halevi of CIJ News (now defunct), a fiercely pro-Israel online outlet. Elkasrawy's prayer was recorded and posted online. Halevi then translated the imam's words from Arabic and produced an edited version of the video, which alleged that Elkasrawy had referred to Jews as "filth."
Elkasrawy ended up losing his job as a teaching assistant at Ryerson University and he was roundly denounced by Muslim organizations across Canada.
But a recent investigation by the Toronto Star reviewed Elkasrawy's remarks that night and concluded that this was not at all what Elkasrawy said. Five Arabic-speaking linguists and experts translated Elkasrawy's remarks for the Star and all concluded independently that he never used the term "filth" to refer to Jews.

But the damage was already done. Elkasrawy hasn't had any luck getting another teaching position after being roundly criticized by Muslim and Jewish organizations alike. His case, along with the numerous controversies over M-103 and "Islamophobia," remains just one of several sore spots in the damaged relationship between Muslim and Jewish Canadians. ●
CORRECTION
Motion 103 passed in March of this year, but it was first introduced in December 2016. An earlier version of this article misstated the date when it was introduced. The motion also received the support of two Conservative MPs. This article initially said no Conservatives supported the motion.
CORRECTION
Minister of Canadian Heritage Melanie Joly's name was misspelled in an earlier version of this post.