Loaded Irish Coffee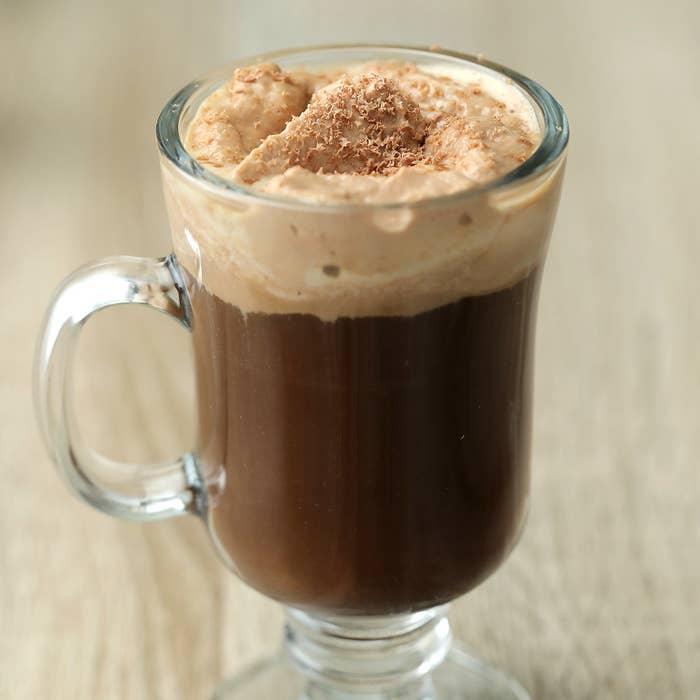 RECIPE
INGREDIENTS
4 cups Starbucks Pike Place Roast brewed coffee
4 ounces Irish whiskey
½ cup butter
1¾ cups brown sugar
2 cups heavy cream, divided
2 teaspoons vanilla
½ teaspoon sea salt
4 ounces milk chocolate, divided
PREPARATION
1. Over medium-high heat, combine butter, brown sugar, 1 cup cream, vanilla, and sea
salt. Stir until sugar has dissolved and mixture is smooth and creamy. Set aside.
2. Melt 2 ounces of chocolate in microwave on high for 30 seconds. Repeat until chocolate
is completely melted.
3. Using a hand mixer, beat remaining cream until thick. Carefully add melted chocolate
and continue to beat until peaks form. Set aside.
4. Grate remaining chocolate, then set aside.
5. In 4 heat-proof mugs or glasses, pour 1 cup of coffee, 2 tablespoons of caramel mixture,
and one shot of whiskey. Top each glass with ¼ cup whipped cream, a drizzle of
caramel, and grated chocolate.
6. Serve immediately.