Everything You Need To Know About Kapil Sharma And Sunil Grover's Very Public Spat
It's been flooding your newsfeed, and in case you're clueless about what's going on, you've come to the right place.
Over the last week, you must have seen news of comedians Kapil Sharma and Sunil Grover getting into a brawl on a flight, flooding your feed.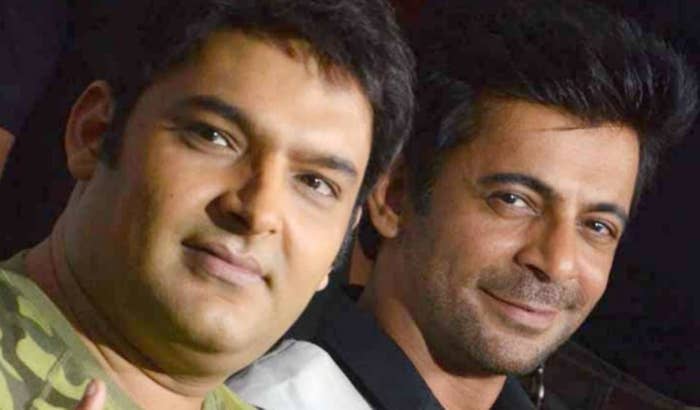 For those who have no idea what's going on, here's a comprehensive history of the events:
In 2013, Sharma became the face of sketch comedy/celebrity talk show Comedy Nights with Kapil on Colors. Grover was brought on the show to amplify the comedic quotient.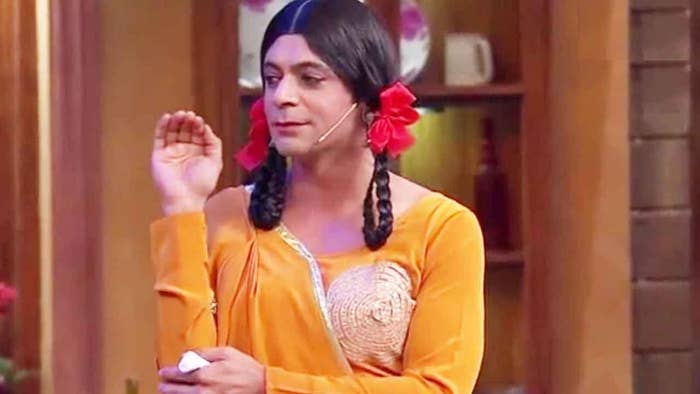 As his character Gutthi gained popularity, Grover decided to quit the show in order to start a new one of his own, called Mad in India on Star Plus.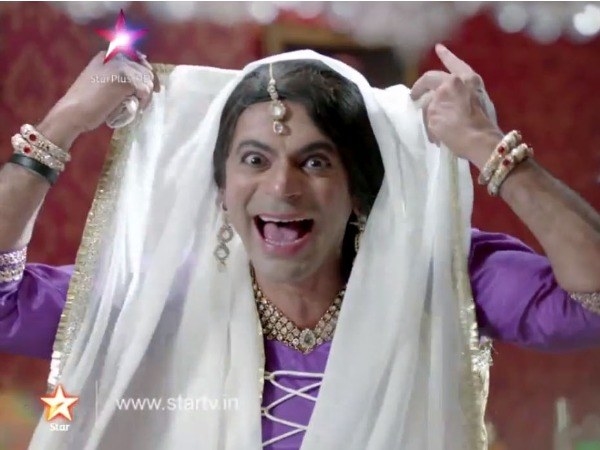 Following his exit from CNWK, Sunil told TOI, "There is no animosity between Kapil and me. Kapil is a very close friend and it's always a pleasure working with him."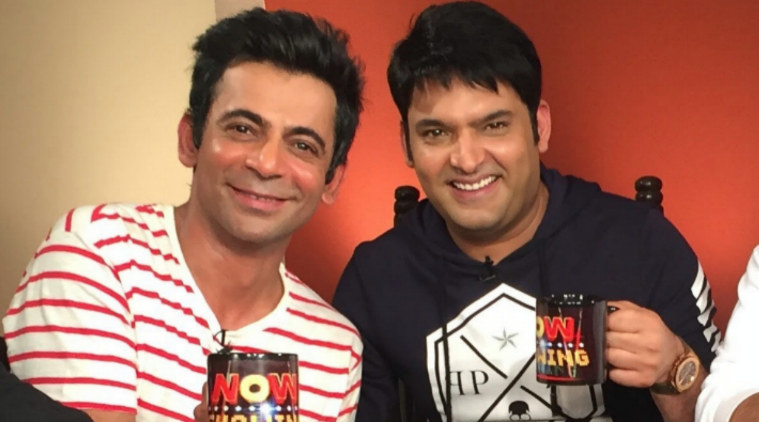 On the other hand, Sharma told IANS in an interview, "I am not the kind to feel threatened or competitive about anyone... All I can say is, he (Sunil) should have never left our show. He seems lost on the show."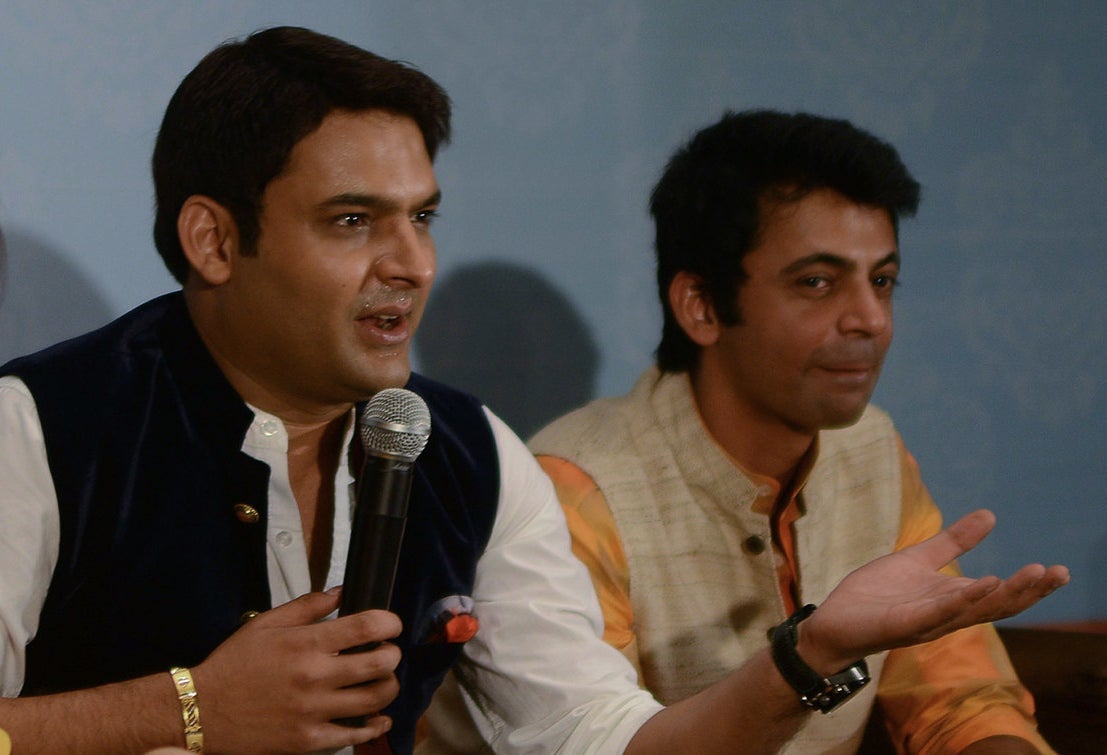 Following Mad in India's awful TRP ratings, Grover decided to return to Kapil Sharma's crew.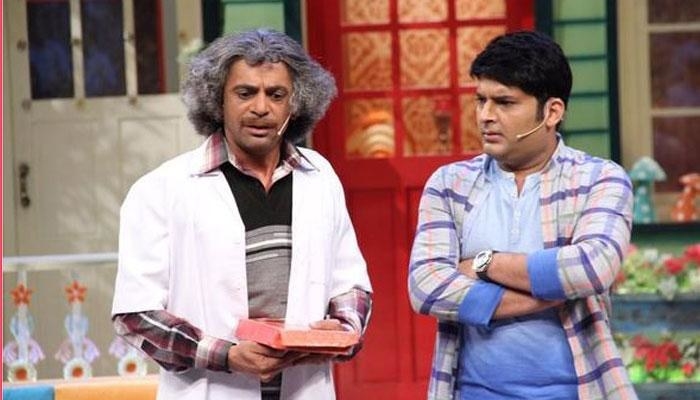 Meanwhile, following an altercation over money with Colors, Sharma decided to take CNWK to another TV channel. Other comedians on CNWK followed suit and a new show named The Kapil Sharma Show was launched on Sony TV.

Now that you're all caught up with this history lesson, let's look at a few things that happened between Grover and Sharma over the past couple of weeks that caused a giant shitstorm:
* Early in March 2017, Sharma, along with his The Kapil Sharma Show crew, visited Australia to perform comedy shows.
* On March 18, on the flight back Sharma manhandled, assaulted and abused Grover.
* Sharma's dickery made headlines.
A crew member from Sharma's show anonymously told Hindustan Times that Sharma hurled his shoe at Grover, pulled him by his collar and slapped him.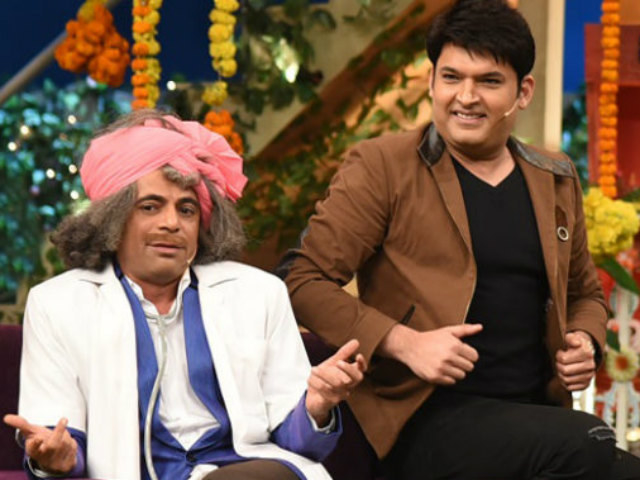 Before news of him being a class A asshole to his colleague could make way to news publications, Sharma tried wiping some shit off the fan with this Facebook status.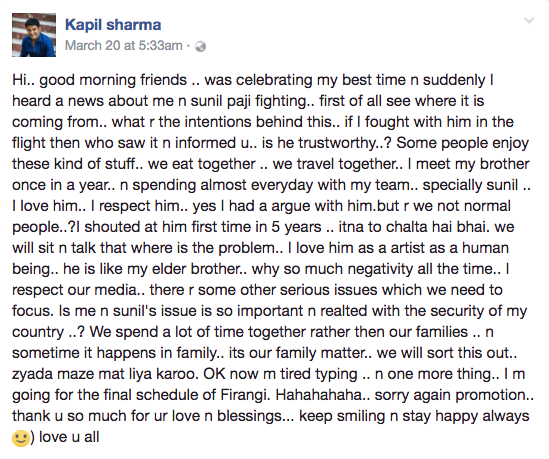 He also tweeted to Grover apologising for his actions.

And Grover tweeted to Sharma warning him to not "act like God":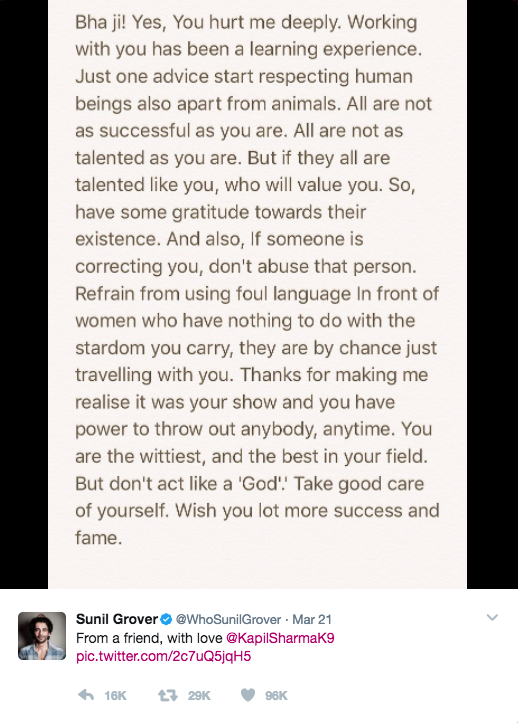 And Sharma tried to convince everyone that all was good between him and Grover:
But everything is far from good. Grover has allegedly quit Sharma's show and says that he won't return even if his "fee was doubled".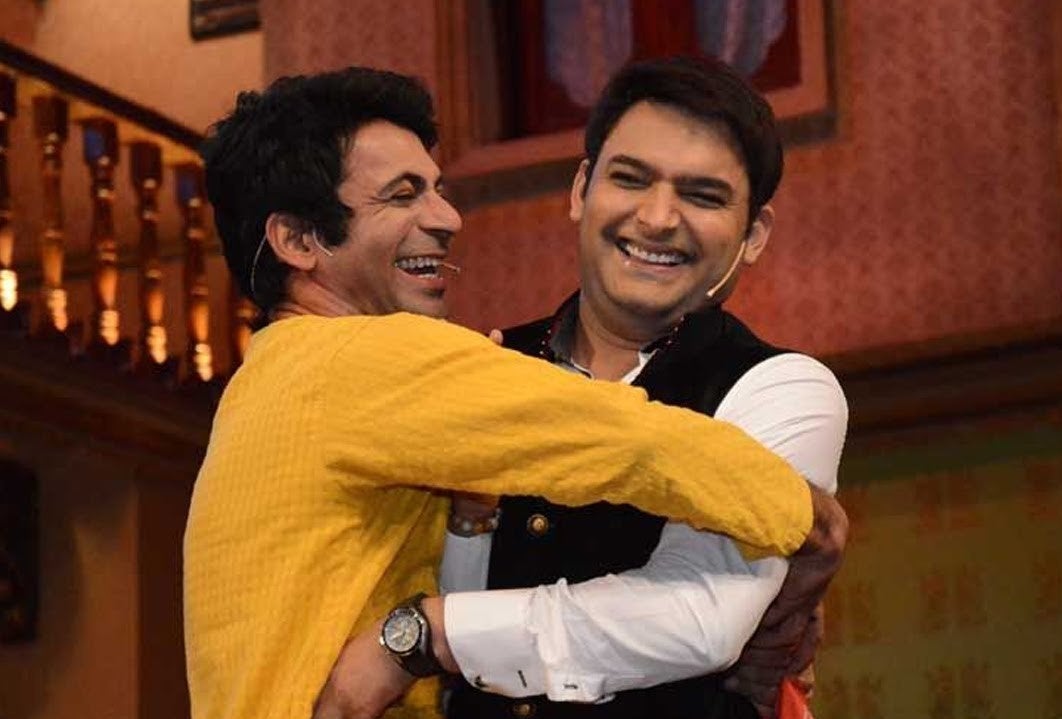 Following the fall-out, other performers from The Kapil Sharma Show, including Ali Asgar and Chandan Prabhakar have also decided to stop shooting for the show, in solidarity with Grover.
The channel has already brought on comedians Raju Srivastav and Ahsaan Qureshi to replace them on the show.
Another anonymous member from Kapil Sharma's team told DNA:

"Kapil is now being painted as the full-blown villain of the piece. The villain is actually his addiction to the bottle. He's otherwise a decent and kind man, a wonderful son and a true animal-lover. Also, we from The Kapil Sharma Show team like Kapil when he is sober."
Sony TV has failed to reconcile Sharma and Grover and, for now, the shoot has been stalled.
Bottomline: Kapil Sharma is in deep shit.