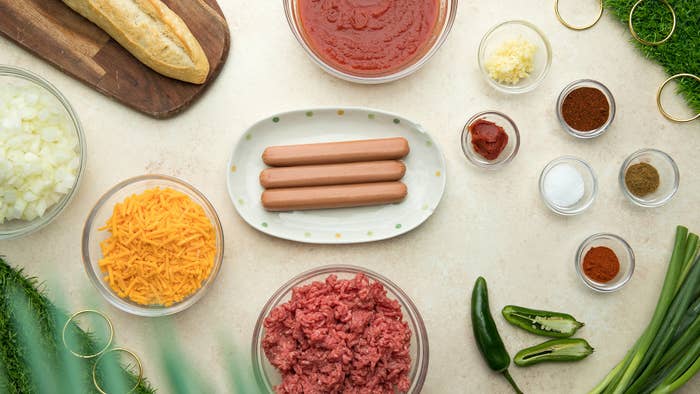 Ingredients
Servings: 6
Ingredients:
1 tablespoon olive oil
1 yellow onion, diced
3 garlic cloves, minced
1 jalapeño, seeded and chopped
1 tablespoon chili powder
1 teaspoon cumin
1 teaspoon paprika
2½ teaspoons kosher salt
1 pound ground beef
1 tablespoon tomato paste
1 (14-ounce) can crushed tomatoes
3 bun-length hot dogs
1 baguette
1¼ cups shredded cheddar cheese
Sliced scallions, for garnish
Directions
1. Preheat oven to 375ºF.
2. Heat olive oil in a pot over medium-low heat. Add onion, garlic, and jalapeño. Cook, stirring occasionally, until softened, about 5–7 minutes. Add spices and kosher salt and cook for a minute until fragrant. Add ground beef and tomato paste. Gradually break up meat, stirring occasionally, until meat is cooked. Stir in crushed tomatoes and bring chili to a low simmer. Let simmer for 10 minutes. Taste for seasoning, then remove from heat and set aside.
3. Heat a small drizzle of olive oil in a cast-iron skillet over medium-low heat. Add hot dogs and sear dogs on all sides. Remove from heat and set aside.
4. Cut out the center of the baguette, pulling out the excess bread with your hands, to form a boat. Place baguette on a long piece of aluminum foil on a sheet tray (baguette will fit diagonally in the tray).
5. Sprinkle a layer of cheddar cheese in the bread boat. Line the 3 hot dogs up inside the boat. Top hot dogs with a layer of chili. Spread the rest of the cheddar on top of the chili.
6. Carefully fold up the two sides of foil and fold together along the top to seal without pressing the foil against the cheese.
7. Bake for 10 minutes or until cheese is melted.
8. Garnish with sliced scallions. Slice and serve.