Burger Hack: The Classic Signature Slinger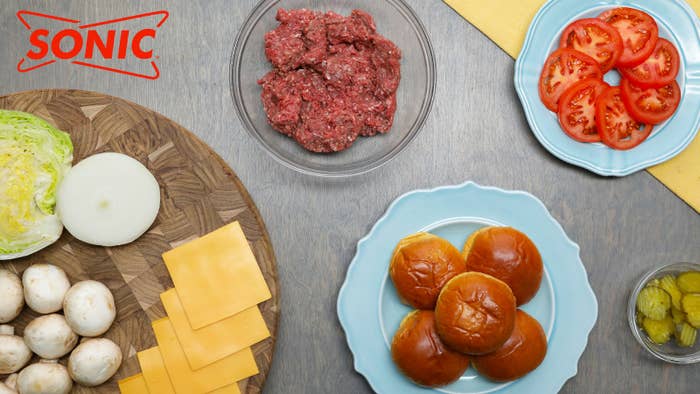 PREPARATION
Serves 6
INGREDIENTS
1 each, 8-ounce package mushrooms (button or brown are most common)
1 pound ground chuck
1 teaspoon kosher or sea salt
Olive oil for cooking
6 small brioche rolls (or other hamburger buns)
6 slices American cheese
1 ounce mayonnaise
18 pickle slices
1 ounce white onion, diced
3 ounces iceberg lettuce, shredded
1 large tomato, sliced
PREPARATION
1. In a blender or food processor, pulse mushrooms until they are finely chopped, but not a paste. Scrape the sides as necessary to achieve consistent texture.
2. Combine ground chuck, salt, and mushrooms in a medium bowl, mixing just to combine.
3. Form blend into patties. Heat large skillet or griddle to medium-high heat. Add tablespoon of olive oil and cook patties to desired doneness, flipping halfway through.
4. About a minute before patty is cooked, top with cheese and place bun cut side down on griddle to toast. Remove both from heat.
5. Place patty on bottom bun, then assemble toppings on top bun in order. Flip bottom bun and patty upside and place on top bun to finish assembly. Flip over and serve.
6. Enjoy!