I Just Learned What The Malayalam Lyrics In "Jiya Jale" Are And I Honestly Can't Believe It
Bird sex, actually.
And while it's a legit beautiful song to listen to, we all have the same question: WHAT ARE THE MALAYALAM LYRICS TO THE SONG?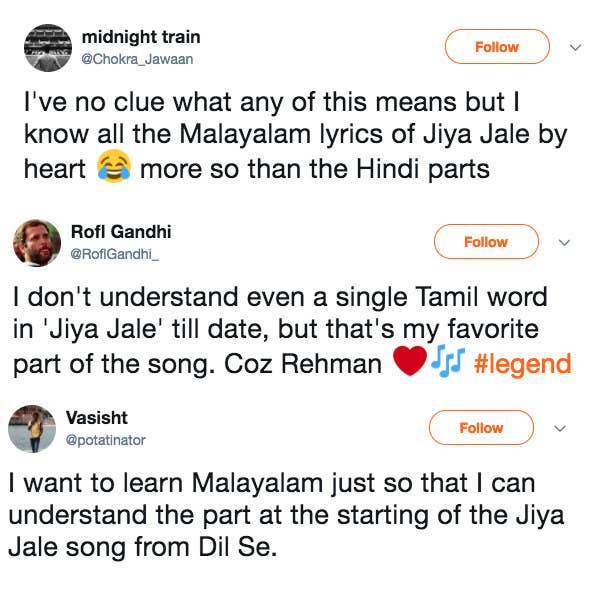 And there have been... interpretations of the lyrics.
But, this was a 19-year-old mystery that needed to be solved.
LET US BEGIN WITH THE OPENING LINES, LADIES AND GENTS.

Punchiri thanji konjikko
Munthiri mutholi chinthikko
Monjani varna chundari vaave
Thaankunakka thakathimi aadum thankanilaave, hoy

Thanka kolusalle
Kurukum kuyilalle
Maaran-a mayilalley
Let's break this down, bit-by-bit: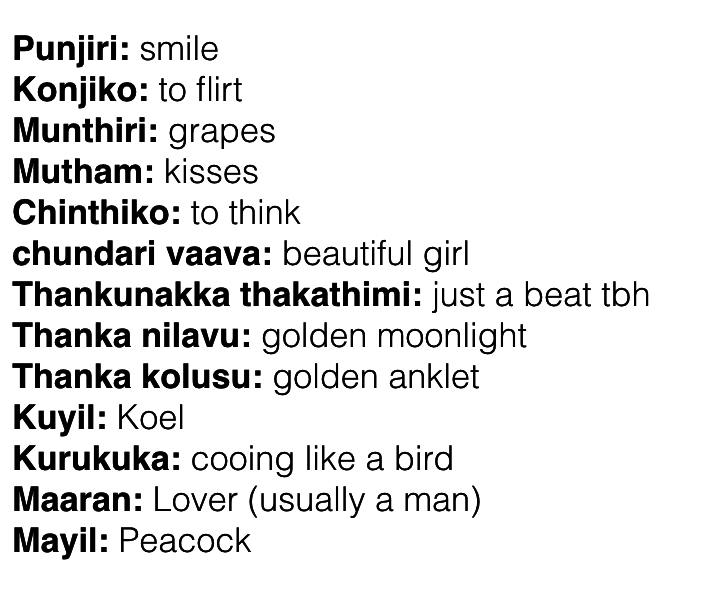 So those lines loosely translate to:
Punchiri thanji konjikko
Smile and flirt with me

Munthiri mutholi chinthikko
Think of kisses sweet as grape

Monjani varna chundari vaave
Oh, you beautiful girl.

Thaankunakka thakathimi
(drum beats basically, there's no meaning here)

aadum thankanilaave, hoy
Dance in the golden moonlight

Thanka kolusalle
Aren't you like a golden anklet?

Kurukum kuyilalle
Aren't you like a cooing koel?

Maaran-a mayilalley
Aren't you your lover's peacock?
YEP. This is a song about bird mating season, friends and family.
NEXT SET OF WORDS AND THOUGHTS, PEOPLE:
Hey, kuruvanikiliye, kuruvanikiliye
Kukuru kurukuru kooki kuruki, kunnimarathil uyal aadi
Koodum orikki kootu vilikunne
Maran nine kooki kuruki kootu vilikunne
Breaking this down to understand, yet again: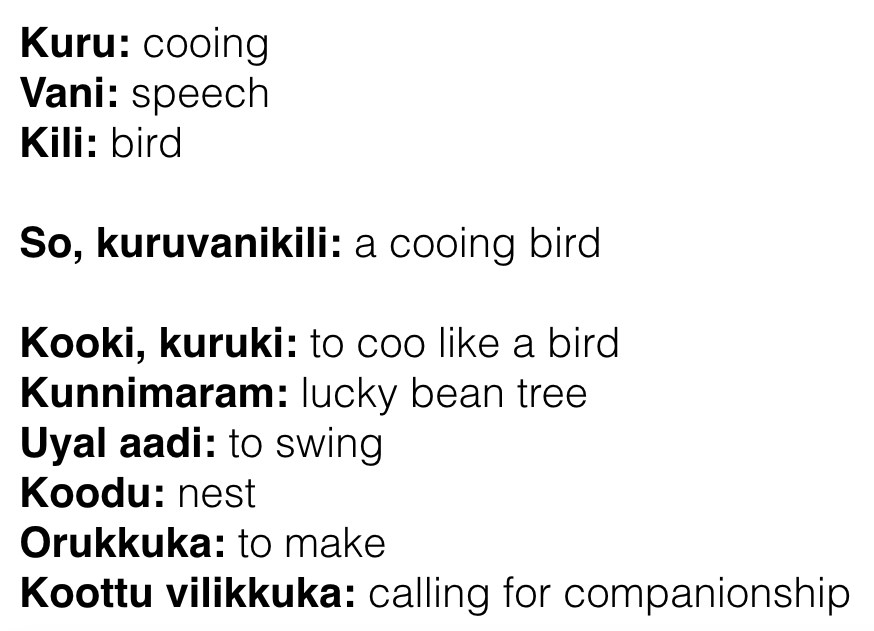 If you're a smart person (and I know you are), you will understand that this is MORE BIRD SEXYTIME:
Hey, kuruvanikiliyiye
Oh cooing bird

Kukuru kurukuru kooki kuruki,kunnimarathil uyal aadi
Cooing, swinging on the bean tree

Koodum orike kootu vilikunne
He's calling you after making the nest

Maran nine kooki kuruki kootu vilikunne
Your lover is calling you again and again
That's about it, guys. Just wanted to tell you all that your childhoods were spent singing nonsense about bird sex.
Oops. Something went wrong. Please try again later
Looks like we are having a problem on the server.
Has this knowledge got you s h o o k?
It fits with the rest of the song, I guess...?

Shut up. We all have Google and Malayali friends.