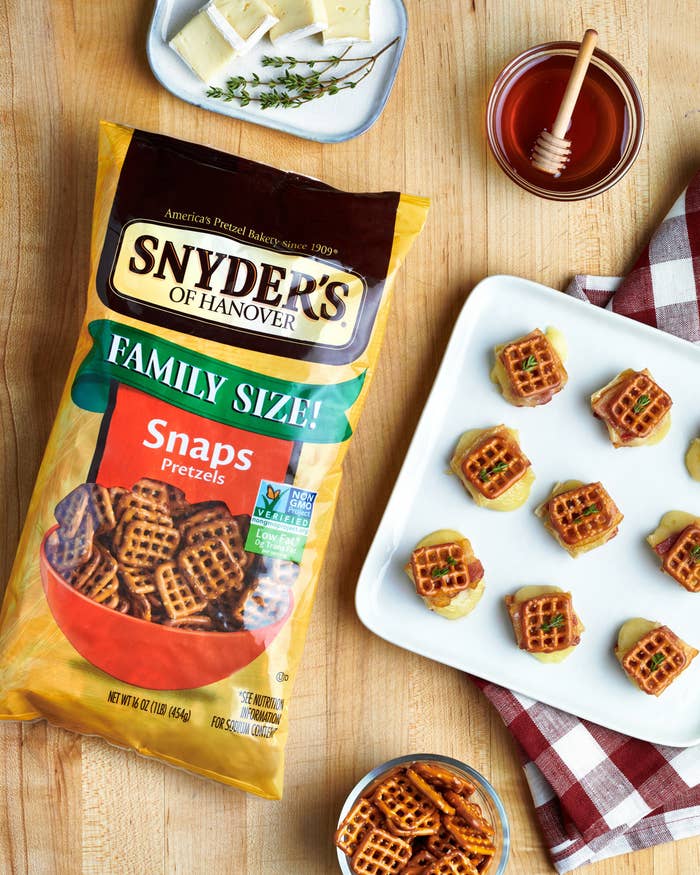 Bursting with flavor, these bacon brie bites make the perfect holiday appetizer.
INGREDIENTS
Servings: 12 bites
6 strips of bacon
24 Snyder's of Hanover® Pretzel Snaps
6 ounces Brie cheese with rind
¼ cup honey
12 small sprigs of fresh thyme, optional

PREPARATION
1. Preheat the oven to 400°F (200°C). Line 2 baking sheets with parchment paper.
2. Using scissors or a knife, cut each strip of bacon in half lengthwise, then again in half crosswise, making 4 small rectangles of bacon. Arrange the slices on a prepared baking sheet.
3. Bake for 10–12 minutes, or until the bacon reaches your desired crispiness, being careful not to burn it. Transfer the bacon to a wire rack to cool, blotting with a paper towel to remove excess grease before use. Leave the oven on.
4. Slice the Brie into ½-inch-thick planks, then slice into 1-inch-wide squares for a total of 12 squares.
5. Place 12 pretzel snaps on the remaining prepared baking sheet. Top each pretzel with one cooked bacon slice, then a square of Brie, then one more bacon slice, then top each with another pretzel.
6. Bake the bites for 2–3 minutes, until the Brie is warm and softened, but not completely melted; keep a close eye to avoid over-melting the cheese. Remove from the oven.
7. Drizzle the bites with honey, then garnish each with an optional small sprig of thyme. Serve warm.
8. Enjoy!

Ricotta and Cranberry Pretzel Stackers
Sweet, savory, and seasonally perfect, this app is a guaranteed crowd-pleaser.
INGREDIENTS
Servings: 12 stackers
Cranberry Sauce
12 ounces cranberries
¾ cup orange juice
¾ cup sugar
1 2-inch orange peel
1 whole cinnamon stick

Pretzel Stackers
24 Snyder's of Hanover® Pretzel Snaps
¾ cup ricotta cheese
12 small sprigs of fresh rosemary, optional
Orange zest, for garnish

PREPARATION
1. Make the cranberry sauce: In a medium saucepan, combine the cranberries, orange juice, sugar, orange peel, and cinnamon stick. Bring to a boil over medium-high heat, then reduce the heat to medium-low and simmer uncovered for 12–15 minutes, until the cranberries have burst and the liquid has reduced by half. Remove the pot from the heat and let the sauce cool to room temperature, then discard the cinnamon stick and orange peel. Any cranberry sauce left over after assembly will keep in an airtight container in the refrigerator for up to 4 days. (If using store bought cranberry sauce, skip this step.)
2. Assemble the pretzel stack: spread ½ teaspoon of ricotta on one side of a pretzel snap and stack another pretzel on top, positioning the second pretzel 45 degrees from the first, so as to cover the holes. Scoop another 1 teaspoon of ricotta onto the pretzel stack and, using the back of the teaspoon, make a divot in the center of the ricotta. Spoon 1 teaspoon of cranberry sauce into the divot. Repeat to make the remaining pretzel stackers.
3. Garnish each stacker with an optional small sprig of rosemary and a sprinkle of orange zest.
4. Enjoy!

Recipes By: Kate Cobb
Food Stylist: Jacqueline Tris

Food Stylist's Assistant: Hip Torres