Pretzel Peppermint Truffle Pops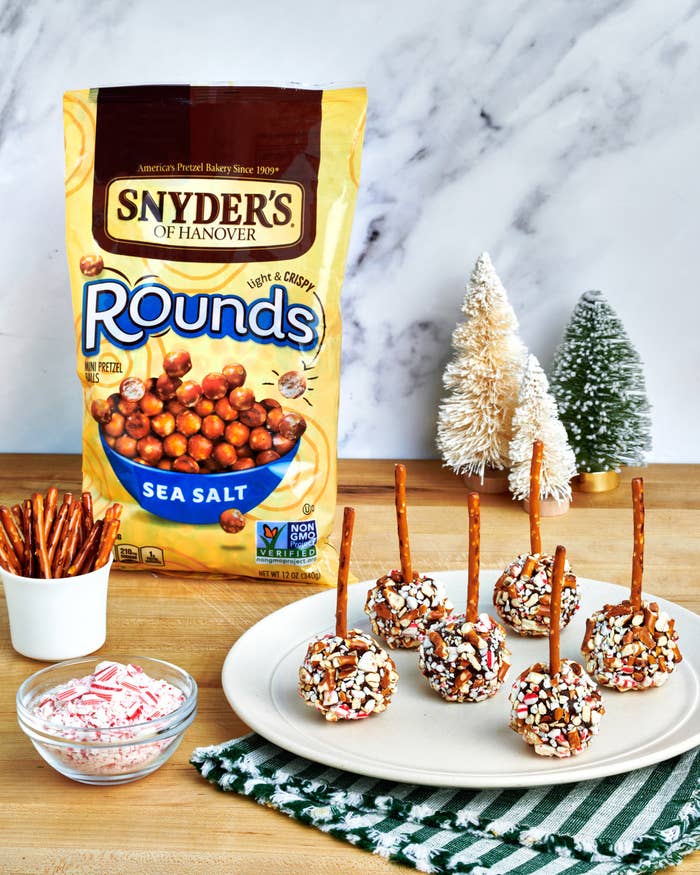 A pop of flavor, a plate of fun: These truffle pops are as cute as they are tasty.
INGREDIENTS
Servings: 8 pops

8 ounces good-quality dark chocolate, finely chopped
⅔ cup heavy cream
½ teaspoon vanilla extract
8 Snyder's of Hanover® Pretzel Rounds
1 cup Snyder's of Hanover® Pretzel Sticks, crushed, plus 8, whole
1 cup peppermint candies, crushed

PREPARATION
1. Line a baking sheet with parchment paper.
2. Place the chocolate in a large, heatproof bowl.
3. Add the heavy cream to a small saucepan and bring to a simmer over medium heat.
4. Pour the hot cream over the chocolate and let sit for 5 minutes to allow chocolate to melt. Add the vanilla and whisk until smooth. Pour into a small, shallow dish with a flat bottom for even cooling. Cover with plastic wrap, pressing directly against the surface of the chocolate, then refrigerate for 1 hour, until firm enough to scoop.
5. Spoon eight 1½-tablespoon scoops of the chocolate mixture onto the prepared baking sheet. Press a pretzel round into each chocolate mound, then top each with another 1½-tablespoon scoop of chocolate. Divide any remaining chocolate mixture between each mound. Refrigerate for 20 minutes to firm the truffles.
6. On a large plate, mix together the crushed pretzel sticks and peppermint candies.
7. Remove the chilled truffles from the refrigerator and quickly roll each truffle between your palms to make smooth, round balls. Roll each ball in the pretzel and peppermint mixture until covered, then insert a whole pretzel stick into the top of each truffle as a lollipop stick. Refrigerate uncovered until ready to serve, up to 2 days.
8. Enjoy!

Mini Garlic Pretzel Cheese Balls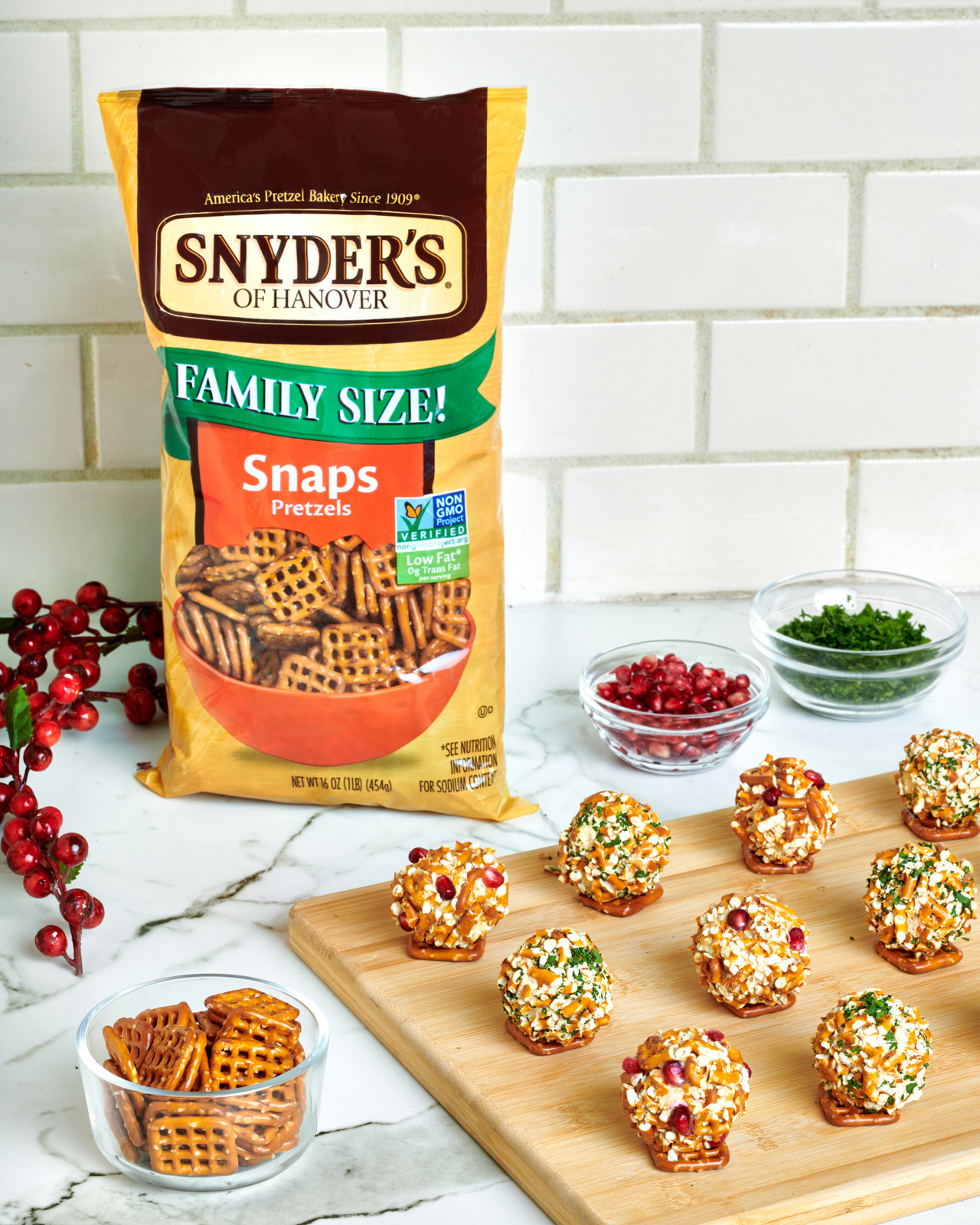 Few things are as full of crunch and flavor as these garlicky, pretzel-y cheese balls.
INGREDIENTS
Servings: 8 ornaments

2 teaspoons unsalted butter
6 scallions, white and light-green parts only, chopped
4 large garlic cloves, minced
1 pound cream cheese, room temperature
2 cups shredded white cheddar cheese
½ teaspoon cayenne
1 teaspoon Worcestershire sauce
½ teaspoon kosher salt, plus more to taste
½ teaspoon freshly ground black pepper
2 cups crushed Snyder's of Hanover® Homestyle Pretzel Rings, divided, plus 8, whole
½ cup chopped fresh parsley, optional
¼ cup pomegranate seeds, optional
4 small sprigs of fresh rosemary, optional

PREPARATION
1. Melt the butter in a small pan over medium-high heat. Add the scallions and garlic and sauté for 2–3 minutes, until fragrant, then remove the pan from the heat and let cool completely.
2. Add the cream cheese to a large bowl and stir in the cooled garlic and scallion mixture, shredded cheddar, cayenne, Worcestershire sauce, salt, pepper, and ½ cup crushed pretzel rings until well combined.
3. Lay out eight 12-inch sheets of plastic wrap. Scoop a heaping ¼ cup of the cream cheese mixture onto the center of each plastic wrap square, adjusting the amounts if necessary to make sure the mixture is divided evenly. Working with 1 square at a time, lift the sides of the plastic wrap around the cream cheese mixture to cover completely, then shape into a smooth ball, eliminating any air pockets. Repeat to make the remaining balls, then freeze for 20–30 minutes to firm.
4. Divide the remaining 1½ cups of crushed pretzel rings between 2 large plates. Add the parsley (if using) to one of the plates and mix to combine.
5. Remove the chilled cheese balls from the freezer and roll 4 balls in the pretzel-parsley mixture, pressing firmly to coat with the crumbs. Place on a large platter.
6. Roll the remaining 4 balls in the plain crushed pretzels, then press the pomegranate seeds sparsely around the balls (if using). Place on the platter with the other balls.
7. Press a whole pretzel ring into the top of each cheese ball, then add an optional rosemary sprig to the top of each pomegranate seed cheese ball.
8. Serve immediately, or chill uncovered until ready to serve, up to 24 hours.
9. Enjoy!

Recipes By: Kate Cobb
Food Stylist: Jacqueline Tris

Food Stylist's Assistant: Hip Torres