Whoopie Pie Snickers Bites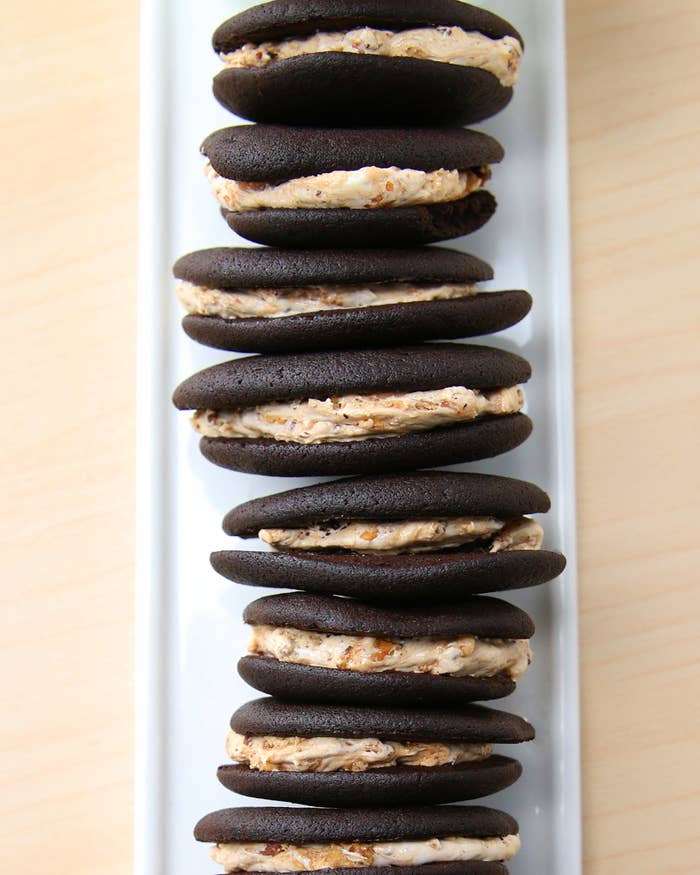 INGREDIENTS
Servings: 20
½ cup softened butter
½ cup sugar
1 egg
1 teaspoon vanilla
½ cup flour
⅓ cup dark cocoa powder
1 teaspoon baking powder
½ teaspoon salt
½ cup buttermilk
10 Snickers Bites, finely chopped
¾ cup marshmallow cream
2 tablespoons peanut butter
PREPARATION
1. Preheat oven to 350°F/180°C. 

2. Cream butter and sugar until fluffy. Add egg and vanilla and continue to beat until combined.  

3. In a separate bowl, combine flour, dark cocoa powder, baking powder, and salt. Add to butter mixture along with buttermilk. Mix until thoroughly combined (mixture will be thick like peanut butter).  

4. On a lined baking sheet, using a piping bag or food storage bag, carefully pipe out small 1½-inch circles. 

5. Bake for 10 minutes or until slightly puffed. Cool on a baking rack.

6. For filling: Combine marshmallow cream, peanut butter and snickers bites. Carefully pipe or spoon about ¼ teaspoon between two of the chocolate rounds. 

7. Enjoy!