Snickers Brownie Bites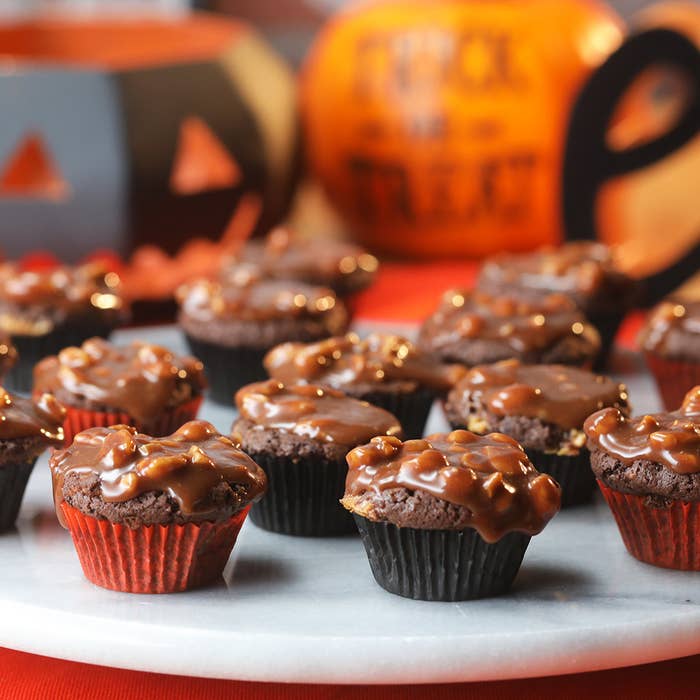 INGREDIENTS
Servings: 12
Brownie Bite
½ cup vegetable oil
1 cup sugar
1 teaspoon vanilla extract
2 large eggs
½ cup flour
¼ teaspoon baking powder
⅓ cup cocoa powder
¼ teaspoon salt
Snickers Caramel
12 Snickers® Fun Size
1½ tablespoons heavy cream
PREPERATION
1. Preheat oven to 350°F/180°C.

2. Slice 12 Snickers® Fun Size in half lengthwise to separate peanut caramel from the nougat. Put the caramel sections in a microwave-safe bowl, and chop the nougat sections and set aside. 

3. Thoroughly blend together sugar and oil.

4. Mix in eggs and vanilla.

5. In a separate bowl, mix together flour, baking powder, cocoa powder, and salt.

6. Add dry ingredients into the wet ingredients and stir until just combined. 

7. Using a mini-muffin tin, line each cup with mini baking cups and fill each half way with brownie batter. 

8. Add a few piece of nougat to the middle of each brownie.

9. Bake for 15–20 minutes. 

10. Set aside to cool. 

11. Add heavy cream to the bowl with the peanut caramel sections. Microwave for 30 seconds, stir, and microwave for another 20–30 seconds until the caramel is melted. Mix thoroughly with a spoon until caramel is smooth. 

12. Spoon peanut caramel to over the top of the brownie bite.