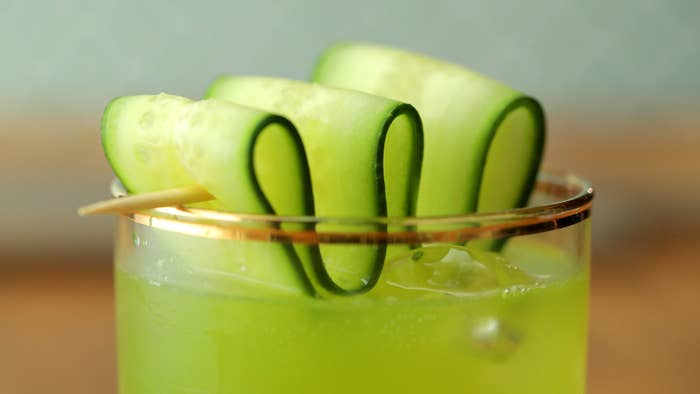 Ingredients
2 English cucumbers, divided
Juice of 2 limes, plus an extra wedge
3 ounces Smirnoff Zero Sugar Infusions Cucumber & Lime (11⁄2 ounces per drink)
Soda water
Preparation
1. Cut 1 cucumber in half lengthwise, then chop into 1⁄2-inch pieces. Place in a blender with lime juice. Blend until liquified (start at the lowest setting until blades catch the cucumber, then increase speed). Pour through a cheesecloth set over a strainer to strain out the pulp. Set juice aside.
2. Fill two rocks glasses with ice. Pour 11⁄2 ounces Smirnoff Zero Sugar Infusions Cucumber & Lime in each glass. Divide cucumber juice between the glasses. Squeeze in the lime wedge. Top each glass with soda water.
3. Use a mandoline to cut long thin slices from the other cucumber. Thread a slice in a wave shape onto a skewer as a garnish.