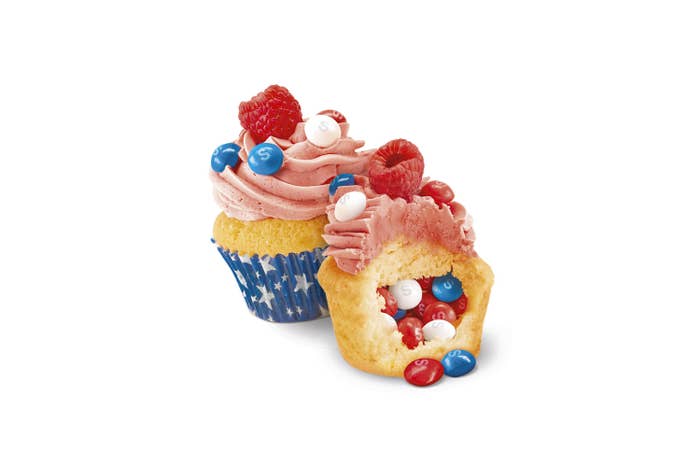 Makes: 12 cupcakes
Serving size: 2 servings per cupcake
INGREDIENTS
1 cup sugar
2 sticks butter, room temperature
1 cup of flour
1 tsp of baking powder
½ tsp salt
4 eggs
2 tsp vanilla

Raspberry Buttercream
1 sticks unsalted butter
8 ounces powdered sugar, sifted
1 lemon
2 tbsp milk
2 tbsp raspberry jam preserves
2-4 drops red food coloring
8 ounces Skittles® America Mix
PREPARATION
Preheat oven to 350℉/175℃

To make the cake: Cream the butter and sugar with an hand mixer until light and fluffy, about 3 minutes.

Add vanilla and eggs, one at a time, making sure fully incorporated before adding the next egg.

Whisk flour, salt and baking powder in a separate bowl. Slowly add to the butter mixture. Mix well until fully incorporated

Fill lined cupcake pans ¾ of the way. Bake 18-22 minutes until inserted toothpick comes out clean. Cool completely.

While cupcakes cool, prepare the buttercream. Zest the lemon, set the zest aside.

Sift powdered sugar in a mixing bowl.

Using a hand mixer, cream butter in a separate mixing bowl until nice and smooth.

Add powdered sugar, about ½ cup at a time, making sure it is fully mixed in before adding more.

Add the raspberry preserves, zest, milk, and 2-4 drops food coloring.

To assemble, carve out a 1 inch piece from the center of each cupcake, save the 'lid'.

Fill each cupcake with a scant ¼ cup Skittles® and put the reserved lid back on.

Frost the cupcakes with lime buttercream and decorate with more Skittles® .

Enjoy!

Nutrition Per Serving:
217 Calories
Total Fat: 5.5g
Cholesterol: 38mg
Sodium: 66mg
Total Carbohydrates: 40.9g
Total Sugars: 33.5g
Protein: 1.6g