Twenty-six-year-old Katie Mathewson had never come out to her grandparents as gay, but when she became engaged to her girlfriend, MacKenzie Hill, she decided it was now or never.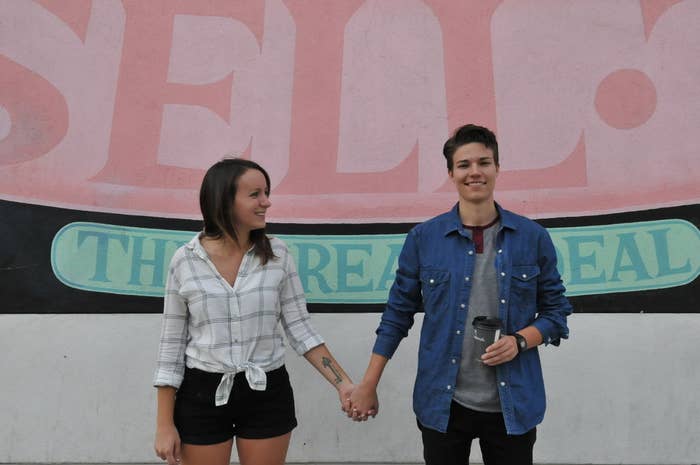 "I love my dad's parents, but we haven't had a close relationship in my adult life," Mathewson told BuzzFeed News. "They live in a bit of a wealthy, white, heterosexual bubble. I've heard them make comments about people outside that bubble that discouraged me from thinking they'd accept their youngest granddaughter being gay. They never meant the things they said to be cruel or hurtful, but it was far from openminded and accepting."
Mathewson sent her grandparents in Monterey, California, a letter announcing her engagement, but remained doubtful the news would be met with a positive response.
"I knew I'd still love my grandparents even if they weren't pleased with the news and that I'd forgive and understand their opinions either way," Mathewson said. "My letter basically said that I was engaged, it was to a woman, and that I've never felt happier, safer, and more in love in my entire life."
But two weeks later, she received a letter back from her grandmother. "The most important matters is your happiness with Mackenzie for the rest of your life," the letter read.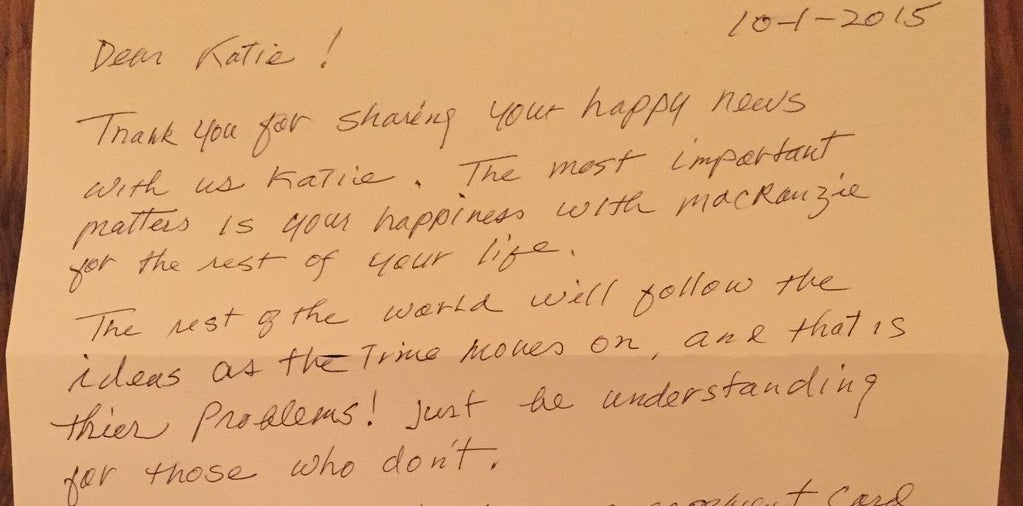 Mathewson noted that her grandmother is Korean and English is not her first language. Her grandmother writes: "The rest of the world will follow the ideas as the time moves on, and that is their problem! Just be understanding for those who don't."
Mathewson posted the letter from her grandmother to Imgur, hoping to inspire anyone hesitant to come out to their grandparents: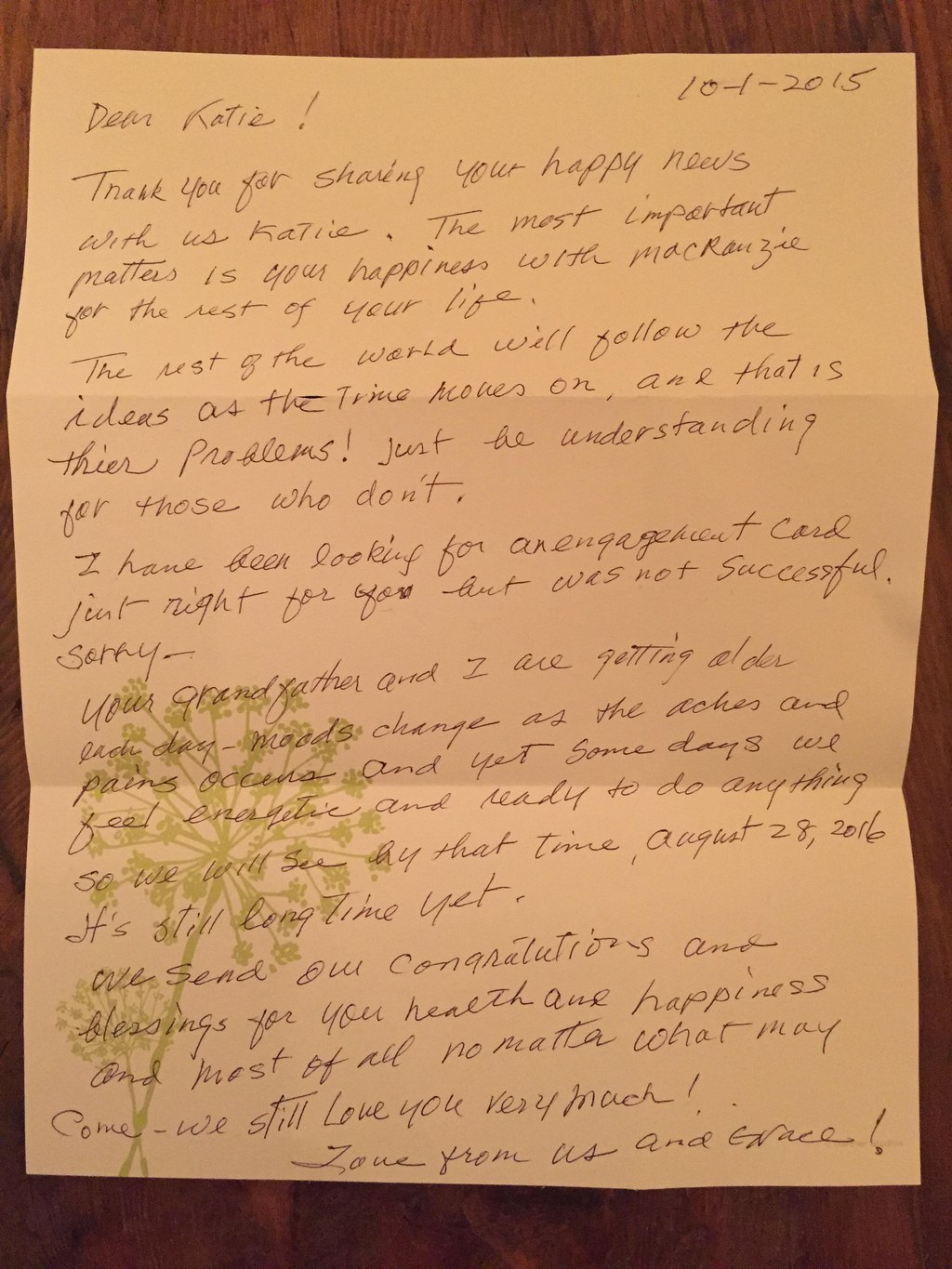 Mathewson said her grandmother's response brought her to tears. "The words were so simple, but the message was powerful and overwhelming and beautiful," she said.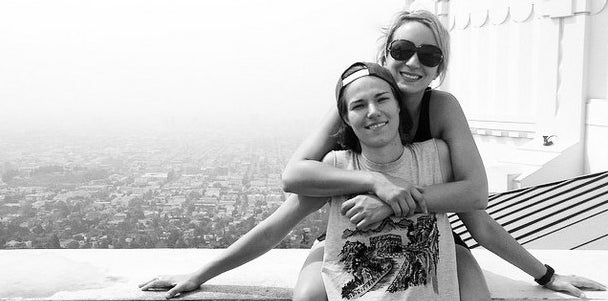 She posted along with the photo:
I came out to my grandparents a couple weeks ago and was wholly convinced that they couldn't accept it. Not just because of their age or their lifestyle, but because, over the years, I've listened quietly and sadly as they talked about people who were different from them. I accepted the sad reality that that they'd never know the real me. But when I got engaged to my perfect and beautiful girlfriend, I felt like I had to tell them (regardless of the outcome).

Today, I came home to this letter in the mail. My grandmother is Korean and English isn't her first language, but all I needed to see was "what matters is your happiness with MacKenzie for the rest of your life ... No matter what may come, we still love you very much." It's not perfect or poetic, but it's genuine and it's love and it surprised me in the best way possible.
Her grandmother was also seemingly disappointed in the lack of lesbian engagement cards: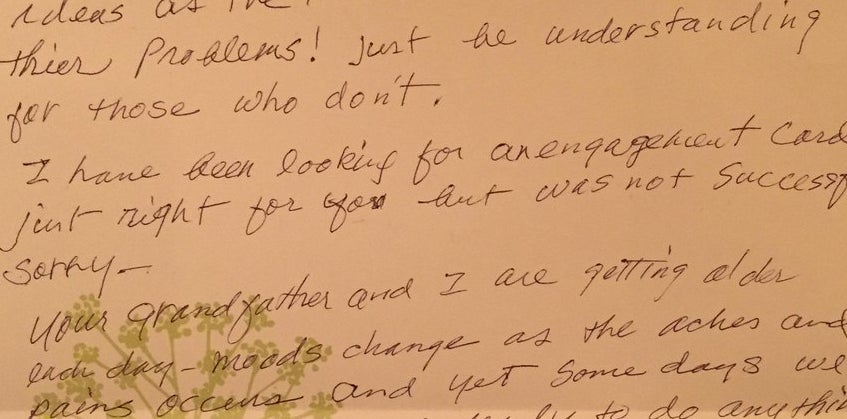 "I have been looking for an engagement card just right for you but was not successful, sorry."
"I know the internet can be a dark and cruel place, so it was pretty amazing to feel so much love from complete strangers," Mathewson said of the response she received after posting the letter online.
"I think that a lot of people my age have that fear about their grandparents, and I had experiences with them that heightened the fear," she added.
Mathewson and Hill are planning on tying the knot next August in Washington state — complete with grandparent's blessings.