Most UKIP Voters Think Muslims Should Apologise For Terrorist Attacks Committed By Islamists
Exclusive polling by YouGov for BuzzFeed News has revealed the extent to which UKIP voters believe all Muslims share some responsibility for extremist attacks such as those on the Charlie Hebdo offices.
More than half of all UKIP voters think Muslims should apologise for any terrorist act committed in the name of Islam, according to a poll of over 1,500 people carried out by YouGov for BuzzFeed News.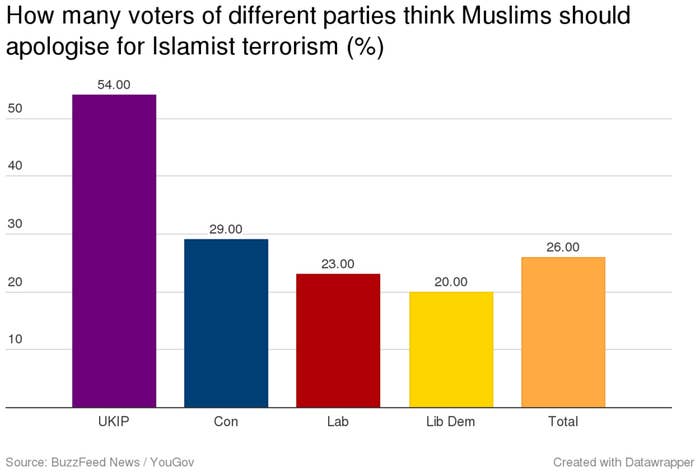 A substantial 54% of UKIP voters believe ordinary Muslims should be willing to apologise for acts of Islamist extremism such as the recent attack on the Charlie Hebdo offices in Paris. This is double the national average, according to the poll, which was carried out on Tuesday.
Overall, just 26% of Britons believe that ordinary Muslims bear some common responsibility for such attacks, while 63% feel they have no involvement and 11% say they don't know.
Britons who plan to vote for the Liberal Democrats in May are the least likely to think Muslims should apologise for terrorism offences committed by Islamist extremists. There is also an age divide, with people aged 60+ twice as likely as individuals aged 18–24 to feel Muslims bear some collective responsibility.
Following the attack on the Charlie Hebdo offices, Conservative minister Sajid Javid said: "There is a special burden on Muslim communities because whether we like it or not these terrorists call themselves Muslims. It is no good for people to say they are not Muslims, that is what they call themselves."
Last week, a conversation in which a caller rang in to LBC to say Muslims should apologise for the attacks on Charlie Hebdo went viral.
The presenter, James O'Brien, responded by asking the caller if he had apologised for the attacks in France last week. He added: "Why does [the previous caller] Abbas [need to apologise]? He was in Berkshire."
According to another question in the polling, 1 in 5 UKIP voters think Muslims make up more than 30% of the UK population.
Those polled were asked to write down what percentage of the UK population they believed to be Muslim.
Only 1 in 10 guessed that Muslims make up 5% or less of the UK population. The other 90% all overestimated the number of Muslims in Britain.
The full data set can be seen here. The polling was undertaken using YouGov's online panel, which offers payments and rewards to individuals who share their opinions. Sign up here.