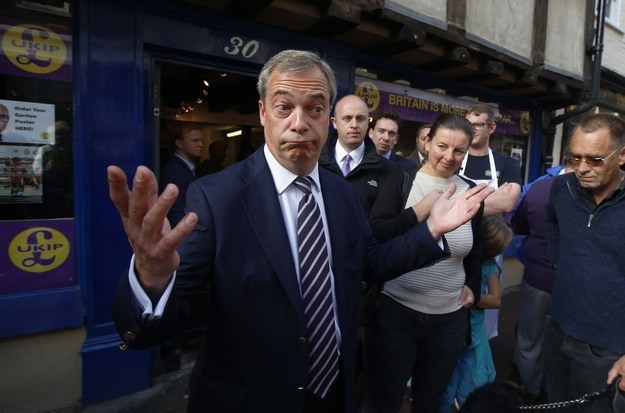 Kerry Smith found out this afternoon that he had been deselected as UKIP's parliamentary candidate for Basildon and Thurrock East, which the party believes it has a chance of winning at the 2015 general election, when a member of the press questioned him.
The former candidate speculated that the deselection is related to a potential defection from the Conservatives. He told BuzzFeed News: "I'm sure there's a method to their madness. We've seen with [Tory defectors] Douglas Carswell and Mark Reckless, they've got something planned."
Rumours began circulating within party members in the area at a local council meeting last night that Smith, the group leader in Basildon, might soon be pushed out. Peter Holliman, a local councillor, said rumours of a defection started to appear last night.
He said: "People had a feeling something was happening, and the general feeling was that there was going to be another defection. Someone said, 'Have you heard someone's coming from the Tories?' Someone else said, 'No, it's Labour.'"
Smith, the victim of the deselection, believes he hasn't been pulled from the role for doing anything wrong, and understands that he is keeping his role as head of the local UKIP group on Basildon council.
"If you're in a target seat," he said, "and they've got a card to play, namely a big hitter or a big fish, they've got the right to pull the plug on any parliamentary seat on very little notice. It's in the party rules, and the party's doing what's best to get a UKIP-elected MP and get Britain free of the European Union.
"They're pulling a rabbit out of the hat. A wise person will be patient, and I know this will be very good for the party."
Smith, who also represented the party in the constituency in the last general election, pointed to Clacton-on-Sea as reflective of the situation in Basildon. When Carswell defected to UKIP in that constituency, the incumbent candidate, Roger Lord, was expected to step aside.
Smith has many allies within the local party, and councillors in the area were surprised at the news when BuzzFeed News broke it to them.
Linda Allport-Hodge, deputy leader for UKIP in Basildon council, said Smith was "very well-respected and well-supported. [His deselection is] devastating news."
Another councillor, Alan Ball, said: "I had no idea. I'm quite shocked, really. He seemed to be doing a good job."
And Holliman said that at a meeting amongst local UKIP members this morning, Smith's name came up a number of times. He said: "He was in our humble opinion a strong candidate for the district that he was going for. We're as mystified as he is."
Although those in the local party haven't been kept in the loop by the leadership, a number have expectations that a big defection in on the way.
Holliman, who says he remains committed to the local party, thinks UKIP has big news. "Sometimes you gotta take one for the team," he said.
A spokesperson for the party said Smith's deselection was an "internal party matter" and refused to provide any more detail.