Labour MP John Woodcock has accidentally vented his full frustration at Jeremy Corbyn over a leaked ranking of MPs' loyalty apparently drawn up by the party leadership.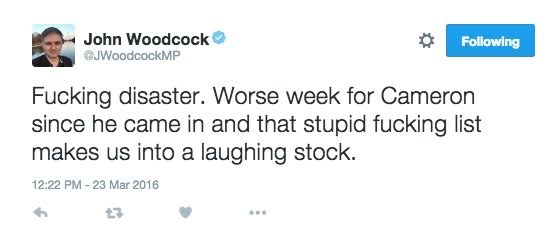 Woodcock's tweet, now deleted, came during Wednesday's session of Prime Minister's Questions, at which Labour had hoped that Jeremy Corbyn would easily capitalise on a difficult week for the Conservatives, dominated by George Osborne's controversial Budget and Iain Duncan Smith's bombshell resignation.
But on Wednesday, The Times published a list showing what Corbyn and his team think of other Labour MPs. The ranking is split into five categories, based on the MPs' perceived loyalty to Corbyn, ranging from "core group" to "hostile group". Corbyn's spokesperson told journalists that the list did not come from his office.
During PMQs, Cameron brandished the list and mocked Labour, using it to easily deflect Corbyn's questions about the Budget debacle.
This is how Labour MPs responded when David Cameron brought up the list in PMQs.
Cameron said he would be part of the "core group" and asked other Conservative MPs to put their hands up if they would join him.
The PM also pointed out that senior Labour figures, such as chief whip Rosie Winterton, were branded "hostile", according to the list.
That's when Woodcock – who, unsurprisingly, is also listed in the "hostile" group – tweeted his frustration:
"Fucking disaster. [Worst] week for Cameron since he came in and that stupid fucking list makes us into a laughing stock."
Woodcock was immediately criticised by former Labour deputy prime minister John Prescott, who accused him of trying to brief a journalist.
But Woodcock said the tweet was meant to be a direct message to a colleague and was never meant to be public.
Woodcock did not respond to a request for comment by the time of publication.