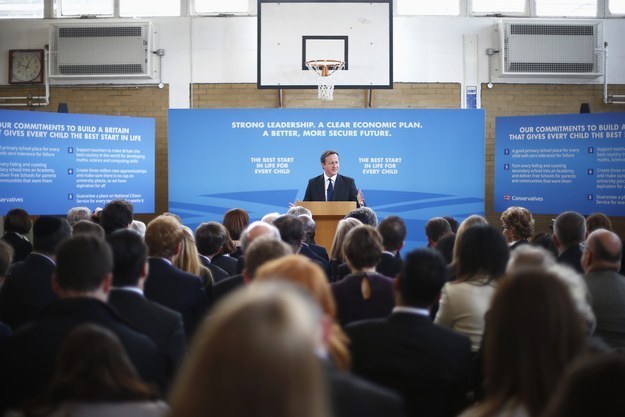 A Conservative government would spend less money per pupil in real terms in 2020 than it does today, the prime minister admitted today.
This is because if the Conservatives form the next government, schools in 2020 will receive the same amount of money per pupil they received in 2010, a 10-year freeze. Schools would be dealing with higher costs per pupil with less money to spend on each one, because the budget would not be adjusted for inflation.
David Cameron outlined the party's vision for school at Kingsmead academy school in Enfield, where he declared the importance of education for children.
Cameron said there would be a "cash freeze" on the budget per pupil, which would mean schools would be given the same amount of money per student but that the figure would not be adjusted for inflation.
Paul Johnson, the director of the Institute for Fiscal Studies, an independent economic think tank, told BBC Radio 4's World at One: "What the prime minister seems to be saying, going forward, is not that schools will be protected as they have been but there will just be a cash protection, so real-terms falls over the next parliament."
Since 2010, the schools budget has only increased by 1% in real terms, according to the Institute for Fiscal Studies. However, this figure includes the pupil premium, additional funding for students from disadvantaged backgrounds.
Cameron also defended the trebling of tuition fees, saying it was the "right decision".
This comes as figures from the House of Commons library showed that the coalition's tuition-fee increase will cost the taxpayer £2.5 billion more than ministers initially claimed in 2010. This is because many graduates will not be able to pay the money back.
He said: "For young people in our country today, as they leave school, I want them to have the opportunity go to really good universities and get really good qualifications. And the fact is that those universities, they cost money.
"And if you're not able to raise that from general taxation, the most sensible thing to do is to ask successful graduates to pay tuition fees in order to fund those universities."
He also attacked rumours of a Labour policy that would see tuition fees decreased to £6,000 and "vague ideas of a graduate tax". He said: Labour have showed a "total failure to explain how the massive shortfall for universities would be made up".
The prime minister also said that young people should have two choices when they leave school at 18. "They should earn or learn," he said.
Cameron said a Conservative government would remove the cap on university places and increase the number of apprenticeships in the UK, therefore "abolish[ing] youth education".