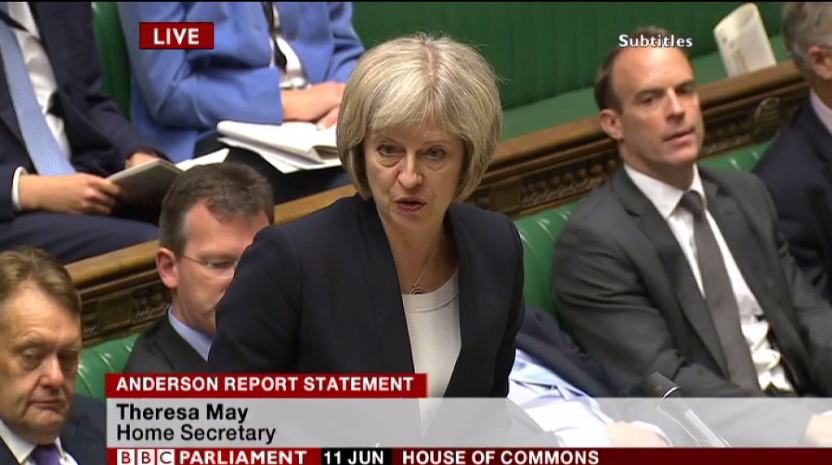 Ministers should be stripped of their ability to authorise spying on the communications of British citizens, according to an official review.
In a damning 373-page report released on Thursday morning, David Anderson QC recommended that there should be stronger judicial authorisation for all interception warrants. He said this should be carried out by the commissioner of a new body, the Independent Surveillance and Intelligence Commission.
This point was highlighted in the House of Commons by shadow home secretary – and Labour leadership hopeful – Yvette Cooper, as well as Conservative MP and civil rights advocate David Davis, both of whom urged Theresa May to strongly consider the recommendation.
Anderson also said that "it is generally a mistake... to describe threat levels as 'unprecedented'."
This directly contradicts with a speech given by the prime minister in August last year, when he said that "ISIL [also known as ISIS] is a greater threat to our security than we've known before". Anderson specifically cited Steven Pinker, a psychology professor at Harvard university, who wrote that "nostalgia for a peaceable past is the biggest delusion of all".
Although Anderson, as independent reviewer of terrorism legislation, agreed that Britain's spy agencies should be able to retain their existing powers to collect communications data, he said the government had failed to demonstrate why intelligence organisations needed more powers. He added that they should not be given more them until "sufficiently compelling operational case has been made".
As a result, he said, the draft Communications Data Bill, known by many as the Snoopers' Charter, which would require information relating to every UK citizen to be indiscriminately retained by internet service providers for up to 12 months, should not go forward until those conditions were met.
In her speech to the Commons the home secretary welcomed the report, but did not rule out pushing through the Bill despite Anderson's recommendations.
Anderson also accused one of Britain's major pieces of anti-terrorism legislation of being "undemocratic".
The Regulation of Investigatory Powers Act (RIPA), initially adopted in 2000, allows for mass interception of communications data. Anderson particularly took issue with the fact that RIPA has been amended four times since then, and has therefore become less accessible.
He wrote: "RIPA, obscure since its inception, has been patched up so many times as to make it incomprehensible to all but a tiny band of initiates. A multitude of alternative powers, some of them without statutory safeguards, confuse the picture further. This state of affairs is undemocratic, unnecessary and – in the long run – intolerable."
Privacy groups largely appeared to be happy with the report, commissioned by David Cameron last year.
Eric King, the deputy director of Privacy International, said: "We applaud David Anderson's report as we applauded the ISC report from just a few months ago...
"The message cannot be clearer: wholesale reform of Britain's surveillance laws is needed. Not some tweaks, or a change here and there, but full root and branch reform."
A spokesperson for Big Brother Watch said: "David Anderson has produced a well researched and balanced report."