Privacy Groups Say David Cameron Wants To Make Social Networks An "Arm Of The Surveillance State"
The approach was "dangerous from a civil liberties point of view," the director of the Open Rights Group Jim Killock told BuzzFeed News.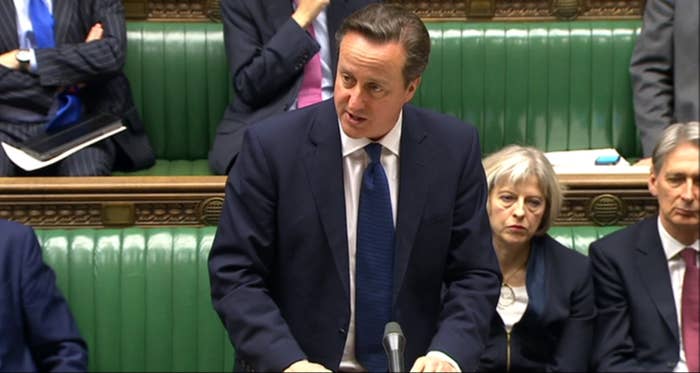 The governments wants Facebook and Google to trawl all messages on their servers and "attempt to identify things that look like terrorist threats", according to a leading privacy campaigner.
This criticism comes after a report published by parliament's Intelligence and Security Committee said the murder of Lee Rigby in central London last year could have been prevented if details of an online conversation had been passed on to intelligence services.
In an address to the House of Commons this afternoon, Prime Minister David Cameron said that "internet companies" had a social responsibility" to monitor private conversations between their users. He said: "We will continue to do everything we can. But crucially we expect the internet companies to do all they can too."
Jim Killock, the executive director of the Open Rights Group told BuzzFeed News that the approach was "dangerous from a civil liberties point of view"
He added that intelligence agencies would not be able to deal with the large amounts of information they would receive.
"It appears that they want Facebook and Google to simply trawl through everything that they ever receive, all of any email or any kind of communications you make and attempt to identify things that look like terrorist threats," he said.
As this would rely on reports being triggered through specific keywords, "it would just deluge the security agencies with material from people who were entirely innocent. So it would both intrude on everyone's privacy generally.
"Some people very specifically and very wrongly and cause a huge amount of work for everybody. It is both technically wrong-headed, practically wrong-headed and dangerous from a civil liberties point of view."
The report said that Britain's intelligence agencies already struggled to cope with the information in its network. Having an increased amount based on keywords would put more strain on them.
Although Cameron said that companies had a "social responsibility" to intercept communications, Killock said: "they have a social responsibility to respect everybody's privacy until people become suspects."
"It would turn the companies into an arm of the surveillance state," Killock added.
Eric King, deputy director of Privacy International echoed Killock's view, criticising the report for appearing to suggest that social networks should become "deputised law enforcement agencies,"
He said: "That is not their role, it should not be their role, any criticism towards the companies is setting a very concerning trend where the companies that we're using every day to hold and store our private information basically would also end up having a law enforcement function policing what it is that we do.
"That's a wholly inappropriate situation given that they are custodians and should be protecting individuals' fundamental rights and privacy and security of information."
Both Killock and King also told BuzzFeed News that intelligence agencies already used various techniques to get information on suspects but criticised any approach that would force companies to place all communications as suspicious.
King said: "Law enforcement should have powers to intercept and acquire communications when necessary, but deputising private companies to do it for them is not the right answer."
Big Brother Watch specifically said the government was looking to divert attention from its own failures. A statement by the group said: "The report revealed multiple failures by the intelligence agencies to use the powers available to them to monitor communications."