David Cameron has been accused of racism by Labour MPs after raising concerns over the Labour's London mayoral candidate for having shared a platform with an alleged Muslim extremist on several occasions.

Responding to a question about extremism during Prime Minister's Questions on Wednesday, Cameron said Sadiq Khan's judgment should be questioned and said the Labour MP had shared a platform with Islamic cleric Suleiman Ghani nine times.
Prompting cries of "racist" from Khan's fellow Labour MPs, Cameron said the candidate "has shared a platform with [Ghani] nine times. This man supports IS [Islamic State, aka ISIS]."
The prime minister responded to the remarks by saying Labour MPs "don't want to hear the truth".
"Anyone can make a mistake about who they appear on a platform with," Cameron said. "We're not always responsible for what our political opponents say. But if you do it time after time after time, it's right to question your judgment."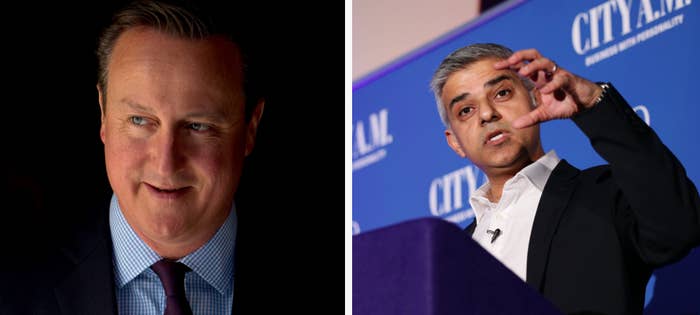 Khan was not in the Commons to hear the prime minister's comments, because he was "discussing the need to confront extremism" in a BBC radio interview, according to a political editor for the broadcaster.

Labour MP Chuka Umunna accused Cameron of joining Conservative London mayoral candidate Zac Goldsmith's "Islamophobic campaign". On Tuesday, Umunna said Goldsmith was running a campaign that "would make Donald Trump proud".
Khan later responded to the PM's comments on Twitter.
In addition to shouting in the Commons, a number of Labour MPs tweeted their disapproval of the prime minister's comments.
Following PMQs, a spokesperson for Cameron dismissed any claim that the prime minister was racist.
"It's complete nonsense," they said, adding that "raising questions about the judgment of Sadiq Khan sharing a platform on nine occasions with somebody with those extremist views ... is a perfectly legitimate thing to do and to try and brand that racist does a disservice to the Labour party."
This is not the first time Khan has been accused of meeting Ghani, who is accused of saying that women are "subservient" to men. Khan, the MP for Tooting, was previously a human rights lawyer, and has been repeatedly criticised by Tory MPs for sharing a platform with those who hold extreme views.
In November, the Labour MP told journalists he was forced to interact with extremists as part of his career and described Islamic extremism as a "cancer eating at the heart of our society".
"People I knew as a boy have gone on to hold extremist views, and even to act on them in terrible ways," he said.
"When I was a lawyer, as well as representing people who were badly treated by the police or their employers, I sometimes had the unpleasant job of representing people with extremist views."
Last week Goldsmith accused Ghani of being "one of the most repellent figures in the country".
But the strategy of linking Ghani to Khan appeared to unravel last week after the cleric tweeted pictures of himself with a number of Conservative MPs. Here he is with Goldsmith:
This is Ghani with the Conservative parliamentary candidate for Tooting, whom he supported instead of Khan at last year's general election.
Ghani also appeared on a panel with the Conservative MP for Battersea at an event calling for British Guantanamo Bay detainee Shaker Aamer to be freed.
Ghani also said the Conservative MP for Twickenham had previously asked for his help.
Writing on Facebook after PMQs, Ghani accused the prime minister of defamation and said he would sue Cameron if he repeated the claim that he supported ISIS outside parliament. MPs cannot be sued for anything they say within the House of Commons or House of Lords as they have parliamentary privilege.

Ghani said: "As those allegations are baseless and an utter lie and if he does so I will sue. I have never and never will support IS/Daesh, in fact I have consistently like all mainstream Islamic scholars not only spoken out but condemned IS/Daesh for the monstrosity that they are."