The Mail on Sunday has apologised to readers after claiming in an article that Muslims were responsible for attacks on vans being used during immigration raids.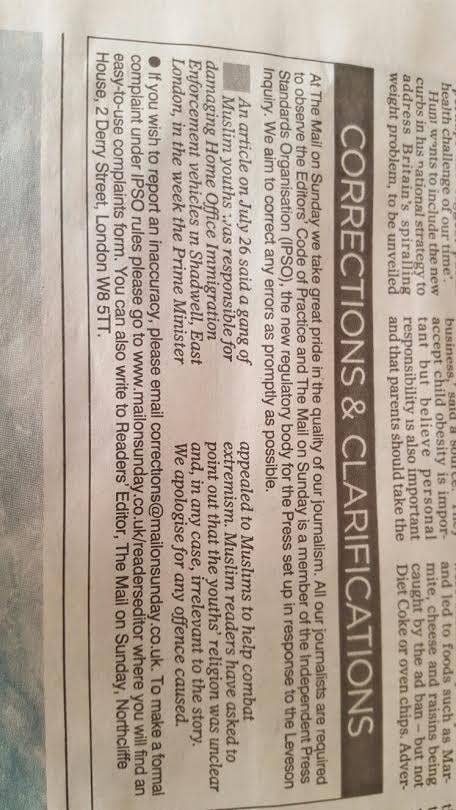 In July, the newspaper published a piece titled "Welcome to East London: Muslim gang slashed tyres of immigration-raid van before officers showered with eggs from high-rise".
But following complaints the paper this weekend issued an apology which stated the youths' religion was unclear and irrelevant to the story. The full apology reads:
An article on 26 July said a gang of Muslim youths was responsible for damaging Home Office Immigration Enforcement vehicles in Shadwell, East London, in the week the Prime Minister appealed to Muslims to help combat extremism. Muslim readers have asked to point out that youth's religion was unclear and, in any case, irrelevant to the story. We apologise for any offence caused."
The online version of the article has also been entirely changed to remove any mention of Islam. The re-written version appeared on the website for at least a week without any apology.
BuzzFeed News has been able to find the original online version of the story from July before the changes were made.
Using the Internet Archive's Wayback Machine, it is possible to see how many references to "Muslim" there were in the original.
But the version now on the website, updated on 5 September according to the page, has scrapped any mention of the religion.
The article has also changed a quote to remove the description of "local hoodies" as being Muslim.

The article was updated again on 18 September to add an apology to the page (this was the same apology that was printed in Sunday's paper).
The corrections were made – and quotes changed – after the Mail on Sunday managing editor, John Wellington, met with management consultant Miqdaad Versi, who complained about the article.
On 30 July, Wellington sent Versi a letter and stood by the article, defending the piece because "social media comments" and an eyewitness "described the attackers as 'Muslim hoodies'".
Responding to the complaint, Wellington said: "We do not consider our report to have been inaccurate or misleading."
Versi, also assistant secretary general at the Muslim Council of Britain, met with Wellington for more than an hour where they discussed Versi's complaints about the piece as well as the way Muslims are portrayed in the media.
Last Tuesday, Wellington attended an event organised by the Muslim News, which focused on the way the media reports on Islam and Muslims.
BuzzFeed News understands that press regulator IPSO will soon write a note on their website to say that the complaint has been resolved.