Labour MP Naz Shah Confirms She's Being Reinstated To The Party
The MP was suspended in April over posts about Israel on Facebook that triggered an anti-Semitism row in the party.
The Labour party's national executive committee has decided to reinstate Naz Shah to the party following her suspension, the MP confirmed to BuzzFeed News.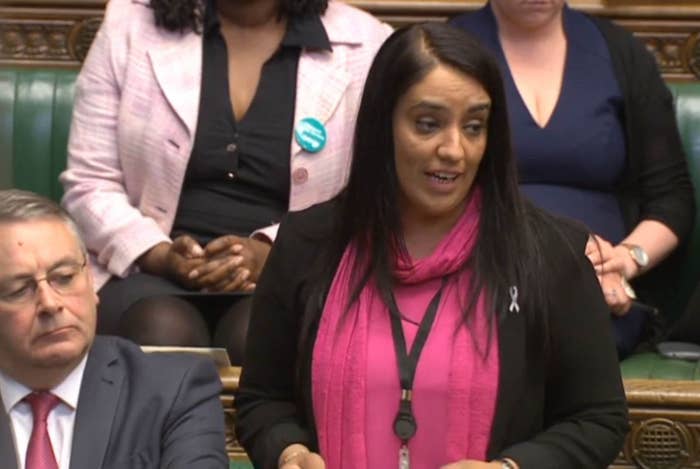 Shah – whose suspension from the party in April over comments she made about Israel on Facebook ignited a row about anti-Semitism on the left that is still going on – was informed in an email on Tuesday afternoon that the party whip had been reinstated.

The email noted that there were conditions to her suspension being lifted, although it did not detail what those conditions were.
It is believed the Labour party's three-person disputes panel decided that the MP for Bradford West will have to apologise for bringing the party into disrepute, according to the BBC.
After the offensive comments were revealed, she reached out to Jewish MPs and communities for advice before offering an apology. In an apology published in the Jewish News, she wrote: "I am sorry … it is important that I make an unequivocal apology for statements and ideas that I have foolishly endorsed in the past.
"The manner and tone of what I wrote in haste is not excusable. With the understanding of the issues I have now I would never have posted them. I have to own up to the fact that ignorance is not a defence."
But former mayor of London Ken Livingstone's Labour membership is now at risk after an investigation into comments he made about Hitler were referred to the party's national constitutional committee, which can decide to expel him from the party.
Almost 40 Labour MPs publicly called on the former London mayor to be suspended or expelled from the party in April after he made a series of inflammatory comments. Livingstone was eventually suspended after he argued that Hitler supported Zionism.
A Labour spokesperson refused to give any more information about Livingstone's case. "We do not comment on individual membership statuses," the spokesperson said.