You might be wondering what former Florida governor Jeb Bush has been up to since he dropped out of the race to become the Republican presidential candidate last week.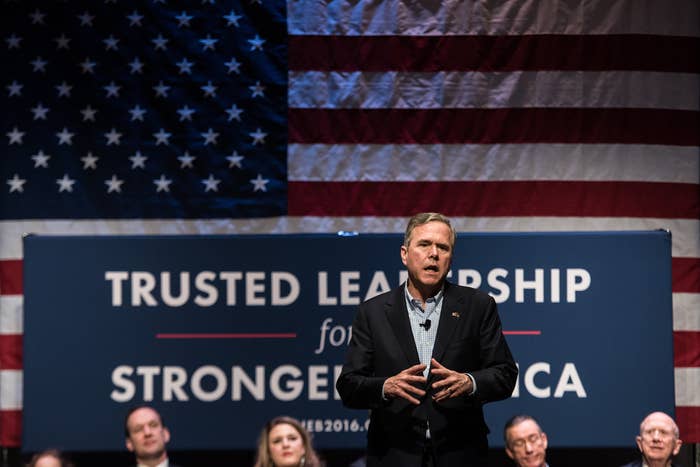 He certainly has more time to respond to emails sent to his official campaign address – particularly on the important matter of campaign merchandise. Specifically, guacamole bowls.
It started when British graduate Anthony Beach, who backed Liz Kendall's Labour leadership campaign, wanted to buy some Bush merchandise but found it too expensive. For example, this "Guaca Bowle" costs $75 and doesn't even come with Jeb's secret recipe.

So Breach got in touch to ask if there'd be a sale coming up.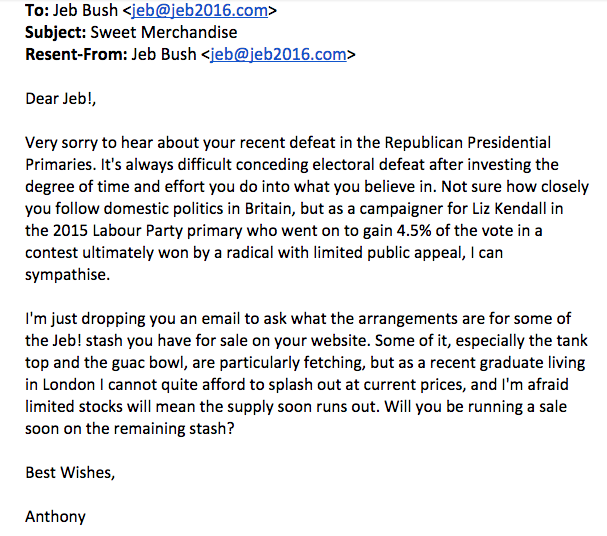 Within three minutes, Breach received a reply in which Bush promised to look into the matter. "I have no idea but I will check," he said. "That is pretty funny."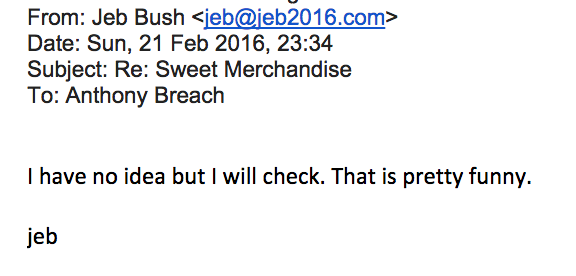 When asked if he thought he would get a reply, Breach told BuzzFeed News he was always optimistic. "I guess he doesn't have that much to do at the minute, the 23-year-old economist said. "I was hopeful, he seems like a nice guy."
Breach, who works at a UK thinktank, told BuzzFeed News the'd been following Bush on the campaign trail since last year and started to take a bigger interest when the debates kicked off.
"I first really started paying attention when [Donald] Trump started systematically started bullying him," Breach said. "Jeb would portray himself as a really nice guy and when I was browsing through the stash, I came across this magnificent guacamole bowl and thought, 'I want that'. But it costs $75, which is too expensive for a recent graduate."
Bush actually does have a sale on for his merchandise but it's limited to rally signs, a beach towel, a women's T-shirt, a onesie for toddlers, and an apron.
Bush has form when it comes to replying to unusual emails.
In November, a supporter emailed him to get his thoughts on the head coach of a US college football team. Bush replied within a minute.