A pro-Conservative leaflet has been branded "deeply divisive" for telling Hindu voters to back the party over legislation to ban caste discrimination.
As well as retweeting the official Conservative party press office and Tory MPs, the DSP has uploaded some of its leaflets online.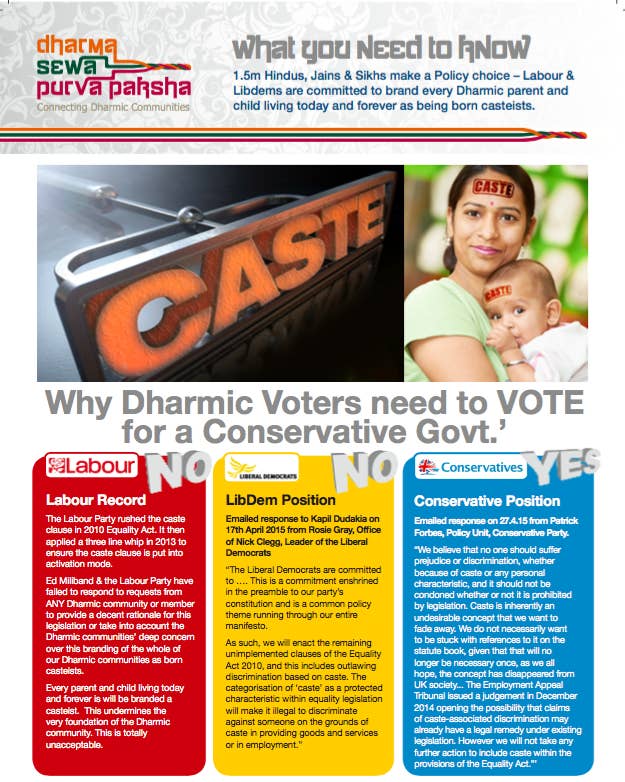 BuzzFeed News has established that the group has not registered with the Electoral Commission, despite suggesting it has done so on its leaflets.
At the bottom of leaflets sent out in Harrow East, it says the DSP has an "application in process" with the Electoral Commission.
Non-party groups that want to campaign for a political party have to register with the Electoral Commission, the independent elections regulator, if they plan to spend over £20,000 in England.
But the Electoral Commission told BuzzFeed News it had not heard from the DSP. "We haven't yet received an application from Dharma Sewa Pruvapaksha to register as a non-party campaigner," a spokesperson said.
Although the group has been active online for at least a year – its website was registered in April last year – this appears to be the first election in which it is publicly campaigning.
BuzzFeed News has reached out to Mukesh Naker, the managing editor of the DSP, for comment.